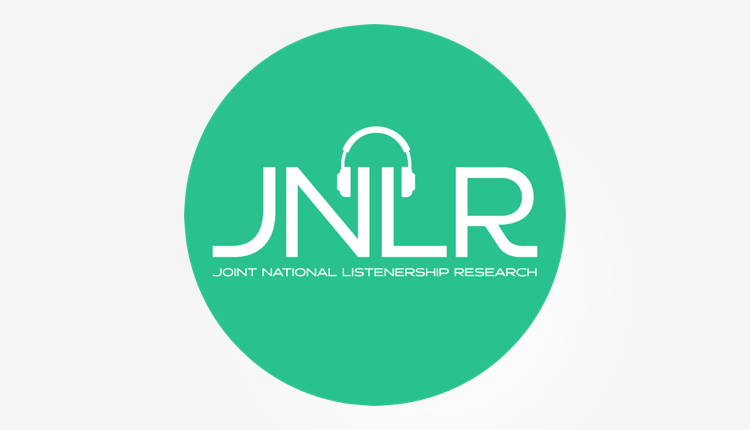 The latest JNLR listenership figures released today show that Irish radio stations continue to attract 85.5% share of the audio market in Ireland.
Q3 2018 shows that 3.1 million people – or 82% of the population – tune in to their favourite radio station for an average of 4 hours every single day.
Observations
255,000 people in Ireland listened to radio via a radio station App and 73,000 listened via the Irish Radioplayer in the last seven days
Irish radio's strong on-air performance is complemented across its digital platforms with over 9.9 million social connections
RTÉ continues to reach over 2 million radio listeners with 2,000,300 or 53% of the Adult 15+ population tuning in every week but Radio 1, 2FM and lyric fm have all lost listeners this survey
RTÉ Radio 1 is still the only station with a weekly reach of over 1 million at 1,386,000, although down -4,000 this quarter and -7,000 year on year
RTÉ 2FM has a weekly reach figure of 844,000/22% of Adults 15+, down 6,000 this book but up 28,000 yearly
RTÉ lyric fm has 267,000 listeners on a weekly basis, which is down 10,000 book on book and down 37,000 year on year
Newstalk has grown its listenership by 30,000 over the past year to achieve a weekly reach of 769,000 listeners. Newstalk's daily reach stands at 402,000 which is an increase of 7,000 year-on-year
Newstalk Breakfast has a reach of 121,000, down 5,000, whilst The Pat Kenny Show has a reach of 149,000 – down 1,000 year-on-year
Radio Nova has increased its listenership in both reach and share in today's JNLR, with the station increasing its weekly listenership to 146,000 (+2,000) and it's market share to 3.9%. (+.5%)
Kfm has added 3,000 new listeners daily and has 83,000 listeners per week (over the age of 15) within county Kildare
Over 70,000 people, more than 71% of all adults in Waterford listen to WLR every week (up 8,000 people on the same period last year), with 50% of all adults in Waterford listening to WLR every day for an average of 4 hours daily (up 11,000 people on the same period last year)
Beat 102-103 attracts 148,000 weekly listeners
Morning Ireland is the most listened to radio programme in Ireland, with 434,000 listeners
Liveline with Joe Duffy attracts 374,000 listeners every weekday (up 4,000 year on year), and is the second most listened to programme in Ireland
Breakfast Republic has 189,000 listeners and moves to number 19 spot in the country and up 3,000 this book
The Nicky Byrne Show with Jenny Greene gains 5,000 this survey to 153,000 which is up 2,000 year on year
Limerick's Live 95FM has 64% or over 100,000 Limerick people tune-in weekly, maintaining its number 1 position in the area
Breakfast with Ray & Jay is Cork's No.1 Breakfast Show with 57,000 listeners every morning
Across the various regional areas throughout the country, National Radio holds the majority share position in Dublin (54.8%) and the greater Dublin Commuter belt (54.8%) while Local/regional radio is in the majority in the other regions throughout the country, in particular, achieving its highest share position in Cork (67.7%) and the South West (57.9%) and North West Regions (57.6%).
Among the younger, 15-34, audience in the country Local/regional Radio is in the majority share position achieving a combined share of minutes of 63.3% (-0.9%) versus 36.7% (+0.9%) for National Radio. In particular, the Local/regional group holds its strongest share position among this age segment in Dublin (70.1%), in the Dublin Commuter region (67.0%) and in Cork (70.6%).
Among the older 35+ age segment, Local/Regional radio is marginally ahead in terms of share of all minutes listened, 52.4% (+0.2%) compared to National radio. However, in regional markets among this age group, National Radio holds the majority share in Dublin (62.5%), the Dublin Commuter region (61.6%), and in the Multi-city area (50.6%).
Local radio continues to perform strongly in the local radio markets across the country – in many areas reaching more than 40% of the local adult population daily. In particular, on the criterion of share of minutes listened during prime 7am to 7pm, Highland Radio and MWR hold the majority share position (50%+) in their respective franchise areas.
"Today's JNLR results share a very positive story about radio in Ireland. Irish audiences have never had as much audio choice as they do today. Podcasts, playlists and aggregators are always cited as taking radio's crown, but this is not the case. In Ireland, radio continues to outperform all other audio options and is the number 1 choice for the 3.1 million people who tune in to their favourite radio station for an average of 4 hours every single day" said Gabrielle Cummins, Chairperson of the Choose Radio Group.
Graph
Social
We'll give it to you in black & white.
It's Red.#JNLR pic.twitter.com/O2mUmI6hjL

— Cork's RedFM (@CorksRedFM) October 25, 2018
The latest JNLR figures are in and we are delighted #JNLR #chooseradio pic.twitter.com/JdQjhWq0WP

— Beat 102 103 (@beat102103) October 25, 2018
82% of adults in Ireland listen to radio each day according to the latest figures (JNLR 2018-3). But in Cork the figure is even higher at 85%. #ChooseRadio pic.twitter.com/Ay9tq6rYxG

— Kieran McGeary (@kieranmcgeary) October 25, 2018
Happy #JNLR day to all fellow radioheads and a continued thanks to listeners old and new for choosing radio and choosing KCLR! #ChooseRadio pic.twitter.com/YHx4mt1LYX

— KCLR 96FM (@kclr96fm) October 25, 2018
Quotes
Jim Jennings, RTÉ Director of Content has said: "It's great to see RTÉ Radio maintain over two million listeners per week, and it's particularly pleasing to see 2FM increase its listenership yet again. RTÉ Radio's remit is to reach all demographics; and our programme makers consistently deliver on that commitment".
NOVA CEO Kevin Branigan: "It's more good news for us here at Nova. We're in a really competitive marketplace, with numerous stations competing for audience. We've carried out a major schedule revamp only 5 months ago; while we don't believe the effects of that will have begun to show in the JNLR yet, it's certainly encouraging to see these increases. The increases come after a string of incremental audiences for the station in successive JNLRs.
Patricia Monahan, Managing Editor of Newstalk: "We are pleased with today's JNLR results which signal a strong performance across our weekday and weekend schedules. On weekdays, 'Moncrieff' and 'The Hard Shoulder' have increased their listenership substantially over the past year gaining 12,000 and 22,000 additional listeners respectively. At the weekend, Bobby Kerr's 'Down to Business' has achieved a listenership of 112,000 while new additions to the schedule 'Between the Lines with Andrea Gilligan' and 'On The Record with Kieran Cuddihy' have also shown significant gains."
Station Director of Live 95FM, Joe Nash says: "We are pleased and proud to have maintained our position as the most listened to radio station in Limerick. The power of radio in general is obvious from this survey, showing 83% of Limerick people are tuning-in to a radio station every day. We are honoured to play our part and serve the people of Limerick – they are at the forefront of everything we do on a daily basis.
"I also want to sincerely thank the team on the air and behind the scenes here at the radio station, whose ability and hard work continue to deliver a service that the listeners of Limerick tune-in to, in significant numbers and thanks are also due to our loyal advertisers, for their continuing support."
Have we missed out an important result? We're only human. Email news@radiotoday.ie with the missing info and we'll add it here.


If you liked this story, we can email you more radio news and alerts. Just fill in the form below.