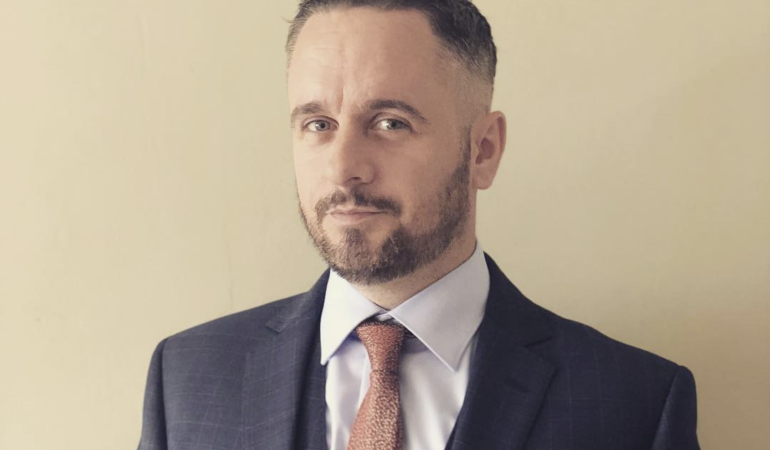 Tributes have been paid to popular radio presenter Alan McQuillan who has died after a sudden illness.

RTÉ 2FM, announced the sad news on Friday afternoon, after Alan passed away on Wednesday at Beaumont Hospital aged 36.
2FM, where he has been presenting Early Breakfast since 2014, paid its respect and said he was one of the longest serving on-air voices synonymous with weekend music on 2FM.
Jim Jennings, RTÉ Director of Content, said: "Alan was well known and respected throughout RTÉ and was a talented member of our Radio family for almost 20 years.
"We will miss him dearly, and we send our thoughts and condolences to his family and to his many friends both inside and outside RTÉ."
Our friend, will be missed so much by so many.

Our pal Al x pic.twitter.com/dYeT0NN29h

— RTÉ 2FM (@RTE2fm) January 18, 2019
RTE said: "The passing of Alan has come as the greatest shock to those who knew him. Alan was ubiquitous to the radio centre in every way. His wonderful kind character and his work ethic touched everybody and everything that came from radio, both on and off air. Across all stations presenters were desk trained by Al, pre-recorded programmes were scheduled by Al, outside broadcasts were operated by Al.
"He had a very particular and professional approach to everything in his working life. He was beloved of all who knew him. His kindness, warmth and selflessness in dealing with his colleagues was one of his greatest strengths. A strength that earned him the friends for life he made in RTÉ, an RTÉ that he adored. Nobody understood the building and the people within it like Al, reflected in the sheer panic each year when Al would announce his annual leave dates!
"The radio centre is an emptier place in his absence and without him we are truly off air."
Sad, sad news. Alan McQuillan was a really really decent guy. Worked closely with him for years across all the dance, electronic and live events on @RTE2fm . Can't say enough good things about him. Deepest condolences to his family. pic.twitter.com/3Wh87GWnUN

— ian w (@toofeckinmuch) January 18, 2019
My @RTE colleague and friend Alan McQuillan took suddenly ill and passed away on Wednesday. His name might not mean a huge amount to you unless you heard me saying "and thanks to Alan back at base" on about 80% of the outside broadcasts I did in 2FM over the years… (thread) pic.twitter.com/ZuMahJQfZT

— Rick O'Shea (@rickoshea) January 18, 2019
I've just heard the shocking news of the sudden passing of Alan McQuillan. I'm stunned. Rest in Peace Al. https://t.co/HNavoLOeAF

— John Gibbons (@djjohngibbons) January 18, 2019
What a beautiful tribute on @RTE2fm to Alan McQuillan. Sad to hear of a loss of someone so young and talented. Only listen to RTE 2, as a fantastic station and today definitely showed that. #RTE2FM

— Holly Conlon (@HollyConlon3) January 18, 2019
We lost our friend Alan McQuillan suddenly this week. We first worked together in FM104 around 1999 before separately ending up in RTÉ. I loved his company, I enjoyed his humour, I valued his friendship. It's hard to process his passing. #ripAl #AlanMcQuillanRIP pic.twitter.com/mSjYsFV6bo

— Damien O'Meara (@damien_omeara) January 18, 2019
Even if you didn't know him, it would be hard not to cry at this. @djjennygreene and @YoMathMan great tribute to Al, and @CarlMullan who worked on it. Anyone who missed it can listen here:https://t.co/jzfZDTlW5B

— Nicola Bardon (@NicolaBardon) January 18, 2019
Heartbreaking to listen to @djjennygreene's and @YoMathMan's tribute to Alan McQuillan this morning. Lovely words. He was a great guy. It starts at 1:50:00https://t.co/LVC2A7neWx pic.twitter.com/9vezOGK2DG

— Simon Palmer ?????? (@SimonJohnPalmer) January 18, 2019
Thinking of everyone out in RTÉ 2fm and the radio community today trying to process the loss of a friend at such a young age. Met Alan McQuillan when involved with 2XM. He was friendly, attentive and generous with his time. May he rest in peace

— Darren Cleary (@RadioCleary) January 18, 2019
Sometimes there are no words. We lost one of our best friends this week. Going to miss you so much, Al. We all are. It won't be the same without you. It really won't

Alan McQuillan – better known to the Pulse FM crew as Al The Gardener. RIP ?❤️ the show this weekend is for you pic.twitter.com/CRHAT4ElAs

— Declan Pierce (@DecPierce) January 17, 2019
Shocked and saddened to hear about our good friend Alan McQuillan (Al The Gardener) RIP https://t.co/KnykcEYOTo

— Robbie Dunbar (@RobbieDunbar) January 16, 2019


If you liked this story, we can email you more radio news and alerts. Just fill in the form below.