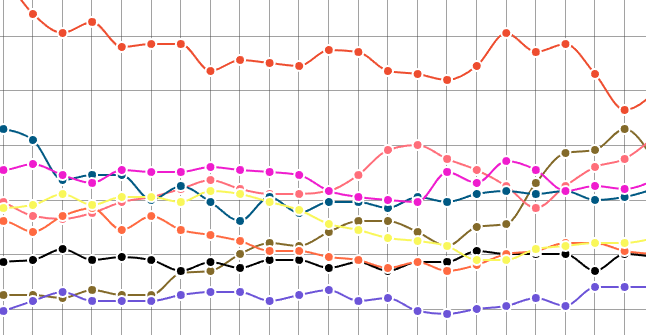 JNLR radio listening figures round-up for Q4 2018
The latest JNLR results show more than 3.17 million listeners (15+) tune into radio every weekday, with daily radio listening at 83% of all adults.
"Today's JNLR results share a very positive story about the power of radio in Ireland. Radio doesn't sell advertising space, it sells the ability to reach a huge audience and the results out today show that 3.1 million people everyday tune into Irish radio. These audiences are in every county in Ireland and include listeners of every age group from 15 years upwards.
"Radio talks directly to the ears of 83% of people every single day and that is a strong selling point to brands, businesses and advertising agencies. In addition, with radio audiences tuning in for an average of 4 hours a day and while a 30-second message may seem short, on radio it will resonate with more people, more often, reinforcing that crucial message that brands want to communicate effectively."
83% of people in Ireland listened to the radio yesterday.
On average, they spend in excess of 4 hours with radio every day.
When it comes to any audio listening in Ireland, live radio rules with 85.5%. This compares to 8% of owned music, 1.6% to podcasts and 4.9% to Spotify.
Radio also dominates when compared with other media – 52% of all adults in Ireland used Social Media yesterday and just 31% read a national newspaper last week.
377,000 people in Ireland listened to radio via a radio station App and 102,000 listened via the Irish Radioplayer in the last seven days.
Irish radio's strong on-air performance is complemented across its digital platforms with over 10.5 million social connections.
Radio 1 continues to dominate with a weekly reach of over 1 million people at 1,387,000, whilst RTÉ 2FM has a weekly reach figure of 837,000.
Communicorp's Newstalk is claiming to be Ireland's second most-listened-to radio station on Daily Reach, but has a weekly listenership of 768,000.
Patricia Monahan, Managing Editor of Newstalk, said: "Today's figures are the result of strong team-work across the Newstalk schedule. It is great to see all-time high listenership results for all shows across the day from Newstalk Breakfast to The Hard Shoulder with Ivan Yates".
However, Today FM's weekly reach grew by 13,000 to 893,000.
Ian Dempsey saw his breakfast listenership grow by 18,000 (book-on-book) to a 3-year-high of 180,000. Ian, who recently celebrated 20 years waking up the nation on Today FM said: "I'm delighted; it's a massive figure for us. It's all thanks to our regular breakfast show listeners and all of the new recruits who choose to join us every morning!"
Matt Cooper continues to deliver 'The Last Word' to more people; his drivetime show (4.30-7pm) grew by 5,000 to an audience of 142,000. Commenting on his figures, Matt Cooper said: "It's great to be at our highest audience in almost 4 years, our mix of news and entertainment and all things in between seems to be appealing to more and more people and long may it last"
Adelle Nolan, Content Director commented: "Ian Dempsey is without doubt the King of Breakfast radio in Ireland. To have almost 900,000 people tuning in each week to Today FM is a huge honour and a reflection of the hard work and dedication that goes into the station both on and off the air".
Keith McCormack, CEO, Today FM said: "It's great to see Ireland's love affair with Today FM continues and it's particularly interesting to see that it's a young audience that are enjoying the brand and driving the growth. How they listen may be changing, but what remains constant is their desire for great personalities and great audio content."
Meanwhile, Dublin stations 98FM and SPIN1038 enjoyed strong performances with 98FM now entertaining a weekly audience of 231,000, up by 8,000. 98FM now commands an 8.3% share of the Dublin radio market, its highest since early 2012, making 98FM the second most-listened-to music station in Dublin.
Each of the station's daytime shows have grown listenership, including 98FM's Big Breakfast which now reaches an audience of 49,000, up 9,000 listeners. SPIN1038 has strengthened its position as the number one station for 15-34s in Dublin, now commanding a market share of 19.6% among the demographic in the capital. The station's weekly reach now stands at 271,000, 82,000 of which tune in to SPIN Hits with Steve K (weekdays, 3-7pm), meaning SPIN1038's drive-time listenership is second only to RTE Radio 1's in Dublin.
Sister station SPIN South West has also cemented its position as the number one choice for 15-34s and, impressively, all adults in the region. One in three adults now tune in every week, meaning SPIN South West has a weekly reach of 156,000 or 32% of the all adult audience.
Speaking about the latest results for Communicorp, Adrian Serle, Group CEO, said "We are delighted. We have seen the highest ever market share for Newstalk, the biggest weekly reach for Today FM and the highest share for 98FM since 2012. In addition to our on-air growth, our audience consumption across digital platforms is thriving, with massive increases in streaming and podcast consumption. Digital audio is being created, shared and listened to by over 1m people every week in Ireland. Our recent launch of digital sales platform, audioXi, is a huge development for our business, enabling advertisers to target this previously untapped digital audio audience for the first time ever."
We're Connecting Cork, Every Week, Every Day, Every Hour.

Thank you for listening to Cork's RedFM!#JNLR #ChooseRadio pic.twitter.com/KrSLrkOxyF

— Cork's RedFM (@CorksRedFM) February 7, 2019
At Radio 1, Morning Ireland is the most listened to radio programme in Ireland, with 439,000 listeners (+5,000 BoB and +16,000 YoY). Liveline with Joe Duffy draws 381,000 listeners every weekday (+7,000 BoB and +8,000 YoY), the second most listened to radio programme in Ireland.
The Ryan Tubridy Show has seen an increase of 12,000 listeners in this book bringing his reach to 325,000 (+12,000 BoB and +7,000 YoY). Ryan is now in the top 5 most listened to radio programmes for Adults 15+. And with 320,000 listeners Today with Sean O'Rourke gains 3,000 listeners (BoB and +8,000 YoY).
The Marian Finucane Show sees an increase of 18,000 listeners on Saturday to 364,000 listeners (BoB).
Tom McGuire, Head of RTÉ Radio 1 says, "I'm delighted that RTÉ Radio 1 has retained its loyal audience and welcomed new listeners to daily shows in the latest JNLR survey. It is a tribute to our programme makers and contributors that more than 1.3 million people tune in to RTÉ Radio 1 every week for a schedule that entertains and informs across all genres."
RTÉ 2FM holds its weekly reach figure of 22% of Adults 15+ and a Market Share of 7%.
Breakfast Republic moves to number 17 in the country with 187,000 listeners with an increase of 1,000 (YoY). Number one programme in the country for A15-34.
The Nicky Byrne Show with Jenny Greene has gained 3,000 YoY to 153,000.
The Tracy Clifford Show has grown to 145,000 an increase of 12,000 listeners YoY and 3,000 (BoB)
Dan Healy, Head of Radio Strategy and RTÉ 2FM says: "2FM continues its steady progress and is now the largest national station for 15-34 year olds with a market of 13.6% compared to Today fm on 9.5%. We continue to provide exclusive programming which supports Irish music with initiatives such as 2FM Rising and of course The RTÉ Choice Music Awards."
RTÉ lyric fm reaches 265,000 Adults weekly and 120,000 Adults 15+ every weekday, with a market share of 1.7% for adults 15+.
Aodán O'Dubhghaill, Head of RTÉ lyric fm says: "This consistent book for RTÉ lyric fm is another confirmation that quality classical music has an audience on the island of Ireland and we at RTÉ lyric fm are honoured to be the broadcast custodians of that important music tradition."
At Beat 102-103, 149,000 adults now tune in to the station weekly. The regional station has also seen record audiences at weekends in the latest audience figures.
CEO & Programme Director of Beat 102-103, Gabrielle Cummins, said that it's an exciting time for Beat: "We've just rolled out a brand-new line up that is being well received by our loyal audience. We regularly shout about our talented weekday presenting team, but it's worth highlighting that I'm also proud of the performances from the weekenders with these latest JNLR results."
"Radio is 24-7, 365 days a year. We invest heavily in our weekday output, but it's equally as important that our weekend shows work hard to match the standard set Monday to Friday, so for the likes of The Big Saturday, Old School Sunday and The Sunday Grill to be producing such record-breaking audience numbers is huge."
She continued: "We're immensely passionate about the content we provide and we're confident the recent changes will only serve to grow our audience numbers over the next 12 months. Finally, I'd like to thank our 149,000 listeners for choosing Beat consistently, on a weekly basis."
At WLR, the station now has 6,000 new listeners daily, 6,000 new weekly listeners, 5,000 new listeners tuning in on Saturdays and 9,000 listeners who choose WLR on Sundays, while market share has increased from 39%-45% on weekdays, 38%-42.9% on Saturdays and 34.8%-45% on Sundays, compared with 12 months ago.
Speaking about the recent results, WLR Programme Director, Michael Byrne says, "It has been a great start to 2019, and welcoming Damien Tiernan, the new voice of Waterford to the team really adds to the excitement. I am positive the growth will continue throughout this year and beyond."
Meanwhile, WLR Managing Director, Des Whelan says, "Another really strong set of listenership figures for radio and a great result for WLR. Over the past 12 months WLR has grown its listenership by 6,000 listeners with 71% of all adults living in Waterford listening to WLR each week. That's a phenomenal vote of confidence in the presenters and programmes on the station from our listeners and we look forward to giving our audience an even better service in the year ahead."
Midwest Radio has a Yesterday Listened figure of 63% – up 2% for the previous survey. However, the stations market share has increased by 3.9% and now stands at 54.8%.
Midwest Radio's CEO Paul Claffey said: "The results are phenomenal and great credit has to go to our entire team who have put their shoulder to the wheel and made sure that we deliver the service that people want. Midwest Radio is very much a team effort and every single member of our staff in every department of our business deserves great credit for keeping us where we are".
Kfm is reporting it leads the way across all listening parameters – comfortably ahead of any national or regional station broadcasting into county Kildare.
Kfm CEO/Executive Director Clem Ryan said: "The figures – nationwide and in county Kildare with Kfm – Kildare's most listened to radio station – prove beyond doubt the Reach of radio: the reason that advertisers choose radio as the best medium to market their businesses and products to the most diverse and biggest audience of any other media".
Radio Kerry has 81,000 listeners every week – 67% of the market. The Market Share is 48.3% whilst Listened Yesterday stands at 46%.
Here are some more facts and figures shared on Twitter:
#jnlr #ChooseRadio pic.twitter.com/po8GKTrFFI

— Radio Kerry (@radiokerry) February 7, 2019
The latest #JNLR figures are in and we are delighted ? ?

Thanks for listening ?✨

#ChooseRadio #SPINSouthWest@ChooseRadioIE pic.twitter.com/dY3wb6hek1

— SPIN South West (@SPINSouthWest) February 7, 2019
NO.1 SHOW IN CORK – 78,000 listeners tune in to the Neil Prendeville Show on @CorksRedFM everyday. Thank you for tuning in Cork ? #JNLR #ChooseRadio pic.twitter.com/Q9fI363Yzl

— Neil Prendeville (@NeilRedFM) February 7, 2019
Wow!! @ThisisiRadio now have a MASSIVE 227,000 listeners every single day!!
Eleven years on air and still growing!! #ChooseRadio #JNLR #Up pic.twitter.com/97Iu7ZFP1H

— Mark Cunning (@markcunning) February 7, 2019
79,000 listen to the Strawberry Alarm Clock every morning!

We've an extra 10k listeners since the last #JNLR

We have some incredible prizes coming up on @FM104 this year!

I'm such a mouth il prob tell you if I see you! ?

Thanks everyone from the whole team! ?⏰ pic.twitter.com/lmW4sNCESv

— CROSSY (@CrossyTweets) February 7, 2019
Absolutely delighted to welcome NINE THOUSAND extra listeners to #98fmBigBreakfast ???

We now have 49,000 lovely people tuning in every morning!

It's the highest a breakfast show on @98fm has been since 2012 ?#jnlr pic.twitter.com/JXRdRomHtx

— Luke O'Faolain??‍♂️ (@FaolainLuke) February 7, 2019
Radio continues to be the number 1 choice for Irish audiences with a combined strength of 85.5% share of the audio market in Ireland. This compares with 8% own music, 4.9% Spotify and 1.6% Podcast. #ChooseRadio #JNLR

— Classic Hits (@ClassicHitsRdio) February 7, 2019
We STILL have 3.1 MILLION people listening to radio in Ireland every day! thanks to you all who #ChooseRadio every day. @MediaCentralIRL @RTEMediasales @urbanmediairl @IRS_Plus @CorksRedFM @LearningWaves @IBIreland #JNLR pic.twitter.com/D20hmacrSg

— Choose Radio (@ChooseRadioIE) February 7, 2019
Choose Radio 2018-4 from iRadio Creative Solutions on Vimeo.
To be in our next JNLR round-up, please add news@radiotoday.ie to your PR lists, or just send us your figures. It makes it so much easier for us to include everyone 🙂


If you liked this story, we can email you more radio news and alerts. Just fill in the form below.