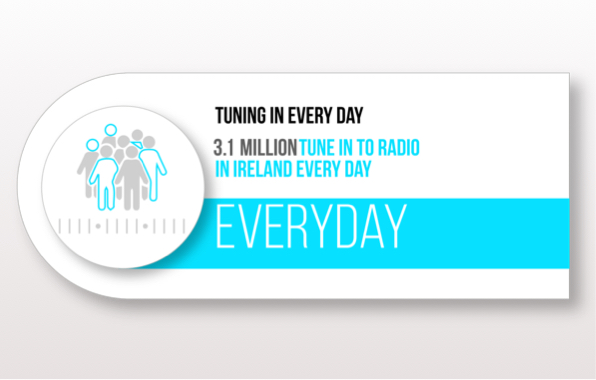 The latest JNLR figures show 82% of the population tuning in to radio every day, which translates into weekday figures of 3.1 million listeners.
And earlier this week, JNLR published details of a pilot study which it conducted recently. The study confirmed that 'Day-After Aided Recall' remains the best methodology measure of Irish radio listening habits and the results cannot be disputed.
Sales wise, the latest figures show that Irish radio continues to be the audio medium of choice for people in Ireland with 85.5% share of the audio market in Ireland.
This compares with 8.1% own music, 4.9% Spotify and 1.6% Podcast.
Gabrielle Cummins, Chairperson of the Choose Radio Group: "Today's JNLR results don't lie: they highlight a powerful story about the resilience of radio in Ireland. On Radio, you are always front and centre, grabbing the full attention of the audience. Radio stations don't hide your important message on the bottom of a web page or leave it to fight for attention amid a sea of other competing messages. We can ensure that your ad will be delivered directly to the ears of 3.1 million people daily. Radio is an active medium with a unique ability to stir emotions, create reactions and ultimately build demand. In a competitive market, that fact is a key selling point which differentiates radio from every other advertising medium"
JNLR May 2019 – the facts
82% of people in Ireland listened to the radio yesterday.
On average, they spend more than 4 hours with radio every day.
When it comes to any audio listening in Ireland, live radio rules with 85.5%. This compares to 8.1% of owned music, 1.6% to podcasts and 4.9% to Spotify.
Radio also dominates when compared with other media –51% of all adults in Ireland used Social Media yesterday and just 75% read a national newspaper last week.
377,000 people in Ireland listened to radio via a radio station App and 102,000 listened via the Irish Radioplayer in the last seven days.
Irish radio's strong on-air performance is complemented across its digital platforms with over 10.6 million social connections.
Around the stations
Newstalk has maintained its position as the second most listened to station in Ireland with 414,000 listeners tuning in every day. This is an increase of 22,000 over the last year.
Newstalk has 746,000 listeners each week and has achieved a National Prime-Time Market Share figure of 6.8%, up 0.3% year on year.
Managing Editor of Newstalk, Patricia Monahan commented today; "We are delighted with today's results which clearly show that we are providing our audience with the opinion and analysis they want. Leading the way are Ivan Yates and Sean Moncrieff who have seen significant audience growth in the last 12 months. It is also great to see our long-standing weekend programmes continue to make gains ".
Key figures for Newstalk weekday programmes:
Newstalk Breakfast – Reach 124,000 (Down 2,000 Year-on-Year)
The Pat Kenny Show – Reach 150,000 (Up 2,000 Year-on-Year)
Lunchtime Live with Ciara Kelly – Reach 100,000 (Up 1,000 Year-on-Year)
Sean Moncrieff – Reach 97,000 (Up 14,000 Year-on-Year)
The Hard Shoulder with Ivan Yates – Reach 173,000 (Up 28,000 Year-on-Year)
Off The Ball – Reach 54,000 (No change Year-on-Year)
At Today FM, The Ian Dempsey Breakfast Show (7-9am) has 181,000 people (+1,000 book-on-book) now tuning in each morning. Ian Dempsey has grown his audience by 18,000 in the past year, the highest it's been since 2014.
Drivetime host Matt Cooper is celebrating a 4 year high for 'The Last Word' (4.30-7pm) as his audience increased 10,000 to 152,000 (increase of 14,000 year-on-year). Commenting on his figures, Matt Cooper said: "We never take anything for granted, especially our listeners, so we're delighted that the varied mix of topics and guests, is appealing to an ever-larger number of people".
Dermot & Dave (9am-12pm) saw a slight dip in this book (-2,000) however with a current listenership of 163,000, Dermot & Dave are still the biggest mid-morning show outside of the national broadcaster. The duo is currently touring the country with their latest comedy tour and will play a sold-out Vicar Street show next weekend.
At Beat, Beat Breakfast, now has its biggest audience since the station launched back in 2003. The show, hosted by Niall, Vinny and Trish, now reaches 46,000 people every day. Meanwhile, the Saturday edition of the programme has increased its audience by 69% in 12 months.
Beat Breakfast presenter and Head of Station Sound Niall Power says "As part of one of Ireland's longest running morning shows, I often ponder whether people might be getting sick of you! So, it's somewhat of a relief and a joy to see our audience reach its highest number ever. I've always believed we have a special relationship with our listeners- we care about them and they're passionate in return about us. I'm so grateful that ever-increasing numbers are choosing to give us their time and company every day!"
The latest JNLR/IPSOS/MRBI survey also reveals:
Beat's Average Quarter Hour audience has increased from 15,500 to 17,300 in the last year
The station has seen increases in its daily audience, weekly audience and market share since the last results three months ago
In the target audience of 15-34 year-olds, Beat has more listeners in the South East daily (58,000) than 2FM (19,000), Today FM (17,000), Newstalk (6,000) and Radio 1 (6,000) combined!
Increases at the weekend include the Tweet Chart (up 48% year on year), the Big Saturday (up 31%), Sportsbeat Roundup (up 50%), the Sunday Grill (up 53%) and More Music Sunday (up 57%).
WLR tells us the latest figures for the station show that it has increased its daily reach by 2 points, jumping from 46% to 48%, with market share increasing by a steady 1% from 42% to 43%. 82% of people in Waterford listened to the radio yesterday and they spend on average over 4 hours listening per day.
Various shows across the weekly schedule record gains in listenership year on year. Notably, Waterford listeners have given WLR's newest recruit, Damien Tiernan, a warm welcome since he joined the station's mid-morning show 'Déise Today' back in January. Meanwhile, Geoff Harris continues with 14,000 listeners tuning in to The Lunchbox every 15 minutes.
Increases can also be seen in John O'Shea's Absolute Irish on Sunday nights from 9pm-midnight. Formerly 'Guaranteed Irish', the show was renamed 'Absolute Irish' to coincide with the launch of WLR's sister digital station of the same name, which broadcasts the best of country and Irish music to a national audience 24/7 via the Irish Radio Player app and its dedicated website. John O'Shea's 'Absolute Irish' has a record 13,000 people tuning in every 15 minutes.
WLR has also significantly increased Saturday listenership by 9% (or 9,000 people year on year) with 40,000 people in Waterford now choosing to listen to WLR every Saturday, and 37,000 people, which is an extra 5% (or 6,000 people year on year), tuning in to WLR every Sunday.
Live 95 has almost 100,000 listeners tuning in every week, which equates to 62% of the people of Limerick.
Live 95 Station Director, Joe Nash said: "We aim every day to keep the listeners of Limerick entertained and informed and we are proud to focus more than any other radio station on this great City and County. We are grateful to our listeners and the business community for staying local in such numbers, because we know they are as proud of Limerick as we are, at Live 95.
"I want to especially thank the great team here at the radio station who are so dedicated to bringing the best radio possible, to the best place in the country."
82% of adults in Ireland tune to radio each day. But in Cork, that figure is even higher at 85%. Well done to the team at @Corks96FM and @C103Cork for both increasing market share. #jnlr #chooseradio pic.twitter.com/bceKFDdwKx

— Kieran McGeary (@kieranmcgeary) May 2, 2019
Today is #JNLR Radio Ratings Day
Thank you from myself and @OnlyRossBrowne for tuning in.
Our breakfast show @Corks96FM has added another 5000, taken us to 52,000 daily listeners. To celebrate, check out this amazing giveaway #ChooseRadio pic.twitter.com/5hf8FwgZ3b

— KC (@kcshowcork) May 2, 2019
3.1 Million People in Ireland tune in to Radio EVERYDAY ? Thank You for choosing Classic Hits ?? #JNLR #ChooseRadio pic.twitter.com/A8cEKLp3Up

— Classic Hits (@ClassicHitsRdio) May 2, 2019

https://twitter.com/IBIreland/status/1123911206090301444
Team @morningireland still the number one choice for radio in latest #JNLR results. In its 50th year, @thisweekrte welcoming thousands more listeners @RTERadio1. Thanks to all. pic.twitter.com/SVjzgMjN3y

— Jon Williams (@WilliamsJon) May 2, 2019
RTE
Radio 1 remains the only Irish radio station with a weekly reach of over 1 million. Here are some other facts for this book:
Morning Ireland remains the most listened to radio programme in Ireland, with 421,000 listeners.
The Marian Finucane Show sees an increase of 18,000 (BoB) listeners on Saturday mornings with 382,000 tuning in, and 325,000 on Sunday mornings (+13,000 BoB).
Liveline with Joe Duffy draws 375,000 listeners Monday to Friday; the second most listened to weekday radio programme in Ireland.
Miriam O'Callaghan continues to draw new listeners this book with 252,000 tuning into Sunday with Miriam (+6,000 BoB, and +4,000 YoY).
Saturday with Cormac Ó hEadhra moves up the table of Top 20 A15+ gaining 13,000 (BoB and +8,000 YoY), 227,000 are staying informed every Saturday lunchtime.
The Ryan Tubridy Show has seen an increase of 3,000 listeners in this book bringing his reach to 328,000 (+3,000 BoB and +24,000 YoY).
With 322,000 tuning into Today with Sean O'Rourke, the programme sees gains of 2,000 listeners (BoB and +27,000 YoY).
News at One with Aine Lawlor and Claire Byrne broadcast to 334,000 listeners every weekday.
Drivetime with Mary Wilson has 223,000 listeners each weekday (+2,000 BoB).
The Ray D'Arcy Show has 220,000 listeners (+15,000 YoY) tuning in weekday afternoons from 3pm.
Weeknights from 8pm see 50,000 people tuning in to The John Creedon Show (+4,000 BoB and +7,000 YoY).
Playback continues to see gains this book, with 312,000 listeners (+20,000 BoB and 37,000 YoY).
The Business presented by Richard Curran saw a further jump of 13,000 BoB, now with 313,000 listeners (+8,000 YoY).
Celebrating 50 years this year, Sunday Miscellany saw gains of 17,000 BoB now with 256,000 listeners (+26,000 YoY) each Sunday morning.
Peter Woods, Managing Editor, RTÉ Radio 1 says, "RTÉ Radio 1 consolidates and builds its listenership – this is a tribute to the hard work of our programme teams and a roster of some of the best on-air talent in the country. It's also an endorsement of the new people we've brought in, like Katie Hannon, Cormac Ó hEadhra and Maggie Doyle. And it's also about our listeners. It is always about our listeners."
Over at 2FM, the station holds its weekly reach figure of 834,000/22% of Adults 15+ and its market share remains the same at 7% book on book.
Dan Healy, Head of RTÉ Radio Strategy and RTÉ 2FM says, "We've had a great five years on RTÉ 2FM, but times are changing and we're getting ready to change again. It's exciting times for 2FM as we head into a new schedule this summer. We've some really great plans in place as we continue to celebrate and support the music that we have always championed here on 2FM".
Here are some figures from around the schedule:
Breakfast Republic continued to increase its listenership, now with 188,000, an increase of 1,000 (BoB). It holds its number one spot for most listened to programme in the country for 15-34.
The Nicky Byrne Show with Jenny Greene has gained 2,000 new listeners BoB, now with a listenership of 155,000.
The Tracy Clifford Show has grown to 147,000, an increase of 18,000 listeners YoY and 2,000 (BoB).
The Eoghan McDermott Show has 134,000 listeners tuning in each evening.
39,000 have been tuning in to The Electric Disco with Jenny Greene (+5,000 BoB and +5,000 YoY).
Chris and Ciara have seen an increase in their listenership on Sunday mornings both YoY (+8,000) and BoB (+2,000) with 95,000 people tuning in across the morning.
The Request Show with Emma Power sees gains year on year and book on book now with 32,000 hearing their requests played every Sunday night, (+2,000 BoB and +5,000 YoY).
RTÉ lyric fm reaches 265,000 adults weekly and 118,000 adults 15+ every weekday.
Aodán O'Dubhghaill, Head of RTÉ lyric fm says: "The JNLR release is all about numbers but today there is only one that really counts for us, TWENTY. Today RTÉ lyric fm celebrates 20 years on air. Twenty years of celebrating the best in classical music with our loyal listener base, many of whom have been listening since day one. So while our colleagues around the radio industry celebrate the ups and downs, their quarter hours and share, we'll just focus on the number twenty and celebrate our time on air where every day we strive to make the world a place Where Life Sounds Better".
Marty in the Morning programme reaches 42,000 adults 15+
Niall Carroll's Classical Daytime reaches 27,000 adults 15+
The Full Score with Liz Nolan reaches 34,000 adults 15+
Lorcan Murray's Classic Drive reaches 39,000 adults 15+
The Mystery Train with John Kelly reaches 19,000 adults 15+
Movies and Musicals reaches 43,000 adults 15+ (Saturday)
The Hamilton Scores reaches 34,000 adults 15+ (Saturday)
Sunday Matineé reaches 43,000 adults 15+ (Sunday)
RadioToday's JNLR data is limited to what we are sent by stations so to include your results here, please email them to news@radiotoday.ie


If you liked this story, we can email you more radio news and alerts. Just fill in the form below.