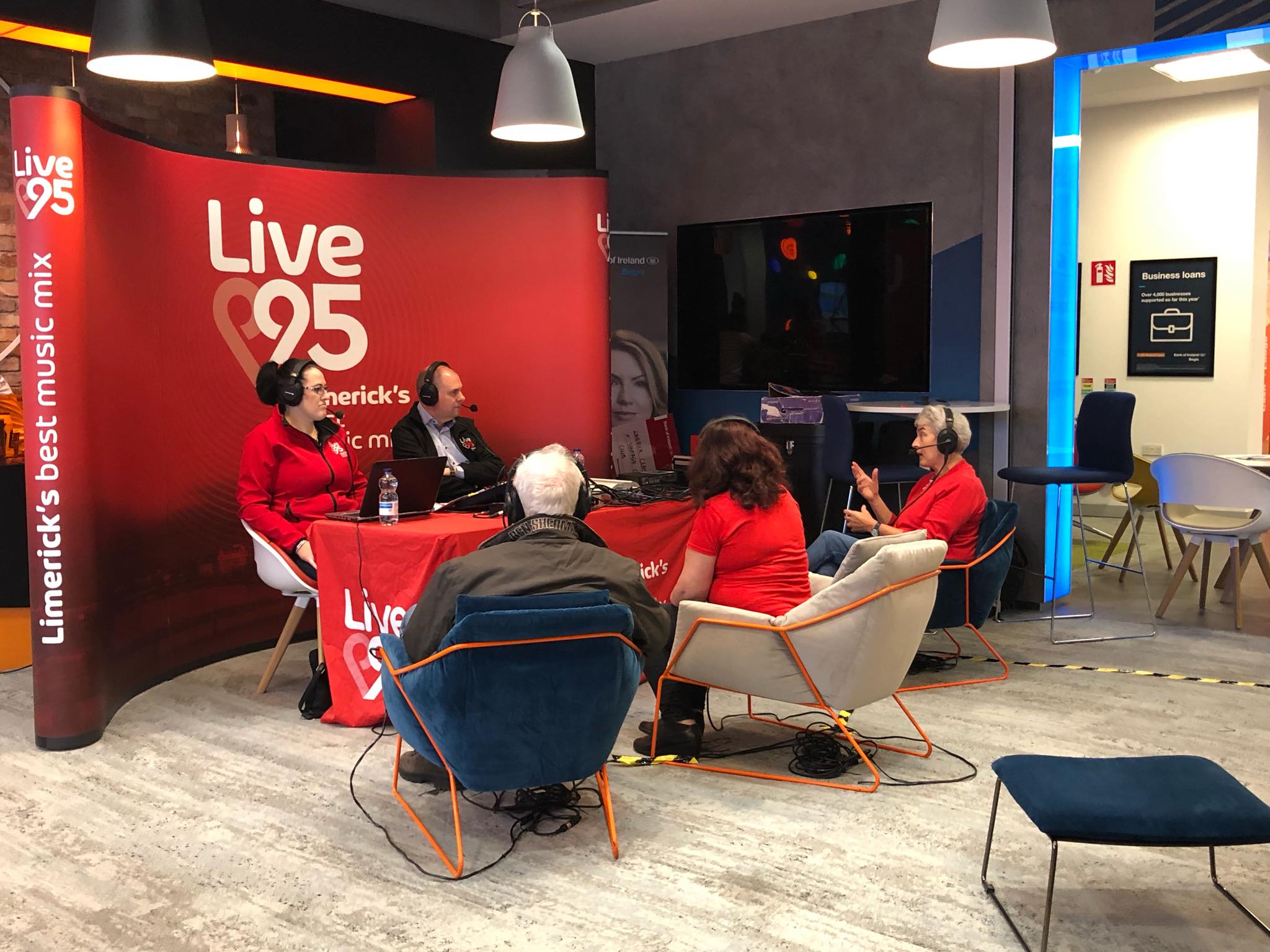 The latest results JNLR/Ipsos MRBI show 3.15 million listeners (15+) are tuning in to radio every weekday – with daily radio listening at 81% of all adults.
A large majority of Irish adults listen to the radio on an average day – more than half tune into their local or regional station and 43% listen to a national station.
Among the younger, 15 to 34-year market, 73% listen daily.
Irish radio audiences continue to listen to a significant amount of radio everyday – tuning in, on average, for almost 4 hours (225 mins) per day during the prime 7am to 7pm time. In terms of share of all minutes listened in the country, National Radio currently has 44.9% share of all minutes while
Local/Regional Radio holds the majority share position with 55.1% in this reporting period.
National Radio holds the majority share position in Dublin and the greater Dublin Commuter belt while Local/regional radio is in the majority in the other regions throughout the country, in particular, achieving its highest share position in Cork, in the North West, and South West Regions.
Among the younger, 15-34, audience in the country, Local/regional Radio is in the majority share position achieving a combined share of minutes of 64.0% versus 36.0% for National Radio. In particular, the local/regional group holds its strongest share position among this age cohort in Dublin (72.0%), in Cork (70.1%), in the Dublin Commuter (68.6%) and the Multi-city regions (66.4%).
Among the older 35+ age segment, Local/Regional radio is marginally ahead in terms of share of all minutes listened, 52.8% compared to National radio. However, in regional markets among this age group, National Radio holds the majority share of minutes in Dublin, the Dublin Commuter region and the Multi-city area.
Local radio continues to perform strongly in the local radio markets across the country – in many areas reaching more than 40% of the local adult population daily. In particular, on the criterion of share of minutes listened during prime 7am to 7pm, Highland Radio, MWR and Radio Kerry hold the majority share position (50%+) in their respective franchise areas.
With 3.1 million people listening to radio every day, we @ChooseRadioIE have worked with @BoysandGirlsLtd to devise this powerful ad, highlighting how creative ads can really work for your business #ChooseRadio #JNLR pic.twitter.com/2L8L6aUwhu

— Choose Radio (@ChooseRadioIE) October 24, 2019
Newstalk is the second most listened to station in Ireland, ahead of RTÉ 2FM and Today FM, with 413,000 listeners on a daily basis and a National Market Share of 6.7% year on year.
Ireland's biggest radio show outside of RTÉ, The Hard Shoulder with Ivan Yates has grown its audience by 25,000 over the last year to reach 182,000 listeners. Newstalk Breakfast with Shane Coleman and Kieran Cuddihy has grown by 4,000 since this time last year and now has 125,000 listeners every morning.
Managing Editor of Newstalk, Patricia Monahan commented today; "Newstalk has had a strong year delivering informative, engaging and entertaining radio. We are delighted to retain our position as the second most listened to station in Ireland and to see our drivetime shows, Newstalk Breakfast and The Hard Shoulder, become increasingly popular.
Elsewhere, 368,000 people tune into iRadio every week and CEO Mark Cunning is welcoming the news: "I'm really pleased with today's results and thank you to the 368,000 people who choose to listen to iRadio every single week. It's a testament to the team here and the hard work they put in."
Live 95 has over 100,000 listeners tuning-in every week, which equates to 65% of the people of Limerick. Station Director, Joe Nash: "We've a really dedicated team here who work incredibly hard to deliver the best service to listeners and advertisers and I want to thank them for their dedication and commitment to the radio station".
Beat now has 164,000 people listening each week, with increases over the last twelve months in daily listenership, market share and on Beat Breakfast. 73% of people aged under 35 in the South East listen to Beat every week.
Beat Breakfast presenter and Head of Station Sound Niall Power says: "We launched an exciting new sound back in January with a new lineup across the day and we're now starting to see the results of that with a record-breaking number of people listening to Beat each week. I'm delighted to see more people joining us on Beat Breakfast each morning and the new Beat Drive with Darren Rice has also grown its audience significantly this year."
Beat boss Gabrielle Cummins is Chairperson of the Choose Radio Group. She adds: "Radio is the only mass medium that dovetails into our busy lives. You don't need to be sitting in front of a screen, reading a paper, concentrating on a digital display or waiting for recommendations from friends for radio advertising to be effective. Messages broadcast on radio slot neatly into our lives without imposition or causing us to adjust our behaviour. There is no fast-forward on radio, no mute or block buttons – just great ads which get into your head!"
The latest #JNLR listenership figures are out and there's something we want you to know but we don't want to be too forward about it…? pic.twitter.com/NfYEKlzSTi

— Cork's RedFM (@CorksRedFM) October 24, 2019
RTÉ reaches almost two million radio listeners or 51% of the Adult 15+ population tuning in every week.
RTÉ Radio 1 continues to be the only radio station in the country with a weekly reach of over one million people, with 1,356,000 tuning in. RTÉ 2FM has a weekly reach figure of 830,000/21% of Adults 15+ while RTÉ lyric fm has increased its listenership with 282,000 listeners on a weekly basis (+9,000 BoB and +15,000 YoY).
Highlights include:
The Ryan Tubridy Show sees increases of 2,000 listeners in this book, and 21,000 year on year bringing his reach to 334,000 (+2,000 BOB, +21,000 YOY)
Morning Ireland increases listenership BOB with 429,000 tuning in each morning (+5,000)
2FM Breakfast with Doireann and Eoghan has 135,000 listeners tuning in on weekday mornings (+2,000 BOB)
RTÉ lyric fm has 282,000 listeners on a weekly basis (+9,000 BoB and +15,000 YoY)
Lorcan Murray's Classic Drive reaches 48,000 adults 15+ (+4,000 BOB, +9,000 YOY)
Tom McGuire, Head of RTÉ Radio 1 has said: "We are pleased that RTÉ Radio 1 remains the nation's most-listened-to radio station. And we are pleased with the positive audience response to the terrific variety of news, current affairs, music and entertainment, sport, arts and culture that RTÉ Radio 1 offers".
Dan Healy, Head of RTÉ Radio Strategy and RTÉ 2FM says: "Although we are only the four months into the new schedule there is evidence that it is having a positive impact on our 15-34 audience. Our market share for 15-34 years increased from 12.5% to 13%. Our new breakfast show with Doireann and Eoghan held which is remarkable, because normally when you change breakfast shows the audience usually goes in to a temporary decline. Our new talk show, The Jennifer Zamparelli Show on 2FM, is doing very really well, bringing relevant human interest stories for younger audiences to the airwaves. We have had a strong summer of live music, supporting new and emerging Irish musicians and we continue to lead the way in public service broadcasting for younger audiences".
Aodán O'Dubhghaill, Head of RTÉ lyric fm said: "This is the 3rd book this year that has shown RTÉ lyric fm increase its listeners across the week. We came in to 2019 with 265,000 and we have grown that to 282,000 and increased our market share. There is a lot of love out there for RTÉ lyric fm, our presenters and the quality classical music we broadcast each and every day".
Thank you to our loyal listeners for tuning in – all 282,000 of you! We hope you continue to enjoy the music. #WhereLifeSoundsBetter #JNLR pic.twitter.com/wMCDxsCm3m

— RTÉ lyric fm (@RTElyricfm) October 24, 2019

Please note our stories are reactive based on public information – RadioToday does not have access to the full JNLR database. Please send us your news and quotes to news@radiotoday.ie to be included here.


If you liked this story, we can email you more radio news and alerts. Just fill in the form below.