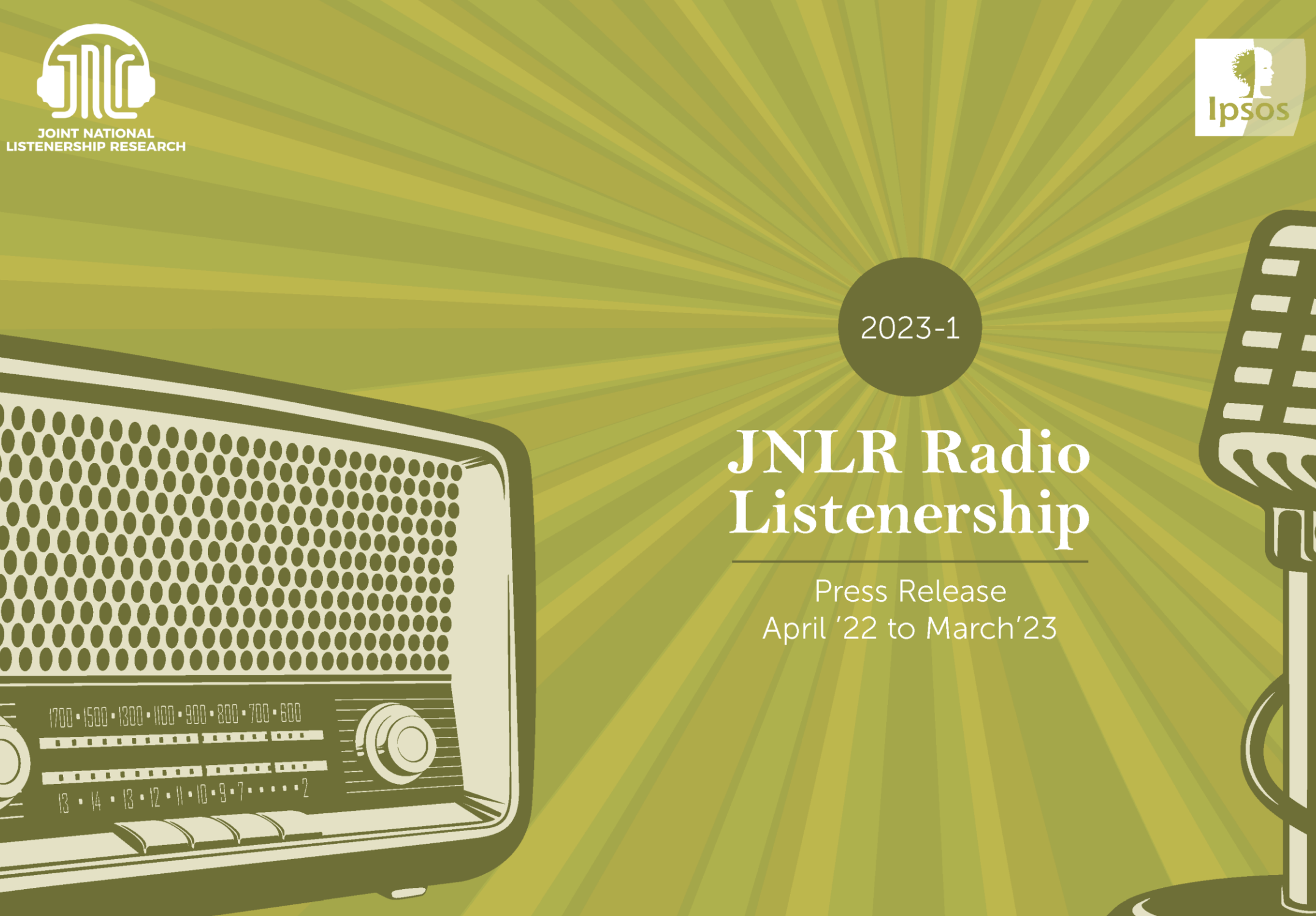 The latest radio listening results show 3.255 million adults tune into radio every weekday – an increase of 48,000 listeners.
Daily radio listening stands at 79.4% of all adults whilst weekly listening increases to 90.9% of the population.
At RTÉ, 1.93 million, or 47% of the Irish Adult 15+ population tune in every week.
RTÉ Radio 1 holds 17 of the top 20 radio programmes in Ireland and remains the only station with a weekly reach of over +1 million (at 1,347,000).
RTÉ Radio 1's weekday share stands at 19.8%, RTÉ 2FM's share is 5.8%, with RTÉ lyric fm's share at 2.4%.
In national commercial radio, Today FM sees a slight increase from a weekly reach of 875,000 to 883,000 whilst Newstalk drops from 792,000 to 786,000 listeners.
Today FM has almost half a million people (466,000) tuning into Today FM on a daily basis, an increase of 11,000 on the last JNLR book.
Here are some observations from the stations…
RTE:
Morning Ireland remains Ireland's most listened to radio programme, with 437,000 listeners this book.  (+4,000 BoB)
The Ryan Tubridy Show broadcasts to 335,000 listeners each weekday (+4,000 BoB)
Today with Claire Byrne has 327,000 listeners this book (+6,000 BoB)
Afternoon programming on Radio 1 remains the most listened to with The Louise Duffy Show (213,000), News at One (299,000), Liveline with Joe Duffy (306,000) and The Ray D'Arcy Show (181,000)
Drivetime with Sarah McInerney and Cormac Ó hEadhra has 214,000 listeners each weekday evening (+6,000 BoB)
On weekends Brendan O' Connor has 327,000 listeners on Saturdays and 319,000 listeners on Sundays
292,000 listeners tune in to hear Miriam O' Callaghan on Sunday mornings
Newcomer to the slot Saturday with Colm Ó Mongáin has increased his audience to 195,000
Saturday and Sunday Sport have seen gains up 15,000 and 13,000 respectively
2FM Breakfast with Doireann, Donncha, and Carl has 135,000 listeners tuning in on weekday mornings (+6,000 BoB)
Jennifer Zamparelli has 133,000 listeners to her morning show
Drive it with the 2 Johnnies continues to draw listeners across the country in the afternoons with 130,000 listeners (+11,000 BoB)
Marty in the Morning on lyric fm has 57,000 listeners tuning in weekday mornings (+1,000 BoB)
Niall Carroll's Classical Daytime has 44,000 listeners mid-morning (+3,000 BoB)
The Hamilton Scores with George Hamilton on Saturdays has 42,000 listeners (+6,000 BoB)
Vespertine with Ellen Cranitch has 5,000 new listeners come to the show over the last year
The Mystery Train with John Kelly on Sundays sees a gain of 4,000 listeners over the last year.
INDEPENDENT RADIO:
The Pat Kenny Show remains Newstalk's most listened to programme with 174,000 people tuning in daily
Newstalk Breakfast with Ciara Kelly and Shane Coleman has gained 8,000 listeners over the last year to reach 149,000 people
Sean Moncrieff has achieved an all-time high of 98,000 listeners
The Hard Shoulder with Kieran Cuddihy reaches 152,000 listeners every evening
Lunchtime Live with Andrea Gilligan attracts an audience of 106,000 daily
Ian Dempsey continued to grow Today FM's breakfast audience now drawing in a listenership of 208,000 (+5,000 BoB)
The Anton Savage Show on Saturday mornings has a growing audience of 116,000 listeners
Down to Business with Bobby Kerr added listeners to reach 106,000 listeners each Saturday
Off The Ball on Saturday and Sunday afternoon reaches 137,000 and 146,000 respectively
Dermot & Dave are now Today FM's second biggest show with an audience of 205,000
Pamela Joyce (12:00-14:00) increased by 2,000 to 136,000
The Ray Foley Show further grew Today FM's afternoon audience by 3,000 to 163,000 in this latest book – adding 26,000 listeners in the past year
Louise Cantillon is proving a hit with national audiences as she saw listenership of her Saturday show (14:00–18:00) grow to 134,000 (+12,000 BoB)
Weekend Breakfast with Alison Curtis (Sat 08:00-11:00) also saw increases with Today FM's Saturday morning audience now at 179,000 (+9,000 BoB).
Block Rockin' Beats with Dec Pierce on Saturday night was also celebrating audience growth for the second book in a row, entertaining a listenership of 38,000.
Wireless Ireland now delivers a weekly audience of 775,000 and also an increased national prime time market share of 12.1%
FM104 and Q102 have shown market share growth with the combined offering now commanding a 12% Prime Time market share
Cork's 96fm and C103 combined grew to 39%
Cork's 96fm built on previous gains by delivering further growth to 22.4% prime time market share
Both Live 95 in Limerick (25%) and LMFM (34.8%) delivered strong market share positions in their respective broadcast areas
Irish radio audiences continue to listen to a significant amount of radio everyday – tuning in, on average, for almost 4 hours (233 mins, -4) per day during the prime 7am to 7pm time (Irish Adults listening Mon-Fri).
In terms of share of all minutes listened in the country, National Radio currently has 44.8% share (-0.3%) of all minutes while Local/Regional Radio holds the majority share position with 55.2% (+0.3%) in this reporting period.
Across the various regional areas throughout the country, National Radio holds the majority share position in Dublin (55.3%) and the greater Dublin Commuter belt (55.3%) while Local/Regional radio is in the majority in the other regions throughout the country, in particular, achieving its highest share position in Cork (66.9%), in the North-West (59.7%) and in the South-West (57.4%) Regions.
Local radio continues to perform strongly in the local radio markets across the country, with 37.5% of adults in the country tuning into their local station every day. In particular, on the criterion of share of minutes listened during prime 7am to 7pm local radio has a national share of 40.4% while particular stations – Highland Radio, MWR, Northern Sound Radio and Radio Kerry hold the majority share position (50%+) in their respective areas.
Irish radio stations bring a unique blend of music, culture, and news to the airwaves that 3.7 million adults tune into each week. The latest JNLR figures show that radio audience grew by a further 48,000 listeners📻🍾@RadiocentreIE @IBIreland @RadioTodayIE #ChooseRadio #JNLR pic.twitter.com/jDfuDp7t9c

— Learning Waves Skillnet (@LearningWaves) May 11, 2023
The latest JNLR figures show 3.7 million Irish adults tune into radio every week!

Thanks to all who choose iRadio 🧡@RadiocentreIE pic.twitter.com/px7l9aAZhO

— iRadio (@ThisisiRadio) May 11, 2023
Latest JNLR Results: 3.3 Million Listen to Radio https://t.co/wCYp1I8jKL

— Kfm Radio (@kfmradio) May 11, 2023
Hugs & high-fives in the office today. As we approach Beat's 20th birthday, latest #JNLR results show we've reached an all-time high of daily listeners. Highest ever breakfast audience too. Yizzer all sounders for hanging out with us every day. pic.twitter.com/zR6cWrsFEB

— Niall Power (@mrniallpower) May 11, 2023
The station has attracted a further 7,000 listeners since November, with 67,000 people now tuning in weekly! https://t.co/hvT3qVGCbr

— WLR (@wlrfm) May 11, 2023
JNLR figures show Highland Radio's listenership continues to increase https://t.co/bVCXpF9wga pic.twitter.com/G8vtVErSL4

— Highland Radio News (@HighlandNews) May 11, 2023


If you liked this story, we can email you more radio news and alerts. Just fill in the form below.