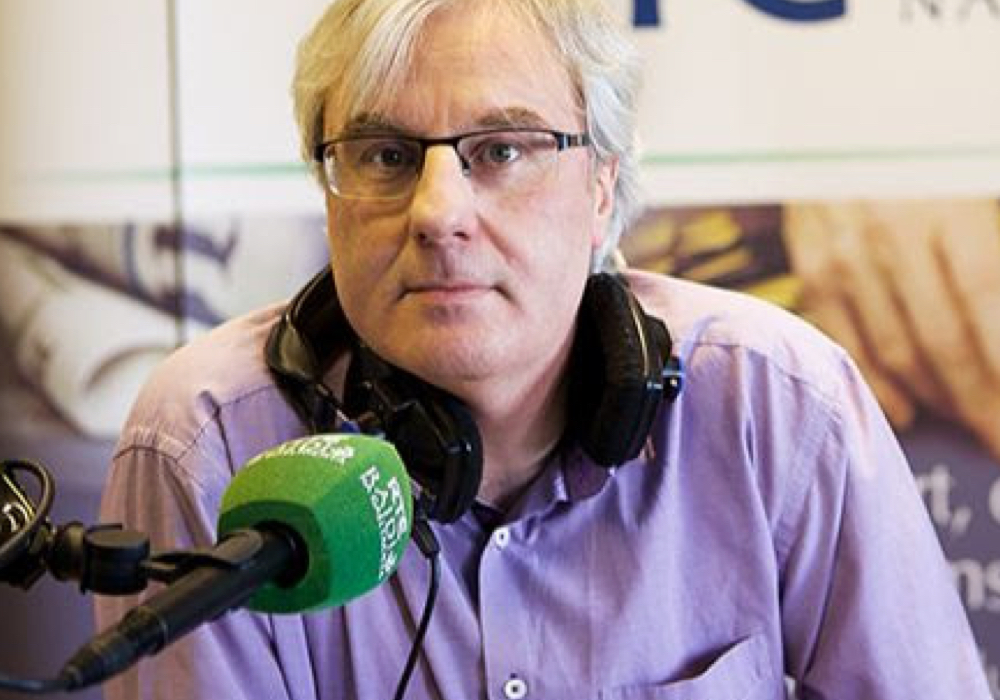 RTÉ Raidió na Gaeltachta broadcaster Rónán Mac Aodha Bhuí has died at his home in Cois Cláidigh in Gaoth Dobhair, Co. Donegal on Tuesday at the age of 53.
Rónán started working with RTÉ Raidió na Gaeltachta in the early nineties, and his names is synonymous with the station ever since.
He is one of the best-known Irish-language broadcasters in the country, and over the years has been instrumental in introducing people from all walks of life to the language and culture, and to making them feel welcome within its community.
Kevin Bakhurst, Director General of RTÉ, said: "I'm deeply saddened to hear the news of Rónán's death. He was a passionate torch bearer for Irish-language broadcasting, a radio pioneer whose flair for invention and innovation will influence broadcasters in any language for years to come.
"His death is a great loss to his family and friends, his colleagues across the organisation, and Irish-language broadcasting in general. May he rest in peace."
Gearóid Mac Donncha, Ceannaire, RTÉ Raidió na Gaeltachta said: "It's difficult to put into words the influence that Rónán Mac Aodha Bhuí had on his community, and the love and esteem in which he was held. That community is wide and varied and includes people in the Gaeltacht and Irish-language communities, musicians, artists, writers, farmers, fishermen, doctors, solicitors, young and old, at home and abroad, and all will be deeply-saddened today at the news of his death.
"Rónán was a superbly-talented broadcaster, with an innate understanding of the medium of radio, and he created many unforgettable radio moments during his years on the air. He leaves a legacy in Irish-language broadcasting that is unsurpassed. We owe him a debt of gratitude for his work for this station, and for the Irish language."
"On behalf of the service, I would like to offer sincere condolences to his wife Bernie, his daughter Fionnuala, and his extended family including his brother Cian, a former colleague of ours, as well as his many friends and colleagues."
Aodh Máirtín Ó Fearraigh, RTÉ RnaG Regional Manager in Donegal, said: "Rónán was a superb broadcaster. He was inquisitive, empathetic, clever, unafraid and daring. He was unequalled and he'll be greatly missed. I would like to extend my condolences to his wife Bernie, his daughter Fionnuala, his brother Cian, a former colleague, and all his family and friends. May he rest in peace."
Rónán was born in Cork, but the family moved to Gaoth Dobhair in Donegal when he was just three months old and he has had a deeply-rooted affinity to that county ever since. He began broadcasting in 1987, firstly on pirate radio stations in Dublin and Donegal, and then later he got a job reading the Irish-language news on Century Radio in Dublin.
He spent a year or so there before he moved to RTÉ TV, where he worked on Scaoil Amach an Bobailín with Seán Bán Breathnach and Bláthnaid Ní Chofaigh, and later Ecu! Ecu! He then joined Raidió na Gaeltachta in Dublin as presenter of their afternoon show Cois Life, and he held that role for three years. After some travelling, and a time in Conamara, Rónán moved back to Gaoth Dobhair and began working for Raidió na Gaeltachta there in Doirí Beaga.
He worked on many programmes over the years from when he started in the mid-nineties, from magazine programmes to music shows, and also news, something which he had a great interest and ability in. The programmes he worked on included magazine show Barrscéalta, music series Cúl an Tí which he presented with Hughie Mac Gairbheith, and music show Géill Slí.
It was on Géill Slí that Rónán played the first ever song with English-language lyrics to be broadcast on RnaG in 2005 when the night-time service Anocht fm came on air. The song, as chosen by the listeners, was Blister in the Sun by The Violent Femmes.
In 2006 his signature show Rónán Beo came on the air for the first time, and it was through this programme that many people came to know Rónán as a broadcaster. The programme had listeners right across the country, both young and old, and featured a huge variety of material, from interviews to live music, entertainment, health segments, cookery, news stories, and comedy sketches – 'mixture maxture' as he called it.
The programme was broadcast live from the Irish-language festival An t-Oireachtas for the first time in 2008, and this then became a regular highlight of the festival which was eagerly anticipated every year by attendees and listeners. Rónán brought his audience an explosive, entertaining and freewheeling show every year, christened 'the unofficial opening' of the festival.
Rónán was passionate about radio and the power of radio, and believed that the job of a journalist was to stand up for those who were being oppressed, for the little person. He had a great respect for the knowledge and wisdom of the older generations, and relished the chance to learn from them about words and turns of phrases in Irish, and other cultural traditions and stories.
He won many, many awards for his broadcasting, including Radio Personality of the Year at the Oireachtas Festival in 2009, 2010 and 2016, and Radio Show of the Year for Rónán Beo in 2010, 2011 and 2015. He was named Radio Personality of the Year at the Celtic Media Festival in 2011, and Rónán Beo was named Radio Series of the Year at the PPI Radio Awards in 2012 and 2018. Both Glór na nGael and Conradh na Gaeilge presented him with special awards in the last year for his work for the Irish language.
Rónán was unwavering in his commitment to the importance of the Irish language and the Gaelic culture. He established An Ciorcal Craiceáilte and An Cabaret Craiceáilte, social nights that ensured communities in the Gaeltacht could have Irish-language entertainment. He was mad about music, and believed it was vital for the language to have a healthy Irish-language music industry. He gave musicians working through Irish an effective platform for their art through his radio shows, and An Cabaret Craiceáilte, and was a stalwart supporter of their work. He had a special affinity for the people and the culture of Oileán Thoraí, and made many trips to the island over the years.
Rónán had huge respect for the Irish-language community in the North, where he is held in very high esteem, and he acted as MC for the An Dream Dearg protest march demanding Irish-language rights that took place in 2014.
Rónán is survived by his wife Bernie, his daughter Fionnuala, brothers, sisters, relatives and friends.
RTÉ Raidió na Gaeltachta will broadcast three special programmes in Rónán's honour over the coming days. On Wednesday at 11am, there will be a special edition of Barrscéalta, and there will be special editions of Bladhaire on Thursday and Friday at 3pm.


If you liked this story, we can email you more radio news and alerts. Just fill in the form below.