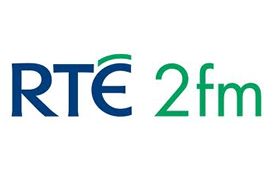 John McMahon's replacement as Head of 2FM will be current IRS Chief Executive Dan Healy.

Dan has been CEO of Independent Radio Sales since 2010 but is no stranger to the industry having co-founded iRadio before becoming CEO of the station. He's also been CEO of Newstalk 106 and Sales Manager at 98FM.
Commenting on his decision to resign from IRS, Dan said: "I leave IRS with many regrets as it has been a pleasure to work with the Board, an outstanding team of 12 professionals and with all the stations who avail of our services. It was a difficult decision but my appointment as Head of 2FM is a wonderful opportunity to make a further contribution to the Irish broadcasting industry at a senior level.
"My time at IRS has been an enormously gratifying experience and it is a matter of great satisfaction not just to me, but also the Board and the staff that the fortunes of the company are transformed at a time when the economy, while showing signs of recovery, is still extremely difficult.
"I would like to express my thanks and great appreciation to the Executive Chairman, Tim O'Keeffe and the Board for all their cooperation and support during my time at IRS. I wish the company continued success and a bright future in its vital role in ensuring the further development of Irish independent broadcasting."
Tim O'Keeffe, Executive Chairman of Independent Radio Sales said: "Dan has accepted the position as Head of 2FM and while we are extremely sorry to lose him we wish him well and success in his new role in Irish broadcasting.
"It is no exaggeration to say that under Dan's stewardship, working closely with the Board, the fortunes of IRS have been completely turned around. We have gone from a loss to profit-making situation in the space of two years.
"With great energy, skill and commitment Dan and his team have enabled IRS to turn a profit in 2011 and 2012. In the first quarter of 2013 sales have shown a 10% increase against a market decline of some 5%."


If you liked this story, we can email you more radio news and alerts. Just fill in the form below.