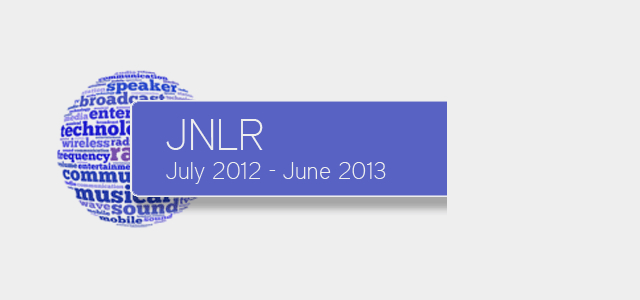 Some radio station bosses across the country breathed a sigh of relief following the publication of the latest JNLR figures for the 12 month period from July 2012 to June 2013.

84% of the population are listening to the radio on a daily basis and local independent radio is still sitting strong amongst bigger contenders like RTÉ and Today FM. People are listening to the radio on average for almost four hours per day during the prime 7am to 7pm Monday to Friday.
RTÉ Radio 1 is still the most listened to station in the country with 864,000 listeners, while Morning Ireland is Ireland's most listened to show with 450,000 people tuning in.
Jim Jennings, Acting Managing Director, RTÉ Radio said: "The figures cement Radio 1's position as the number 1 station in the country. There are very encouraging signs for 2FM with the gains that it has made and with the changes coming on stream from the new Head, Dan Healy, we believe that the station is heading in the right direction."
Head of 2fm, Dan Healy said the latest figures indicated "a turn in fortunes" for the future of the station. Ryan Tubridy's listenership remains steady at 159,000.
Rick O'Shea is a happy man since the last survey. He took to twitter to thank his fans, "You're about to be deluged so I'll keep it simple – the show gained 10,000 listeners in the last 3 months. The end. Thank you all."
Meanwhile for the morning slots – Today FM's Ian Dempsey Breakfast Show at 168,000 listeners holds a 42,000 gap difference between 2fm's Breakfast with Hector at 126,000.
The Ray D'Arcy show has 235,000, and still performing well with 235,000 is The Last Word with Matt Cooper – the news and current affairs programme of choice for 20-44 age group.
"Overall radio listening levels remain remarkably strong despite the impact of emigration on our core audience numbers," said Today FM chief executive Peter McPartlin.
Meanwhile The Independent Broadcasters of Ireland had some suggestions for RTÉ: "The Broadcasting Authority of Ireland has suggested that RTÉ require further public funding to remain relevant, but today's JNLR figures prove how out of touch RTÉ radio stations are with Irish audiences," said IBI chairman John Purcell.
Still good news for local /regional radio stations as they hold the majority share position with 53.6 % mainly in the North West and Cork. Seven out of every ten minutes listened to radio in Ireland is to an Independent radio station.
Kfm Programme Director commented on the stations 8,000 new listeners "It's really satisfying that so many listeners are tuning into Kfm and crucially listening for longer."
Classic hits 4fm also took to social media to express their gratitude;
THANK YOU, THANK YOU!!!!!!!!! IT'S OFFICIAL! CLASSIC HITS 4FM CONTINUES TO BE IRELAND'S FASTEST GROWING RADIO STATION…… With 184,000 listeners tuning in to Classic Hits 4fm every week, we're celebrating our success in today's JNLR figures.
For the Dublin stations FM104 is still on top with 102,000 listeners tuning in for the Strawberry Alarm Clock.
George Hook is still strong with his success for Newstalk's The Right Hook. Listenership increased by audience by 2,000 and has 4,000 more listeners than last year, at 134,000.
The FM104 Phoneshow has increased it's audience by 4.5%, up to 46,000. The show is the most popular radio show in Ireland in its 9pm-1am time slot.
Seems like we are also taking to radio more and more at weekends. 2fm Weekenders with Ruth and Paddy are up 21,000 year on year to 108,000. While over on RTÉ Radio 1 The Marian Finucane Show is up 37,000 to 328,000.
How did you do? Let us know via news@radiotoday.ie and we'll give you a mention right here.


If you liked this story, we can email you more radio news and alerts. Just fill in the form below.