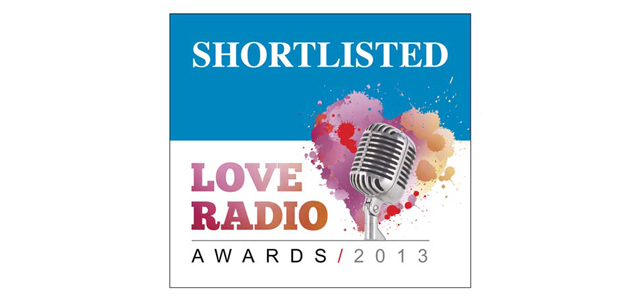 People across our industry are preparing for one of the big events of the radio calendar tomorrow night when the Love Radio Awards take place in Dublin.
RadioToday will be there to bring you full coverage on our Twitter feed, including photos and of course the winners as they're announced on stage at the Ballsbridge Hotel.
iRadio leads the way with 13 nominations. Cork's 96FM and Classic Hits 4fm have both been shortlisted for seven awards each, whilst Galway Bay FM and Midwest Radio get six and Midlands 103 is up for five. Other stations to get multiple nominations include Beat 102-103, Sunshine 106.8, Radio Nova, Live 95FM and WLR FM. RTE is shortlisted for three. UTV Media Solutions has a total of 10 nominations.
Check the full shortlist here.
The black tie event starts tomorrow night (Friday) with a drinks reception from 6.45pm. The awards kick off from 9pm after dinner and should be wrapped up by about 10.30pm when guests will then party into the night.
What they say
We've been asking companies shortlisted for their thoughts ahead of the big night…
Gabrielle Cummins, CEO and Programme Controller of Beat 102-103: :We're up for 6 awards at this year's event which is a great achievement and a testament to all the hard work the team puts in throughout the year. Last year, our sales team took home the bronze award for best sales team in Ireland so we'll be hoping to build on that success this year. It's important to support these industry events and celebrate our achievements. We are delighted to be pitted against some of the best in the country. We're looking forward to a great night!
Des Whelan, CEO of Waterford's WLR FM: "We are delighted to be one of the most nominated local radio stations. Hopefully we can win an award or two… Looking forward to a great night."
Ciara O'Connor, CEO of East Coast FM: "We are delighted to be nominated in 4 categories at this years Love Radio Awards. Our production manager Rob Diggins has made many award winning ads over the years and is extremely passionate about producing 'agency quality' ads for our clients. To be nominated by our peers in the industry is very flattering and no matter what the outcome, we will enjoy the night toasting the best of industry."
Fran Kennedy – Imaging and Commercial Head Of Production with Dublin's Sunshine 106.8: "I'm delilghted for everyone in Sunshine. To be shortlisted in 4 category's is a great achievement for everyone in here who combined to make those ads happen and we're all really looking forward to the night."
Fiona Field, Deputy Managing Director at Mediaworks: "We were delighted to be shortlisted for the Love Radio awards under the collaboration between radio station and agency. This campaign was the first in the UK and Ireland to use Spotify as an integral part of a radio promotion for our client Liberty Insurance through a joint collaboration with 98FM and Spotify. The promotion was designed to collate the Liberty Insurance Big Trip Tunes Playlist and the end result was something that lived well past the life of the radio promotion."
David Tighe, CEO of IRS: "IRS through our Ireland FM platform delivers the largest national audience offering and is without doubt the most effective way to reach the biggest share of radio listeners in the country. The strong set of audience figures released recently continues to show that the IRS network of stations are really in touch with listeners from within their communities in a way that national radio struggles to achieve. More brands want to connect with local audiences – with this in mind there really is no better option than through IRS. The Love Radio Awards are a chance to showcase the good work done by our team along with agencies, brands and our radio station partners. The opportunity to profile the creativity, talent and teamwork ethos of IRS is one we look forward to every year."
Eamon Duffy, Weekend Breakfast Presenter at Dublin's Hitmusic Station FM104: "As a Voice Over person, I've recently been informed from some production people that I'm the voice on a couple of ads and a station promo that have been shortlisted. I've not won anything since winning a debating competition back at secondary school and that wasn't today or yesterday, so just to know that my work was considered good enough to be entered in the first place and then shortlisted is very cool. The very best of luck to all in the awards."
Kevin Branigan PD/ CEO at Dublin's Radio Nova 100.3: "We've been nominated for 5 awards and we're chuffed to bits. To be nominated for 5 awards at the prestigious Love Radio Awards puts us right up there amongst the stations selected by the judges this year. Hopefully we'll rock and roll our way to the top slot in at least one of these categories!"
Adrian Cosgrove, Creative Director at ad agency OwensDBB: "As an agency that prides itself on its creative output, we're delighted to have been shortlisted again this year at the Love Radio awards. Radio is a vital marketing tool for virtually all of our clients and to be recognised for doing it well year after year is a source of great satisfaction."
Joe Harrington, General Manager and Drive host at Dublin's Sunshine 106.8: "It's great to be recognised with all best creative talent in Ireland. The Love Radio Awards is a great event.Win, lose or draw we'll celebrate."
Enda Caldwell, Director of Enda Caldwell Productions: "I'm honoured to be attending the Love Radio Awards on Friday night as main commercial/ promo/imaging voice on not one but two shortlist nominations – for voicing BudgetAir promotions on Dublin's Sunshine 106.8. Like me great mate Eamon Duffy it's been a while since I've won any award for my talents as a Voice and in fact I think the last time was around 1982 when I won Wilkinstown Community Talent Competition's first prize for my poetry recitation of A.A. Milne's Poem "The Proud Pussycat". The mantelpiece is getting a bit bare you could say. I love radio as anyone who knows me well knows and I'm really excited and looking forward to a celebration of all that's good about Ireland and the great radio we as the world renowned nation of natural born storytellers produce when we put our minds to it."
Enda will be reporting from the Love Radio Awards on the night for RadioToday. He said: "I'll be looking to get as many photos as I can with as many of the award nominees and radio and advertising folk as I possibly can so if you see me there smile for the camera! Speaking to Des Doris of Alchemy Events who is organising this wonderful celebration today and he told me that the stage is well and truly set for one memorable and winning night."


If you liked this story, we can email you more radio news from Ireland and the UK each weekday afternoon direct to your inbox. Just add your details below for "24 Hours in Radio - UK and Ireland":