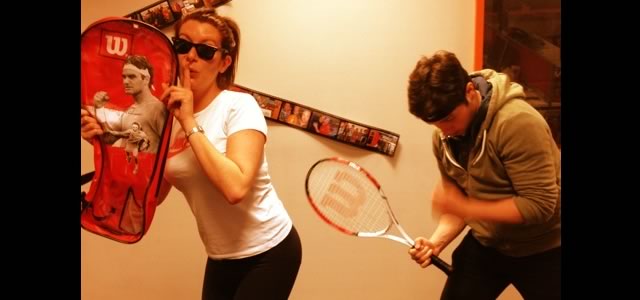 The new 2fm schedule continues to take shape as iRadio's Chris Greene & Ciara King are confirmed for a new late show.
The duo, who left iRadio last month, will front the 10pm till 1am slot on the new-look station as suspected.
Also announced today, sports show Game On continues at 7pm and weekend breakfast host Louise McSharry will present a new show at 8pm weeknights. Overnights will be taken care of by Dan Hegarty with "The Alternative" on Monday to Thursday from 1am – 4am.
Commenting on their new role, Chris & Ciara said: "We are delighted to have gotten a chance to present the most coveted slot in radio where no one is listening! On a serious note, we're really looking forward to pushing the boundaries, causing trouble and not taking ourselves too seriously. Hopefully we'll last more than 8 months in RTÉ!"
Louise McSharry said: 'I'm delighted to have the opportunity to join the weekday schedule and I am really excited about getting the chance to talk about the things that have Irish people buzzing.'
Commenting on the new overnight slot, Dan Hegarty said: "If anyone is left standing after Chris & Ciara, I'm gonna pummel their ears with three hours of great music. I'm thrilled to be part of the new schedule as 2fm evolves."
Chris and Ciara aren't the first presenters on the new 2fm schedule who have previously been on iRadio of course – Bernard O'Shea and Keith Walsh did breakfast there till 2011 for Dan Healy who set up the station.
And at the weekend, Dave Fanning will host 10am till 12pm both Saturday and Sunday. "I've loved every minute of my 2fm Saturday morning talk show and I'm delighted that I've got another chance to do it all again on Sundays. It will afford me more time to squeeze in more great music, more movie reviews and more big interviews with the biggest names in town," he said.
This is the fifth announcement in the new 2fm line-up. Bernard O'Shea, Keith Walsh and Jennifer Maguire were last week revealed as the new 2fm breakfast presenters. Nicky Byrne was announced as the new presenter of the Nicky Byrne Show which airs weekdays from 11am; Colm Hayes is presenting Drive By with Colm Hayes and Will Leahy is moving to weekends. Larry Gogan will present a new two-hour show at weekends.
Head of 2fm, Dan Healy said: "Bringing Louise McSharry, Chris & Ciara to the weekday schedule is a new departure for the station and sees a real articulation of where we're driving content right to the edge! These two night time programmes will be all about fast paced, high octane content that pushes boundaries and captures the buzz of the now across radio, social media and more importantly the lives of our listeners. Dave Fanning has been with 2fm since day one. He's an icon in his own right with utter credibility across all demographics. Crucially Dave resonates with the 20-44 target audience for the station and his two weekend programmes will really allow him to build on this connection with listeners."
2fm SCHEDULE ANNOUNCED TO DATE
Weekdays
7am-9am Breakfast Republic presented by Jennifer Maguire, Keith Walsh and Bernard O'Shea
9am -11am Tubridy presented by Ryan Tubridy
11am – 2pm The Nicky Byrne Show presented by Nicky Byrne and presenter TBA
2pm – 4.30pm The Rick O'Shea Show presented by Rick O'Shea and Cormac Battle
4.30pm -7pm Drive By with Colm Hayes presented by Colm Hayes
7pm -8pm Game On presented by Damien O'Mara
8pm – 10pm The Louise McSharry Show presented by Louise McSharry
10pm – 1am Bottom Of The Barrel with Chris and Ciara presented by Chris Greene and Ciara King
Weekends
Breakfast TBA
10am – 12pm Fanning on 2fm presented by Dave Fanning
12pm – 2pm Weekends with Larry Gogan presented by Larry Gogan
2pm-5pm Weekenders with Ruth & Paddy presented by Ruth Scott and Paddy McKenna
5pm – 7pm The Will Leahy Show presented by Will Leahy
From 7pm TBA


If you liked this story, we can email you more radio news and alerts. Just fill in the form below.