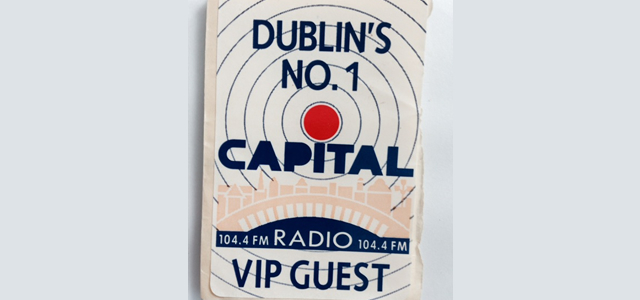 Scott Williams was the first voice heard on Irish independent radio at Capital in Dublin. He is now Chief Executive and breakfast presenter at Dublin's Q102.
He looks back at what we've achieved in the last 25 years of independent broadcasting exclusively for RadioToday.
So, 25 years of Irish independent radio……. and what have we done? Over the period independent radio has become the premier listening choice for Irish audiences and now commands 2 out of every 3 minutes listening on a daily basis.
It started in Dublin on 20th July 1989 when Capital Radio (now FM104) went to air with an outside broadcast from Dublin's Berkley Couty Hotel. All the bigwigs were there, Minister for Communications, Lord Mayor of Dublin and the Chairman of the Independent Radio and Television Commission – all wore the VIP badge. We had spent weeks getting the historic broadcast organised, not enough weeks to kit out a full-time base though and the station started broadcasting from portacabins on the roof of St Stephen's Green Shopping Centre moving weeks later to a permanent base at Ballast House on O'Connell Bridge.
Studios in those days were very different from what we use now. There were no hard disk playout systems, no short code text facilities and no Google. We used CDs, NAB carts (remember those) and sometimes even Grams !
Capital Radio, Ireland's first independent radio station, got off to a roaring start and very quickly established itself as the leading music station for young Dubliners, reaching 66% of under 25 year olds each day in its first year.
So, back at The Berkley Court Hotel the clock ticked towards 8am. The breakfast was very good. The coffee tasted great but there was a certain nervousness. Would our landline link be stable? Did everyone know what to do or worse what to say ? At precisely 8am I had the privilege of being the first voice on the air. Done as Gaeilge of course. After introducing each of the speakers, hearing them speak and clapping politely, we got down to the real business of the day – music. The music started on 104.4 and it has never stopped in 25 years. Capital Radio became FM104 in 1990s and now, as part of UTV Media, it remains Dublin's most popular local station.
Finally the trivia. The first song was Old Town by Phil Lynott and presenters on Day 1 included Colm Hayes, Dave Kelly, Aidan Leonard, Mike Duggan, Liam Coburn, Chris Barry and Ross Allen.
Happy birthday to happy times.


If you liked this story, we can email you more radio news and alerts. Just fill in the form below.