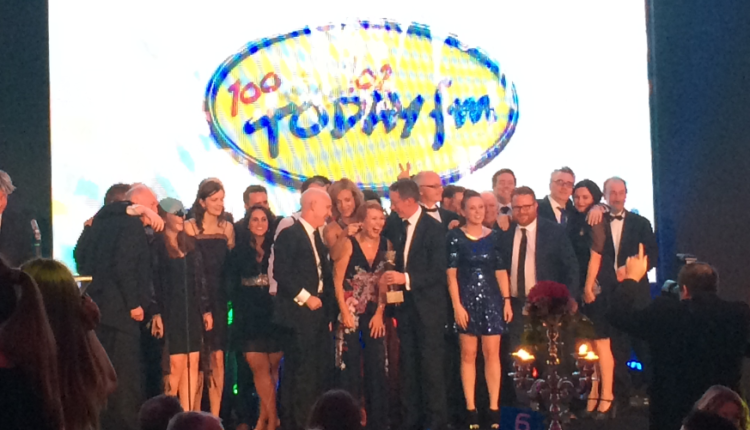 Nicky Byrne has scooped the Newcomer of the Year Award and Today FM picks up Station of the Year at this year's PPI Radio Awards.
Whilst Nicky is already famous for his Westlife career, he's been on radio full time less than a year and snatched the top spot of the category away from Lorcan Clancy from Radio 1, Peter Dunne from LMFM, Marches Hunter-Neill from BBC Radio Ulster and Cormac Moore at iRadio.
Nicky was also up for General Music Programme with his on-air partner Jenny Greene, but Dermot and Dave claimed that for their 98FM show.
RTÉ Radio 1 bagged the most awards of the evening with 10 in total, followed by Newstalk and BBC Radio Ulster with four each. 98FM got three, Today FM got two and ten other stations got one each.
As for the groups, Communicorp got 12, RTÉ got 11, the BBC got four and UTV got two.
Station of the Year awards went to Radio Kerry for Local Station, FM104 getting Music Station and Today FM getting Full Station.
Other headlines include Stephen Nolan winning the Speech Broadcaster of the Year award, The Ian Dempsey Breakfast Show on Today FM getting Gold for Breakfast Programme, and Communicorp's newest station TXFM winning the Gold Award in the New Irish Music/Musical Talent category.
The Outstanding Achievement Award was, for the first time ever, presented to two people this year at the PPI Awards. Lisa Ni Choisdealbha from the Independent Broadcasters of Ireland and JP Coakley fro RTÉ were both honoured for their work bringing Radiodays Europe to Ireland in 2014.
The ceremony was presented by comedian Barry Murphy to a packed room with many of Ireland's well known radio presenters, producers, programme staff and radio station heads.
Speaking at the Awards, Sean Murtagh Chair of the PPI Radio Awards committee said "Following six master classes in four cities, 635 entries, 81 judges listening to more than 16,000 minutes of audio in 25 judging sessions across four days, now it's 620 of radio's finest gathered in Lyrath to find out who is going to bring home Irish radio's most sought-after accolade."
Category A1 General Music Programme – Dermot & Dave – 98fm Dermot Whelan and Dave Moore
Category A2 Specialist Music Programme – ALT-SKRATCH – The Community Games – Spin South West
Category A3 Breakfast Programme – Ian Dempsey Breakfast Show – Today FM Ian Dempsey / Martin Maguire / Mario Rosenstock
Category A4 Music Special/Music Event – Take me to Church: Other Voices – RTÉ Radio 1 Cathal Murray
Category A5 New Irish Music/Musical Talent – Hear and Now presents The Producers – Cathal Funge for TXFM 105.2
Category B1 News Story – The Trauma of forced adoption – Brian O'Connell for Today with Sean O'Rourke – Brian O'Connell RTÉ Radio 1
Category B2 News Bulletin – 98fm News – 98fm
Category B3 News Programme – Death of Nelson Mandela- Morning Ireland – RTÉ Radio 1
Category B4 Current Affairs Programme – The Nolan Show – Stephen Nolan – BBC Radio Ulster
Category B5 Sports Story – The State of Irish Boxing – Is Paddy going PRO? – RTÉ Radio 1 Sunday Sport
Category B6 Sports Programme – Terrace Talk – Weeshie Fogarty – Radio Kerry
Category C1 Documentary – Call of the Dark – Michael Harding – RTÉ Radio 1
Category C2 Music Documentary – Documentary on One – Michael Jackson's Irish Driver – Ken Sweeney for RTÉ Radio 1
Category C3 Short Feature – Henry's Baby – The Moncrieff Show – Newstalk 106-108fm … Henry McKean / Sean Moncrieff
Category C4 Magazine Programme – The Late Lunch – LMFM – Gerry Kelly
Category C5 Drama – Lambo by Hugh Travers- Drama on One – Hugh Travers RTÉ Radio 1
Category C6 Specialist Speech Programme – Futureproof – Northern Lights Special – Newstalk 106-108fm Jonathan McCrea and John Fahy
Category C7 Craoltóireacht le Gaeilge – Beezie Bean an Locha – Ursuline College with Ocean FM – Ocean FM
Category C8 Interactive Speech Programme – Liveline–The Brutal Murder our son Gavin – RTÉ Radio 1 Producer Siobhan Hough Presenter Joe Duffy
Category D1 Community/ Social Action – South East Radio's "Dee Day" Heart Attack Awareness Campaign – Michael Sinnott – South East Radio
Category D2 On-Air Competition – iPaddy – Spin 1038
Category D3 Station Imaging – FM104
Category D4 Entertainment Inserts – Gift Grub – The Ian Dempsey Breakfast Show – Today FM – Ian Dempsey & Mario Rosenstock
Category D5 Innovation – Henry's Baby – The Moncrieff Show – Sean Moncrieff / Henry McKean Newstalk 106-108fm
Category E1 Music Presenter of the Year – Dermot Whelan – 98FM
Category E2 Radio DJ – Steve K – Spin 103.8
Category E3 Specialist Music Broadcaster of the Year – Ralph McLean – BBC Radio Ulster
Category E4 News Broadcaster of the Year – Seamus McKee – BBC Radio Ulster
Category E5 News Reporter of the Year – Philip Boucher-Hayes – RTÉ Radio 1
Category E6 Sports Broadcaster of the Year – Joe Molloy – Newstalk 106-108fm
Category E7 Speech Broadcaster of the Year – Stephen Nolan – BBC Radio Ulster
Category E8 Newcomer Award – Nicky Byrne – 2FM
Scroll down to see how the night unfolded with our live blog:
[liveblog]


If you liked this story, we can email you more radio news from Ireland and the UK each weekday afternoon direct to your inbox. Just add your details below for "24 Hours in Radio - UK and Ireland":