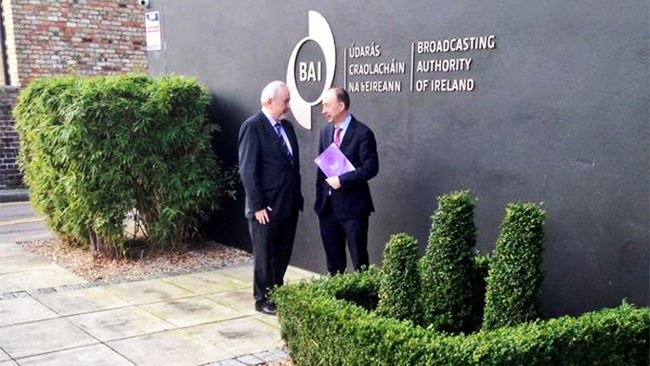 Newly revised rules, launched today by the Broadcasting Authority of Ireland say that "there is no right not to be offended, but there is a right not to be harmed" by a broadcast. 
The Broadcasting Act 2009 requires the BAI to prepare codes & rules, and to review the effect of such codes and rules in accordance within specified time frames. The current code – which has been in operation since 2007 – was reviewed last year leading to this revised code being put in place.
This revised Code of Programme Standards – which comes into effect from March 1st – is intended to advise TV viewers and radio listeners on the standards they can expect from broadcasting services and facilitate in holding broadcasters accountable in the event that they believe that a broadcaster has behaved irresponsibly.
However, new BAI chairman Pauric Travers today insisted that the newly revised code does not represent a "crank's charter" – something which the Government's Joint Committee on Communications, Marine and Natural Resources has raised concerns about in the past.
Speaking at the launch, BAI Chief Executive Michael O'Keeffe said: "The revisions to the code aim to acknowledge the diversity of tastes and interests that exist in contemporary Irish society and to encourage and facilitate broadcasting that caters for this diversity. Before finalising the code, the BAI undertook a review of the effect of the current Code of Programme Standards. The outcomes of the review highlighted that, while the content of the existing Code remains relevant, the structure and wording of the code required substantial revision. In an effort to make it more user-friendly and understandable, the code prioritises a principles-based approach but also provides specific guidance to broadcasters as to how these principles might be fulfilled."
Mr. O'Keeffe went on to say "Freedom of speech and freedom of expression are issues that have been very much in the news in recent times.  Revising a code that deals with programme standards will always be a challenge, not least because there is no absolute, universally shared sense of what appropriate standards are or how they should be observed.  There is no right not to be offended, but there is a right not to be harmed by what is broadcast. Much of what the new code provides is already reflected in the way in which responsible broadcasters approach their work.  It is the earnest hope of the BAI that this code will continue to facilitate broadcasters in achieving the highest possible programme standards in the service provide to the audience."


If you liked this story, we can email you more radio news and alerts. Just fill in the form below.