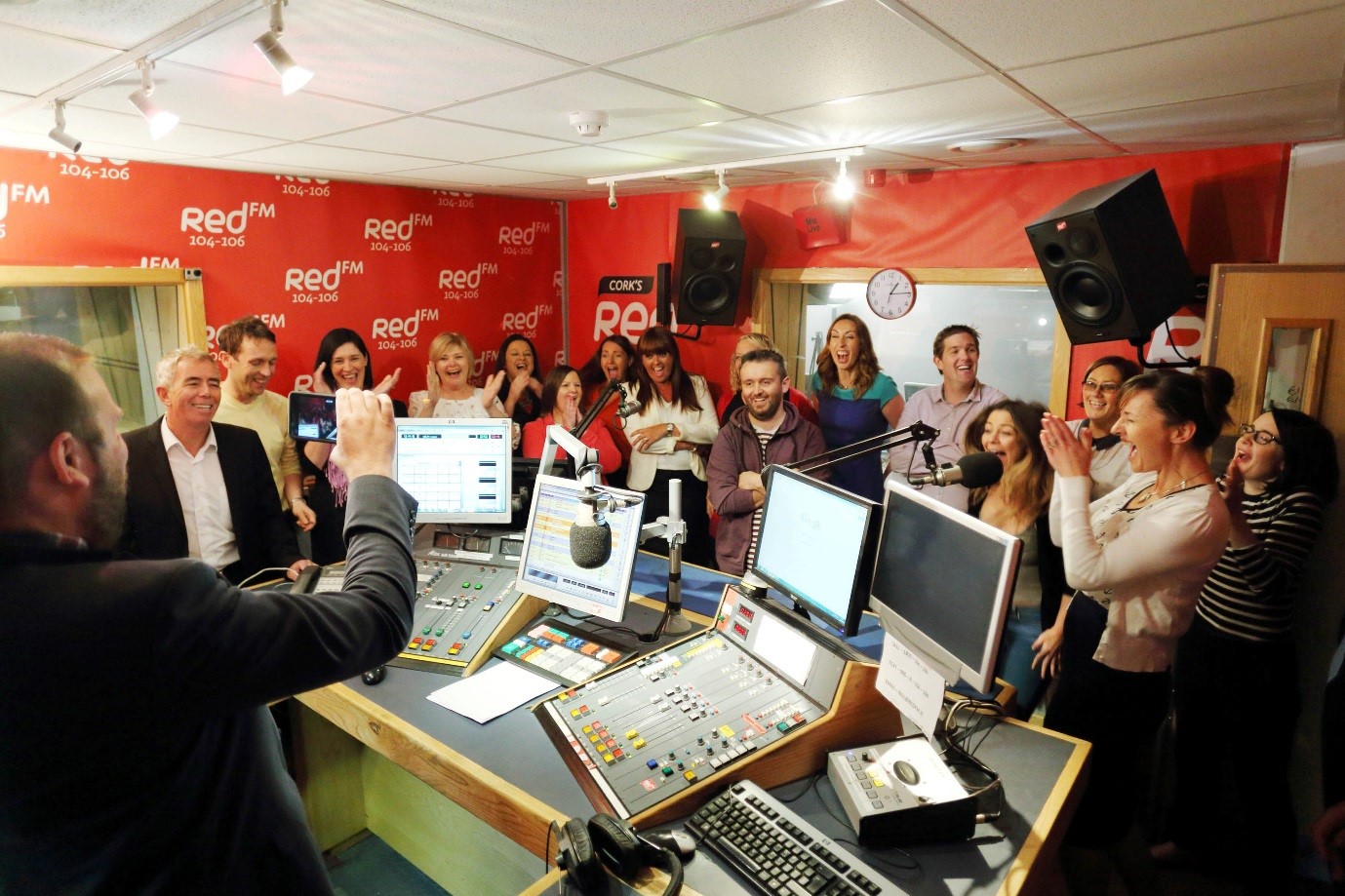 The JNLR results for Quarter 2, 2015 are in! RTÉ will be quite happy with their figures, Today FM may not be and, as our feature picture shows.. there's some very good news for one rebel station!
The general level of radio listenership in Ireland continues to be incredibly high with 25,000 more listeners than this time last year – representing a possible halt of a recent (fairly small) decline, and a jump of one percentage point, with 84% of all adults now listening to the radio every day.
The Independent Broadcasters of Ireland today produced this infographic to demonstrate the popularity of radio compared with other types of media:
Here's how the figures shape up this time on a national, regional and local level – and particularly of note is the huge change in the Southern Capital!

National | Dublin | Cork | Other Regional/Local | Individual Programmes
National
Among the national stations, it's been a good quarter for RTÉ's big two – with RTÉ Radio 1 increasing their reach by 20,000 to 863,000 and 2FM jumping up by 2,000 to 402,000 since the end of April. RTÉ lyric FM dropped by 7,000 listeners in the 3 month period.
Commenting on the latest figures Jim Jennings, Managing Director, RTÉ Radio said: "This is a fantastic day for RTÉ's radio stations, with an increase in listening figures to almost two million tuning in to RTÉ each week. RTÉ Radio 1 in particular has had a good day with gains across the whole schedule. It demonstrates the strength of the Radio 1 programmes and the support that the listeners give us. The RTÉ 2fm resurgence continues a pace and the gap between RTÉ 2fm and Today FM has narrowed significantly, with just 55,000 listeners between the two stations on weekdays. RTÉ lyric fm continues to grow its audience across the weekends and deliver quality programming for the listeners."
Meanwhile, Head of RTÉ 2fm, Dan Healy told us: "In little over 12 months, 2fm's strategy for becoming the most popular station among 20-44s is bearing fruit. From breakfast, and across the entire day, 2fm has seen significant gains. In the last six months we have narrowed the gap with Today FM, growing from 6.2% peak time market share to 7.3% among all adults, while they have dropped from a 9% market share to 7.5%.What a particularly great book for Breakfast Republic, and it's really exciting to see our night time programming growing rapidly."
The biggest faller nationally in the past quarter was Today FM, who lost 19,000 listeners since the Q1 book, dropping from 476,000 to 457,000 (13%) in this survey. This leaves them on relatively similar figures however to this time last year, when they had 458,000 (then, also 13%). Their sister station Newstalk has also dropped listeners since April's book, going down by 3,000 to 401,000, but staying steady at 11%.
This still represents a very strong year-on-year position for the Communicorp station, who had 36,000 less listeners in the Q2 2014 book. Their "Lunchtime" show with Jonathon Healy now has 81,000 listeners – an increase of 9,000 year-on-year. However, it also means that 2FM have now just nudged ahead of them into 3rd place (behind Today FM and the seemingly unassailable Radio 1).
This improvement in fortunes for RTÉ 2fm has been partly attributed to Ryan Tubridy who, somewhat ironically, is now to move back to RTÉ Radio 1 while Dan Healy's new sounding station continues to take shape.

National | Dublin | Cork | Other Regional/Local | Individual Programmes
Dublin
Reflecting the national trend, radio listenership in Dublin is up with 26,000 more listeners in the capital than this time last year. Most of those capital based listeners are still tuning in to RTÉ Radio 1, with 305,000 still listening to the national broadcaster's flagship station, while – among the local stations – FM104 holds the top spot, having gained a modest 4,000 listeners in the last 3 months to climb to 188,000.
However, the gap between the locals continues to be relatively tight, as Spin 1038 are making further gains (up from 147,000/14% in Q1 to 149,000/15% in Q2), while their sister stations 98FM have dropped 4,000 to 105,000 in the past quarter, but still have 4,000 more listeners than they did 12 months ago.
Newstalk's listenership in the capital is up by 20,000 year-on-year despite slipping by 4,000 in the past quarter, which sees them hold steady on 17%, just 18,000 and one percentage point behind FM104. Today FM remain steady on 99,000 – as they were 3 months ago – 18,000 higher than Q2 2014, while 2FM have slipped by 1,000 to 76,000 listeners in the capital since April, still leaving them 6,000 up on their figures from a year ago.
Sunshine 106.8 has come on in leaps and bounds jumping up from 35,000 listeners this time last year to 45 in Q1 2014, and now sitting on 55,000 – a 57% climb in 12 months, while a slight drop in Dublin figures book-on-book for Radio Nova has seen the rock station hold relatively steady on 56,000 (5%) in the capital – 1,000 ahead of the same time last year.
The fallers this time around in Dublin are Q102 – who have lost 4,000 listeners year-on-year, dropping to 87,000 (9%) and Classic Hits 4FM – whose Dublin figures have slipped from 36,000 in Q2 2014 to 35,000 in this book – despite having climbed to 38,000 three months ago.

National | Dublin | Cork | Other Regional/Local | Individual Programmes
Cork
We're giving Cork a section of its own this time as there has been a significant change in the book there in the past 12 months – which has seen Red FM leapfrog its way ahead of local rival Cork's 96FM to become the No. 1 local radio station in the rebel county.
This time last year, Red FM (pictured celebrating, above) had a reach of 79,000 listeners, a figure they've seen climb by an impressive 56% to 123,000 (30%). In the same time, Cork's 96FM have lost 18% of their listenership in 12 months, dropping from 140,000 to 115,000 (28%). This good fortune for Red FM, which sees them now lead 96FM by 8,000, is even more significant when we take into account that they had over 100,000 less listeners (72,000) than 96FM had (174,000) just 2 years ago.
The last 18 months at Red FM have brought the station a new CEO, Diarmuid O Leary as well as star presenters Neil Prendeville (85,000 listeners – up 100% in the last 6 months) and the return of KC from Today FM, who now enjoys a listenership of 52,000 on his breakfast show.
CEO, Diarmuid O Leary tells us: "We relaunched Cork's RedFM 15 months ago and we were confident that we had built a solid product that would attract plenty of interest from all over Cork.  We hired two well-known presenters Neil Prendeville and KC.  This combined with first class music, news and sport all focussed on our listener has led us to the position of the highest number of listeners in Cork on a daily basis – we will continue to build on this and make sure our audience are at the heart of everything we do."

National | Dublin | Cork | Other Regional/Local | Individual Programmes
Other Regional/Local
Elsewhere, regional stations such as iRadio and Beat 102-103 have continued to perform well, holding on to their second place positions behind home local stations and ahead of RTÉ Radio 1.
iRadio has a combined 218,000 listeners over both its services, which breaks down as a slight year-on-year drop to 97,000 in the North East – a strong 4th place after Radio 1 (143,000), 2FM (108,000) and Today FM (102,000) – and a slight year-on-year climb to 121,000 in the North West – where they are No. 1 in the region, beating Radio 1 (112,000) into second place, with Today FM (81,000) in third.
Beat 102-103 now has 99,000 daily listeners in the south east, ahead of Radio 1 (88,000), 2FM (45,000) and Today FM (55,000). The station's flagship morning show, Beat Breakfast, has hit a record audience high with 43,000 people listening in the region each morning.
Head of Station Sound Niall Power told RadioToday: "it's a fantastic achievement for us to remain Number One station for 15-34 year-olds, 20-44 year-olds and All Adults in the South East. Our small, passionate team of talented broadcasters continue to produce engaging, relevant content for young adults on air and online".
He added: "I'm also over the moon with the record figures for Beat Breakfast – the highest morning listenership since Beat came on-air twelve years ago. Our simple promise of a bit of craic, the best competitions and the biggest hits is really resonating with listeners across the five counties."
Among the locals, the biggest losses – unsurprisingly – were in Cork. Offsetting Red FM's extra 44,000 listeners in part were the drop of 25,000 for 96FM and one of 6,000 for their sister station C103. Elsewhere, Limerick's Live 95 were down by 18%, going from 67,000 to 55,000 in the past year, Mayo's Mid-West Radio dropped by 10% from 62,000 to 56,000 year-on-year, Midlands 103 – who had climbed by 1,000 to reach 68,000 last year saw their figures drop back to 62,000 in this book, representing a 9% drop.
Traditionally the station with the highest local percentage of listeners is Highland Radio in North Donegal. This hasn't changed in this book, despite the station once again losing listeners year-on-year. After dropping from 66,000 (65%) in 2013 to 64,000 (64%) this time last year, they've lost even more listeners in a year and now sit on 59,000 (60%).
Other local success stories include LMFM, who have added 12,000 listeners in the past year, climbing to 67,000 (a 5 percentage point climb to 29%) – a 22% climb for the Drogheda based station, and Kildare's KFM, who have seen a 4,000 listener increase to 39,000 in the last 12 months – representing an 11% climb for them.

National | Dublin | Cork | Other Regional/Local | Individual Programmes
Individual Programmes
Of the top programmes in the country, the entire top 15 are aired on RTÉ Radio 1. The main change is that, while Morning Ireland is still quite strongly the most listened to programme in Ireland (despite dropping 5,000 to 433,000 in 12 months), Joe Duffy's Liveline is no longer in second place, having lost 18,000 listeners since last year, dropping to 369,000.
Second place is now held by Marian Finucane's Saturday programme as her 10,000 extra listeners has put her on 373,000, while the drop of 12,000 listeners to 337,000 for her Sunday show still sees her hold on to the 4th place spot. 5th is Sean O'Rourke's Today programme, which has increased from 307,000 last year to 317,000 in this book, while the News At One's 314,000 listeners (down from 330,000 12 months ago) sees it in 5th place.
In 16th place is Anton Savage, who continues to lose listeners since Ray D'arcy's departure (to RTÉ Radio 1) last December. He has 194,000 listeners – down substantially on the figure of 223,000 who tuned in to that slot 12 months ago. D'arcy, meanwhile, has a figure of 190,000 – 23,000 less than that enjoyed by Derek Mooney in the same time slot this time last year.
Today FM's Ian Dempsey Breakfast Show has dropped 7% of it's listeners year-on-year, going from 196,000 to 183,000. However this makes it still the most listened-to breakfast show in the country, apart from Morning Ireland. On the same station, Matt Cooper's weekday edition of The Last Word has lost 14,000 listeners, dropping to 141,000, while the weekend edition of the show actually saw an increase – climbing by 19,000 to 138,000. Phil Cawley's Saturday show meanwhile saw a 20,000 listener jump in the past year, and now has 153,000 listeners.
Over on Newstalk, 'The Right Hook' with George Hook has its highest ever reach of 143,000 daily listeners, an increase of 20,000 listeners year-on-year, while 'Off The Ball Weekend' now has 234,000 listeners, an increase of 67,000 since last year, and The Pat Kenny Show has 134,000 listeners, 22 months after going on air.
On 2FM, the soon-to-depart Ryan Tubridy saw his figures jump considerably – up by a whole third year-on-year from 144,000 in Q2 2014 to 191,000 in this book, while Nicky Byrne has seen a modest rise of 5,000 listeners, up to 150,000. Breakfast Republic is up 10,000 to 119,000 listeners, while Rick O'Shea in the Afternoon saw an increase of 4,000 to 125,000 book-on-book, representing a 16,000 climb year-on-year.
Note: Listenership numbers quoted above are, in all cases, daily reach ("listened yesterday") figures. Source: IPSOS JNLR 2015 Q2.


If you liked this story, we can email you more radio news and alerts. Just fill in the form below.