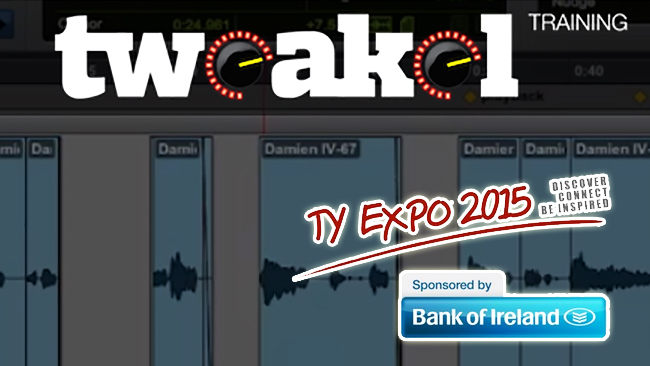 The first ever TY Expo is taking place in the Hub Kilkenny this Wednesday and Thursday and also launching at the event is an innovative transition year programme introducing secondary school students to the world of radio.

Produced by online radio training company, tweakel.com, "TY Transmission" will deliver a week long introductory radio course to transition year students across Ireland. As part of the radio course, students will learn about the radio industry and produce, record and edit their own radio programmes.
With their one-of-a-kind "Vocal Coach", Students will have an opportunity to record on board the best mobile recording studio in Ireland, custom built and to the highest spec.
Tweakel say the Vocal Coach – which is in Kilkenny for the next two days – has to be seen to be believed. TY students can have fun on board while learning the tools needed to work in modern Broadcasting. Course material will be divided between face-to-face coaching and online HD video tutorials featuring insights from well known industry names.
Tweakel say that although radio is still very popular in Ireland, the younger demographic are often harder to engage. They add that this course will give secondary school students an introduction to this engaging medium and an understanding of funding opportunities and how they can pursue a career in broadcasting.
In addition, the best radio shows will be compiled into a 30 minute compilation show which will be broadcast on national radio… giving participating students a tangible real world opportunity to have their voices heard.
Tweakel founder Daryl Moorhouse says:
"By combining online tutorial from industry experts with face to face training and utilising our amazing Vocal Coach recording studio, TY Transmission will be an engaging and immersive learning experience for students and teachers alike. tweakel.com is based out of an existing radio production company and all material will be very industry focused".
As well as radio training, TY Transmission will also help students with core skills such as communication, public speaking and self confidence. Any school class work can be easily integrated into the course by allowing students to include core topics as part of their produced radio programmes (english, Irish, science, history etc.) The Ty Expo is running for two days from Wednesday the 16th to Thursday the 17th with an expected 5,000 students and teachers expected to be in attendance.


If you liked this story, we can email you more radio news and alerts. Just fill in the form below.