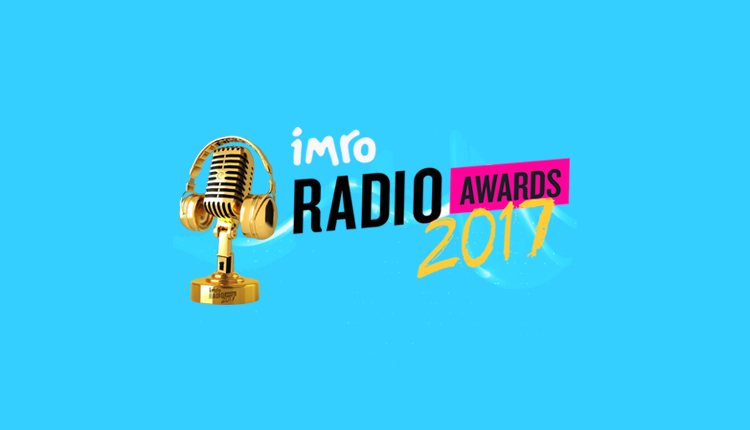 It's a record year for entries to the IMRO Radio Awards as judges work through 677 entries hopeful for recognition.
National, local and DAB broadcasters, producers and station staff have worked tirelessly to present the best of their work as an entry to this year's awards. Over 185 nominees are today announced as the #IMRO17 shortlist.
The 2017 IMRO Radio Awards (formerly known as the PPI Radio Awards) will take place on Friday October 6th at the Lyrath Estate Hotel at a gala dinner where the winners will be revealed. Prior to the night, the Hall of Fame inductees will be announced on Friday 22nd September at a special event to be held at the BAI offices in Dublin.
Speaking about the judging process and quality of the entries, Awards Committee Chairperson Sean Murtagh said: "The record number of entries is an indicator of the continuing level of support the radio industry has for the Awards. The judges, who are all drawn from the Irish radio industry, all commented on the quality of entries this year which made for a difficult decision process."
Here are the top 7 stations getting nominations:
28 nominations – RTÉ Radio 1
25 nominations – Today FM
20 nominations – BBC Radio Ulster
17 nominations – Newstalk
9 nominations – 98FM
8 nominations – BBC Radio Foyle
6 nominations – RTÉ 2FM
And here are how the groups line-up:
Communicorp – 59 nominations
RTÉ Radio – 40 nominations
BBC – 28 nominations
Wireless Group – 13 nominations
Shortlist in full:
General Music Programme
The Big Ride Home with Dara Quilty – 98FM
Gerry Kelly – BBC Radio Ulster
Tracy Clifford Show – RTÉ 2FM
Dermot & Dave – Today FM
Off The Charts with Fergal D'Arcy – Today FM
Specialist Music Programme
Soundscapes: The Potter – BBC Radio Foyle
Jazz World with Linley Hamilton – BBC Radio Ulster
The Roadhouse Café – Midlands 103
Living in the 80s with Will Leahy – RTÉ Gold
Vox Nostra with Vlad Smishkewych – RTÉ Lyric FM
The Paul McLoone Show – Today FM
Songs in the Key of Life – Today FM
Breakfast Programme
98FM's Big Breakfast – 98FM
PJ and Jim in the Morning – Classic Hits 4FM
FM104's The Strawberry Alarm Clock with Jim-Jim and Nobby – FM104
Breakfast with Ray and Jay – Red FM
The Ian Dempsey Breakfast Show – Today FM
Music Special
Fleadh Cheoil na hÉireann – Clare FM
European Early Music Day – RTÉ Lyric FM
Ray D'Arcy Show – Imelda May Special – RTÉ Radio 1
ALT – Laurie Shaw Special – Spin South West
Paul McLoone "It was 50 years ago today, Sgt Pepper taught the band to play" – Today FM
New Irish Music / Musical Talent Programme
98FM's Totally Irish – 98FM
Meantime – RTÉ Lyric FM
ALT – Guerilla Sessions – Spin South West
Lost in Music with Louise Duffy – Today FM
The Drive Home Live Sessions – WLR
News Story
The Death of Martin McGuinness – BBC Radio Foyle
The Stephen Nolan Show – The RHI Scandal – BBC Radio Ulster
A Divisive Legacy – The Death of Martin McGuinness – BBC Radio Ulster
Tragedy in Kilkee – Clare FM
Anthony Foley – Passing and Funeral Coverage – Limerick's Live 95FM
News Bulletin
98FM News – 98FM
Newstalk 106-108FM – Newstalk 106-108fm
Q Radio News Bulletin – Q Radio
2FM Bilingual News – RTÉ 2FM
Today FM News – Today FM
News Programme
A City in Mourning: The Funerals of Martin McGuinness and Ryan McBride – BBC Radio Foyle
Terror at Manchester Arena – BBC Radio Ulster
Brexit: The Vote that Shook the World – RTÉ Radio 1
News at One: Tusla apologise to Whistle Blower – RTÉ Radio 1
The National Lunchtime News – Today FM
Current Affairs Programme
Anthony "Axel" Foley – The Man – Limerick's Live 95FM
Newstalk Drive – President Trump – Newstalk 106-108fm
Resurrecting the Inner City – Newstalk 106-108fm
Brexit Special – Live from Oriel Centre Gaol, Dundalk – RTÉ Radio 1
Heartbeat – South East Radio
Matt Cooper – Live from New York – Today FM
Sports Story
A Warrior on the Field – BBC Radio Foyle
Women in Sport – Beat 102-103
Axel – The Day that Shook the Sporting World – Limerick's Live 95FM
We All Dream – Ireland at the Euros 2016 – Newstalk 106-108fm
Man in the Van – RTÉ Radio 1
Sports Programme
Stories in Sound: Split the Sap – BBC Radio Ulster
Off the Ball Weekday – Newstalk 106-108fm
Off the Ball Live – Newstalk 106-108fm
Saturday Sport – RTÉ Radio 1
Dermot & Dave Do The Euros – Today FM
Documentary/Feature
Bullets and Ballots in the Banner County – Clare FM
Bones of Contention – RTÉ Lyric FM
No Time To lose – RTÉ Radio 1
We Decide Who Lives or Dies – RTÉ Radio 1
Anatomy of an Irish Serial Killer – RTÉ Radio 1
Music Documentary
The Green Fields of France – BBC Radio Ulster
1977 – Cathal Funge (Today FM)
Aon Richie Eile – KCLR
Sin E: Jeff Buckey's Irish Odyssey – RTÉ Radio 1
Someone to watch over me: The Music Manager – RTÉ Radio 1
Short Feature
Love Letters From The Front – BBC Radio Ulster
The Pat Kenny Show: A History of Scandal in the Catholic Church – Newstalk 106-108fm
The Pat Kenny Show: The Walk of Fame – Gene Wilder – Newstalk 106-108fm
Belfast Is… – Q Radio
Keepsakes – Radio Kerry
The History Show: A Lemonade Bottle – Red Hare Media (RTÉ Radio 1)
Magazine Programme
The John Toal Show – BBC Radio Ulster
Late Lunch – LMFM
Moncrieff: Movies and Booze – Newstalk 106-108fm
Maureen Flanagan's Life With The Kray Twins – RTÉ Radio 1
The Ray D'Arcy Show – RTÉ Radio 1
Drama
Home – Newstalk 106-108fm
I Seek Refuge – RTÉ Radio 1
Drama on One: Harder Faster More by Tracy Martin – RTÉ Radio 1
Drama on One: Flight Risk – RTÉ Radio 1
Terms and Conditions – WLR
Specialist Speech Programme
Irish Scientists – East Coast FM
Living with Locked-In Syndrome – Newstalk 106-108fm
Wellfest – Newstalk 106-108fm
The Golden Man: The Mystery of Peter Bergmann – Ocean FM
Joseph O'Connor's Into The Mystic – RTÉ Radio 1
Craoltoireacht le Gaeilge
Blas – BBC Radio Ulster
Operation Gaeilge – Mid West Radio
Cormac ag a Cuig – RTÉ Raidio na Gaeltachta
Pop Raidio – Spin South West
Ceolas Today FM – Today FM
Interactive Speech Programme
The Stephen Nolan Show: RHI Scandal – BBC Radio Ulster
The Niall Boylan Show – Classic Hits 4FM
The Neil Prendeville Show: Breaking the Silence – Red FM
Spin Talk: 13 Reasons Why – Is it doing more harm than good? – Spin 1038
The Frank Mitchell Phone-in: Manchester Attack – U105
Comedy Programme
The Blame Game – BBC Radio Ulster
Whats Snots 13 Years later – Ocean FM
Chris & Ciara – RTÉ 2FM
Callan's Kicks – RTÉ Radio 1
Colm O'Regan Wants A Word – Sideline Productions for RTÉ Radio 1
Community/Social Action
On Your Behalf: Caring for the Carers – BBC Radio Ulster
Hell on Earth – Clare FM
Cork's 96FM Giving for Living Radiothon – Cork's 96FM
Late Lunch: Wheels for John – LMFM
The Midlands 103 Christmas Road Safety Campaign – Midlands 103
Dare to Care – Today FM
On-Air Competitions / Promotions
98FM's Big Slide Home – 98FM
The Coffin Lock-In – Beat 102-103
iRadio's Chicken Dance – iRadio
The Chosen One on Cork's Red FM – Red FM
Off The Charts with Fergal D'Arcy – Today FM
Station Imaging
98FM – 98FM
FM104 – FM104
RTÉ 2FM – RTÉ 2FM
Spin 1038 – Spin 1038
Today FM – Today FM
Entertainment Inserts
FM104's Strawberry Alarm Clock – FM104
iRadio's "A Dose of the Skits" – iRadio
Breakfast Republic – RTÉ 2FM
Gift Grub – Today FM
Dermot & Dave – Today FM
Innovation
98FM's Big Slide Home – 98FM
Jim Stands Up – Classic Hits 4FM
The Niall Boylan Show: Stranger Things – Classic Hits 4FM
Ed Sheeran at The Odeon – FM104
Off The Ball Roadshow – Newstalk 106-108fm
Liveline 1917 – RTÉ Radio 1
Music Broadcaster
Dara Quilty – 98FM
Jim-Jim Nugent – FM104
Ian Dempsey – Today FM
Fergal D'Arcy – Today FM
Dermot Whelan – Today FM
Radio DJ
Steve Haze – Cork's 96FM
Emma Nolan – iRadio
Steve K – Spin 1038
Peter Collins – Spin 1038
Louise Duffy – Today FM
Specialist Music Broadcaster
Stephen McCauley – BBC Radio Foyle
John Toal – BBC Radio Ulster
Rob O'Connor – Beat 102-103
Darren Rice – Beat 102-103
Ray Wingnut – Spin South West
News Broadcaster
Brendan O'Loughlin – 98FM
William Crawley – BBC Radio Ulster
Sarah McInerney – Newstalk 106-108fm
Colm O Mongain – RTÉ Radio 1
Susan Keogh – Today FM
News Reporter
Kevin Magee – BBC Radio Ulster
Shona Murray – Newstalk 106-108fm
Fergal Keane – RTÉ Radio 1
Brian O'Connell – RTÉ Radio 1
Gavan Reilly – Today FM
Sports Broadcaster
Eric White – BBC Radio Foyle
Ger Gilroy – Newstalk 106-108fm
Joe Molloy – Newstalk 106-108fm
Joanne Cantwell – RTÉ Radio 1
Marty Morrissey – RTÉ Radio 1
Speech Broadcaster
Mark Patterson – BBC Radio Foyle
Stephen Nolan – BBC Radio Ulster
Niall Delaney – Ocean FM
Neil Prendeville – Red FM
Damien O'Reilly – RTÉ Radio 1
Alan Corcoran – South East Radio
Newcomer
Una Kelly – BBC Radio Foyle
Shane Todd – BBC Radio Ulster
Dave Duke – iRadio
Caroline Gauley – Shannonside Northern Sound
Al Porter – Today FM
Best Live Sound – Music
John Benson – BBC Radio Ulster
Davy Neill – BBC Radio Ulster
Mark Lavin – Clare FM
Conor Behan – RTÉ 2FM
Michael Lee – RTÉ Lyric FM


If you liked this story, we can email you more radio news from Ireland and the UK each weekday afternoon direct to your inbox. Just add your details below for "24 Hours in Radio - UK and Ireland":