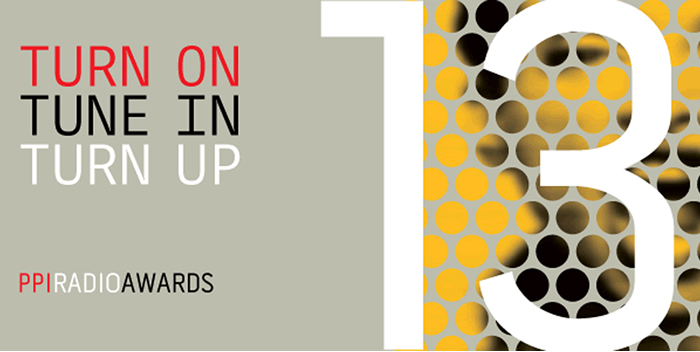 It's almost time to celebrate the best of Irish Radio with the annual PPI Radio Awards, taking place at Lyrath House Hotel this evening.

Hunreds of industry professionals from around the country are gathering in Kilkenny, ready for the Champagne reception at 6:45pm.
For those going, the night includes doors open at 6:45pm, dinner at 7:45 and the awards kicking off at 9:30pm. The after party is expected to start at 11pm.
Keep a close eye on @RadioTodayIE and RadioTodayLIVE.com for details of the winners as they are announced.
As a reminder, here's the shortlist, and good luck everyone!
A: Music Programming Awards
1: General Music Programme
Dermot & Dave  »  98FM
iGo Home with Fergal D'Arcy  »  iRadio
Rick in the Afternoon  »  RTE2fm
The Afternoon Show  »  Radio Kerry
The Zoo Crew with Ed and Sheena  »  Spin South West
2: Specialist Music Programme
98FM's Hotmix with the Man Ezeke  »  98FM
The Global Village  »  Radio Kerry
The Mix-up with Colm O'Sullivan  »  Today FM
The Paul McLoone Show  »  Today FM
The West Wind  »  Clare fm
3: Breakfast Programme
Breakfast with Hector 7th November 2012  »  RTÉ 2fm
FM104's Strawberry Alarm Clock  »  FM104
iWake up with Dave & Oonagh  »  iRadio
Red Rooster with Seamus, Gemma + Jason  »  RedFM
The Ian Dempsey Breakfast Show  »  TodayFM
4: Music Special
Chat & Tunes with Christy Moore  »  Today FM
Dublin's Q102's  »  Dublin's Q102
Hitting Home  »  RTÉ Radio 1
One Big Weekend live outside Broadcast  »  BBC Radio Foyle
Paddy at the Proms  »  Ocean fm
5: New Irish Music/Musical Talent Programming
FM104's Open Mic  »  FM104
Icon – Songwriter Special  »  Phantom 105.2
Nova  »  RTÉ lyric fm
Scéal na Hip Hop Éireannach  »  Spin South West
The Alternative with Dan Hegarty  »  RTÉ 2fm
B: News and Sports Programming Awards
1: News Story
Hero  »  Radio Kerry
Newstalk News – Prom Night  »  Newstalk 106-108fm
Talk Talk a Year on  »  WLR FM
BBC News NI – The Flags Protest  »  BBC Radio Ulster
Today with Pat Kenny – We live in a toilet  »  RTÉ Radio 1
2: News Bulletin
Clare fm News Bulletin  »  Clare fm
Newstalk News  »  Newstalk 106-108fm
Shannonside fm News  »  Shannonside
The Story  »  Spin 103.8
98FM News  »  98FM
3: News Programme
FYI Galway  »  Galway Bay FM
Midwest Radio News  »  Midwest Radio
Newstalk Breakfast – Boston Bombings  »  Newstalk 106-108fm
News at One  »  RTÉ Radio 1
The Snow  »  BBC Radio Ulster
4: Current Affairs Programme
Kerry Today  »  Radio Kerry
Marcella's Story  »  BBC Radio Ulster
Morning Focus  »  Clare fm
South East Radio's No phone, No Facebook Friday  »  South East Radio
The Nolan Show  »  BBC Radio Ulster
5: Sports Story
Jimmy's Winnin' Matches  »  Ocean fm
Olympics 2012  »  RTÉ Radio 1
St. Brigid's Story  »  Shannonside
Superhuman Paralympics  »  RTÉ Radio 1
Women's Rugby  »  RTÉ 2fm
6: Sports Programme
Last Word Sport  »  Today FM
Now that's what I call Sport  »  98FM
Off the Ball  »  Newstalk 106-108fm
Premier League  »  Today FM
Sunday Sport. Ist time winners  »  RTÉ Radio 1
C: Speech Programming Awards
1: Documentary
A Knock on the Door  »  RTÉ Radio 1
Doc on One – "Take no more"  »  Grey Heron Media for RTÉ Radio 1
Finding the body that fits  »  Spin 103.8
Re:Generation  »  Spin South West
The Lyric Feature  »  RTÉ lyric fm
The Sinking of the Plassey  »  Limerick's Live 95fm
2: Short Feature
Fairytales of the Kingdom  »  Radio Kerry
Under the cover with Henry McKean  »  Newstalk 106-108fm
Mag  »  RTÉ Radio 1
Pure Culture  »  BBC Radio Foyle
The Listening Project  »  BBC Radio Ulster
3: Magazine Programme
Lazy Afternoon  »  Ocean fm
Moncrieff  »  Newstalk 106-108fm
Mooney  »  RTÉ Radio 1
Savage Sunday  »  Today FM
The John Murray Show  »  RTÉ Radio 1
4: Drama
Beat's Alternative Nativity  »  Beat 102-103
End of the Line  »  Radio Kerry
Maybe the Night  »  RTÉ Radio 1
Mary Motorhead  »  Ocean fm
Drama on One – Short Biography of Denis O'Rourke by Paul Meade  »  RTÉ Radio 1
5: Specialist Speech Programme
Discovery Lab  »  RTÉ Digital
Eamon Lowe's Ho Ho Ho  »  Today FM
Paddy at the Proms  »  Ocean fm
Pure Culture  »  BBC Radio Foyle
The Heart that doesn't Beat  »  Newstalk 106-108fm
6: Craoltóireacht le Gaeilge
Blas  »  BBC Radio Ulster
Caint Ciarraí  »  Radio Kerry
Hit 30 na hEireann  »  Spin 103.8
Scrudú Béil  »  RTÉ Raidió na Gaeltachta
Splanc  »  Newstalk 106-108fm
UFOnna i Mainistir na Buille  »  Ocean fm
7: Interactive Speech Programme
Cork Today  »  Cork's 96fm
Liveline – Savita – Women who walked in her shoes and survived  »  RTÉ Radio 1
The Spin  »  Spin 103.8
The Tom Dunne Show  »  Newstalk 106-108fm
Tubridy  »  RTÉ 2fm
D: General Awards
1: Community/Social Action
A Murray Christmas  »  RTÉ Radio 1
Christmas Toy Appeal  »  South East Radio
Colm Hayes' Cycle  »  RTÉ 2fm
Its alright not to be alright  »  Ocean fm
Powering Kindness  »  Newstalk 106-108fm
Shave or Dye  »  Today FM
2: On-Air Competition/Promotion
iPaddy  »  Spin 103.8
One Direction to Miami  »  FM104
South East Quiz  »  South East Radio
LMFM's Wash Your Dirty Linen in Public  »  LMFM
Win Your Wedding  »  Beat 102-103
3: Station Imaging
Cork's 96fm
FM104
iRadio
Today FM
Spin 103.8
4: Entertainment Inserts
Fairytales of the Kingdom  »  Radio Kerry
FM104's Strawberry Alarm Clock  »  FM104
Gift Grub  »  Today FM
iWake up Entertainment inserts  »  iRadio
Say stuff that suits the music  »  98FM
5: Multi-Platform
FM104's Dub Hub  »  FM104
FM104 Phone Show  »  FM104
Fungi Day on Radio Kerry  »  Radio Kerry
The KC Show  »  Today FM
Your Spin  »  Spin 103.8
E: People Awards
1: Music Broadcaster of the Year
Dave Moore  »  98FM
Dermot Whelan  »  98FM
Jim Jim Nugent  »  FM104
KC  »  Today FM
Ray Foley  »  98FM
2: Radio DJ
Liam Coburn  »  Q102
Eoghain Fitz  »  Spin South West
Steve K  »  Spin 103.8
Becki Miller  »  Spin 103.8
Teresanne O'Reilly  »  Beat 102-103
3: Specialist Music Broadcaster of the Year
Stephen Keogh  »  Kfm
Walter Love  »  BBC Radio Ulster
Ralph McLean  »  BBC Radio Ulster
Paul McLoone  »  Today FM
Colm O'Sullivan  »  Today FM
4: News Broadcaster of the Year
Sarah Brett  »  BBC Radio Foyle
Ian Byrne  »  Spin 103.8
Jonathan Healy  »  Newstalk 106-108fm
Colm Ó'Mongáin  »  RTÉ Radio 1
Sean O'Rourke  »  RTÉ Radio 1
5: News Reporter of the Year
Eric Clarke  »  Limerick's Live 95fm
Cian McCormack  »  RTÉ Radio 1
Alison Nulty  »  Radio Kerry
Brian O'Connell  »  RTÉ Radio 1
Clara Walshe  »  Midlands 103
6: Sports Broadcaster of the Year
Séan Bán Breathnach  »  RTÉ Raidió na Gaeltachta
Ger Gilroy  »  Newstalk 106-108fm
Oisín Langan  »  Newstalk 106-108fm
Nathan Murphy  »  Today FM
Damien O'Meara  »  RTÉ 2fm
7: Speech Broadcaster of the year
Niall Boylan  »  Classic Hits 4FM
Matt Cooper  »  Today FM
Alan Corcoran  »  South East Radio
Will Faulkner  »  Midlands 103
Stephen Nolan  »  BBC Radio Ulster
Vincent Woods  »  RTÉ Radio 1
8: Newcomer Award
Kelly-Anne Byrne  »  Phantom 105.2
Claire Collins  »  Radio Kerry
Dave Cronin  »  Beat 102-103
Louise Denvir  »  RTÉ Radio 1
Paula McSweeney  »  TodayFM


If you liked this story, we can email you more radio news from Ireland and the UK each weekday afternoon direct to your inbox. Just add your details below for "24 Hours in Radio - UK and Ireland":