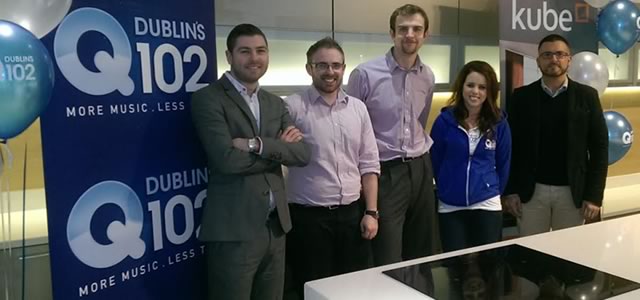 Q102's mid-morning show with Liam Coburn has attracted the sponsorship of Kube Kitchens.
The programme, known as "More Music Less Talk with Liam Coburn" is broadcast each weekday from 9am till 1pm.
Jonathan Barker, Sales Manager of Dublin's Q102 told RadioToday: "We are delighted to welcome Kube Kitchens on board with us here at Dublin's Q102. The Kube brand is synonymous with stylish & quality designs and throughout the sponsorship our aim is to deliver this key message to our Q102 listeners."
Orla McNally, Director at Kube Kitchens: "At Kube we advertise a lot on radio and I felt partnering with Dublin's Q102 by Sponsoring More Music Less Talk with Liam Coburn would work alongside our current advertising and help reach a suitable customer."
Q102, owned and operated by UTV Media, is based Macken House in Dublin along with FM104 and UTV Radio Solutions.
In the photo is (left to right) Jonathan Barker (Q102 Sales Manager), Dave Fagan (Kube Manager), Darragh Deering (Q102 Media Consultant), and Aidan Healy (Kube Senior Design Consultant). Plus a promo girl who we don't know the name of! Is it you? Let us know!


If you liked this story, we can email you more radio news and alerts. Just fill in the form below.