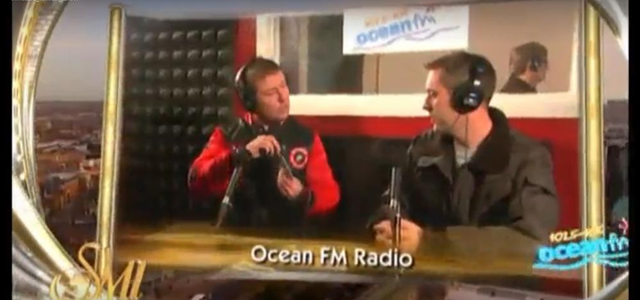 Ocean FM management have expressed amazement after the radio station's logo appeared in an international promotional video for the Church of Scientology.
The video, played live to a huge audience at the New Year's Eve Scientology event in Clearwater, Florida, includes a short clip of an 'interview' being conducted with a Scientologist in the Ocean FM studios.
However, the studio is not that of Ocean FM, and the 'presenter' conducting the interview is not known to anyone at Ocean.
Ocean FM was alerted to the matter by a listener, who suggested that it was unfortunate that Ocean would be involved in such a video.
As the promotional footage plays, a voiceover highlights the campaign's success in Ireland, saying: With Truth About Drugs spokesmen hitting national airwaves, from Ocean FM to BBC Radio, and thereby impacting nearly 270,000 listeners, that's how the Mission of Dublin accomplished an 85 per cent drop in drug related crime.
BBC Radio Foyle was also shown in the clip but that footage was also false.
Speaking about the matter on Ocean FM, a representative of Scientology Ireland said the footage – first highlighted in Ireland on Broadsheet.ie – had been a "re-enactment" of an interview on the station.
Sabrina Shortt said her brother Kristian Shortt – a well-known anti-drugs activist in Donegal, and a member of the Truth Against Drugs campaign – had been interviewed by the station last summer about his own experiences with drugs, and the footage was a recreation of this. She said: "We're not in the habit of recording every interview that we do, so we decided to do a little promotional video. The video was a re-enactment."
She added: "What I would definitely like to apologise for is, we definitely should have gotten permission that we were doing a re-enactment. Truth Against Drugs volunteers deliver leaflets to a garda station in the video Sabrina Shortt said that the video was not primarily about the Church of Scientology, but was intended to highlight the work of the Truth About Drugs campaign.


If you liked this story, we can email you more radio news and alerts. Just fill in the form below.