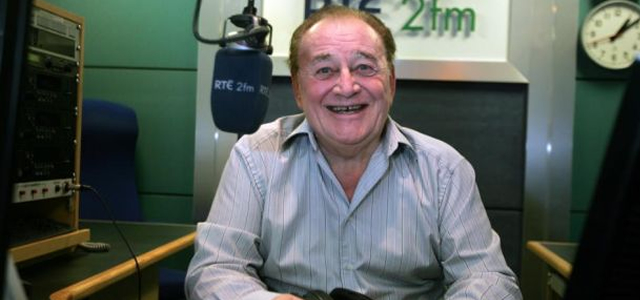 Larry Gogan moved to weekends at RTÉ 2fm
It's a case of history repeating for 75 year old Larry Gogan as his Golden Hour is removed from the weekday schedule at 2fm.
The new Larry Gogan Show will be a two hour show on Saturday and Sunday's and promises a mix of the latest hits, the 'Just a Minute Quiz' and golden oldies, which will include 'The Golden Hour'.
The move was announced on-air this morning during the Tubridy Show, where Ryan said "I want to talk about Larry Gogan and I'll tell you why I want to talk about Larry Gogan because there's a lot of rumours flying around the place. I believe I'm in a position to let you know what's happening, in as much as I know."
Tubridy said: "In my role as Pravda spokesman let me tell you that Larry Gogan, who you know and I know and who you love and who I love, and I mean that as a human being and a colleague. Larry Gogan is going to be leaving his show on daytime RTÉ 2fm, that's the sad news.
"It's sad for a lot of us because we get to see Larry everyday. Sometimes you get to see the milk man put the milk bottle on your step and some people get to see the postman putting his post through the door and we get to see Larry putting his bag on his desk, it's one of those privileges in life that you can have to meet someone that amazing, that gorgeous, that kind and that avuncular and that lovely every morning and alas that's not going to be the case for too much longer because Larry's going to be doing a show at the weekend."
He added: "He's not leaving 2fm, he'll still have a presence. You'll still be able to get to hear him and hear his amazing voice, playing his amazing music and doing his amazing thing.
"What it is – is that there is so much change here at the moment, there is a new breakfast show with Bernard, Jennifer and Keith and you also know we have Nicky Byrne coming in then at 11 o'clock and we also know that Colm Hayes is moving to the drivetime slot. Will Leahy is doing something at the weekend, again Will's not leaving 2fm, he's just doing a different show at a different time and the story is that Larry will also be going to the weekend."
Commenting on his new role, 2fm's Larry Gogan said: "I'm thrilled to be part of the new 2fm and working with Dan Healy to see where he brings the station. I'm also really excited to be taking the most popular music show in the country 'The Golden Hour' to the weekend along with my 'Just A Minute Quiz' and the 'Best of New Music'."
Head of 2fm, Dan Healy said: "The greatest of them all… over the last number of months, Larry and I have been talking about what he would like to do on 2fm and he felt that he could do a significant job for the station at the weekends. 2fm may be changing but Larry Gogan is constant. Weekends are as important as weekdays in radio and the reason I have chosen Larry to be the linchpin he is the best at what he does and always delivers. The greatest privilege for me in my working life is to have the opportunity to work with Larry Gogan."


If you liked this story, we can email you more radio news and alerts. Just fill in the form below.