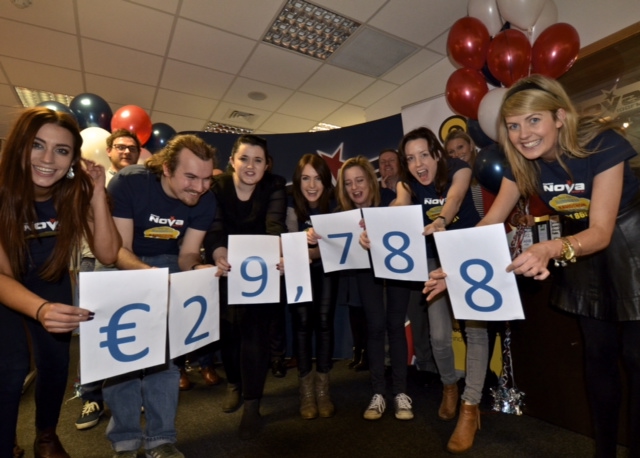 Radio Nova 100 have smashed their fundraising target in their first "Help the Homeless Radiothon", raising a total of €29,788 for Focus Ireland.
The classic rock station, who had aimed to pull in €25,000 over the two day drive this week, raised €14,779 on Wednesday and added another €15,009 yesterday for the very worthy cause.
The funds, raised for Focus Ireland, were donated entirely by listeners and businesses throughout Dublin, Kildare, Meath & Wicklow via telephone donations.
It is the first year the station has run its Radiothon, which saw a plethora of well-known people call into the station to voice their support over two days including broadcaster Brent Pope, comedian Neil Delamare, actor Peter Coonan (aka Fran from "Love/Hate"), snooker player Ken Doherty, footballer Roddy Collins, RTE's Nuala Carey, TV presenter/author Lorraine Keane, The Stunning's Steve Wall, comedians Catherine Lynch, The Nuala's, Fred Cooke and the one and only Bosco!
The station turned over its airwaves for two full days to raise funds to help homelessness and set up a call centre staffed by Focus Ireland personnel in its HQ in Dublin's docklands.
Station CEO Kevin Branigan told RadioToday: "It's been an emotional few days. We got the idea for the 'Help Homelessness Radiothon' after seeing a TV programme on Homelessness in January and we put our collective minds together to see how we could throw the resources of our radio station behind raising funds for this vital cause. The idea crystallised over the last few weeks and our whole team here at NOVA got behind the pledge drive to achieve today's result".
He added: "Our listeners have not been found wanting. Every cent donated has gone directly to Focus Ireland and will help pay for safe accommodation and hot meals for homeless people throughout the Greater Dublin area over the coming months".
Rachel Murphy, Public Fundraising Manager for Focus Ireland, said "We are delighted to have had the support of Radio Nova and all of the listeners who have supported us over the last two days. We want to thank all of the team here at Nova and each and every listener who reached out to make a difference for young people who are experiencing or at risk of homelessness. Last year Focus Ireland helped over 11,000 people, more than ever before, and it is thanks to the generosity and support of partners like Nova and their listeners who share our vision of ending homelessness that we are able to make this sort of impact".


If you liked this story, we can email you more radio news and alerts. Just fill in the form below.