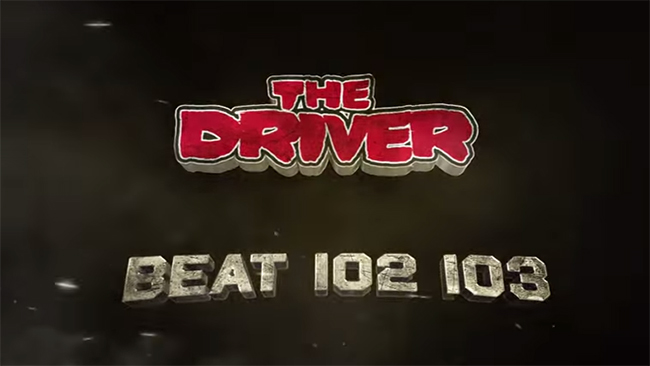 Beat 102-103 kicked off their latest major station promotion "The Driver" yesterday morning, which will seem them give away thousands in cash to lucky listeners.
In a twist on the "Fugitive"-style radio promotions, 'The Driver' is a mysterious individual who the station say has gone renegade on 'the mob' in the South East, and taken his own share of cash from them, which he needs to offload – and, of course, the Beat 102-103 listeners can help him in this!
The Driver is trying revealed how he plans to do this on "Beat Breakfast with Niall & Vinny", saying that he'll be giving out directions on air, online using the station's social media platforms and on the street as to the location of his car somewhere within the South East.
Listeners can win the cash once The Driver has revealed the final direction by sounding the car alarm, with the first person to open the car boot winning the cash.
The innovative concept was the brainchild of Beat 102-103's Head of Commercial Content, Ian Howard who explains: "everyone loves a good chase and after much research with our listeners, we took elements from successful promotions we have run in the past that listeners liked the most and fused them together to produce 'The Driver'".
Howard goes on to highlight that "so many of our 163,000 weekly listeners are digital natives so one of the crucial factors of this campaign is that it had to be multi-platform – a teaser trailer on Youtube; cryptic visuals on Instagram; enticing text on twitter combined with traditional on street exciting activity and obviously it's really important that it all links back to entertaining on air content; we are a market leading radio station after all".
The major promotion is running in conjunction with Citroen Ireland, Citroen @ Bolands, Waterford City, Kilkenny Citroen Vehicle Centre and JJ Byrne Car Sales, Wexford.
Citroen Ireland's Deputy Managing Director, Louise Murphy, commented; "Citroen Ireland and its dealers are delighted to partner with Beat 102-103 on its exciting new promotion. The Driver is set to take listeners on a thrilling mystery tour of clues, creating a huge sense of anticipation. The Driver is a perfect fit for the Citroen brand, being both market leading and creating a buzz with consumers."
Here's Beat 102-103's promo video, explaining the promotion:

Here's a couple of girls winning €650 cash in the promotion yesterday afternoon:



If you liked this story, we can email you more radio news and alerts. Just fill in the form below.