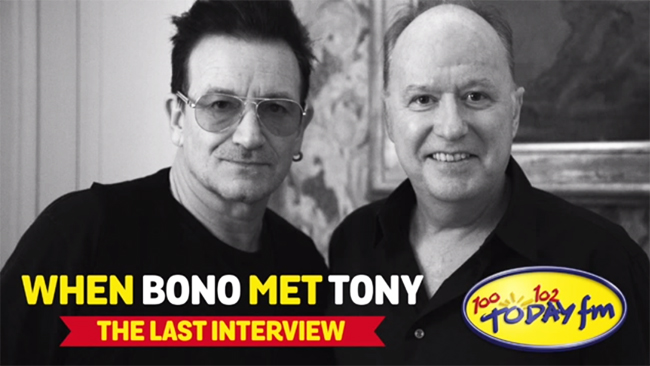 Today FM broadcast final Tony Fenton interview
National station Today FM have broadcast an interview which Tony Fenton carried out with Bono in January this year – his final interview before passing away from cancer in March.

Fenton had wanted to interview the U2 frontman for many years and got the invite to his Killiney home after Bono heard about the Today FM host's terminal illness.
During their chat, Bono and Tony compared their experiences of growing up on Dublin's Northside with Tony joking: "I used to walk from [Willow Park Grove] to get a 19a into town and I used to see you the other side of the street with the mullet, the long black coat, long black jeans, the boots and I used to go, I don't know who he is but he's cool and he looks good."
Bono laughed and responded: "Those Willow park Grove people are not to be trusted. They're dangerous!" adding, to his wife, "Ali, we've let the Grove in here!"
Bono thanked Tony for his unwavering support of the band over the years, saying: "I'm sure we embarrassed you and I'm sure we put you in some awkward situations but you always stood by our band and it has meant a great deal to us that you've been on the radio playing our tunes for a long time now. You're more consistent than U2 as far as Irish people are concerned. We absolutely appreciate it."
The singer also spoke about doing more "intimate" shows in Dublin than their show at New York's Madison Square Garden, hinting at the since-confirmed Christmas 2015 trio of concerts at the 3Arena. He said: "We can't fit this tour in at the 3Arena, the one that we are doing in Madison Square Gardens, and we're really bummed out about that, so we decided let's do something that we're not going to do anywhere else in the world.  Let's create the most intimate show we've ever done.  Let's try something else out."
The interview, which was broadcast in a 1-hour special at 3pm yesterday, Monday May 4th, can be heard below:
Today FM are to host a special tribute night for Tony Fenton on Thursday week, May 14th.


If you liked this story, we can email you more radio news and alerts. Just fill in the form below.