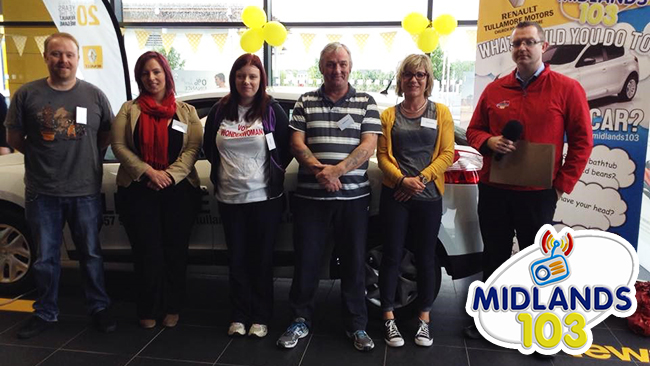 One lucky Midlands 103 listener has driven away the proud owner of a brand new Renault Mégane after a competition to find out what listeners were prepared to do to win the car from the station and Tullamore Motors.
After weeks of ludicrous and outlandish pledges, five brave souls entered the €20,000 car on the morning of Wednesday June 3rd.
The five were: Sonya Stokes from Portlaoise, who had used her booty to shake her way into the final only two days earlier at Laois Shopping Centre, Emma King who, clad in a Wonder Woman costume, made national newspaper headlines when she proposed to her partner live on Midlands 103 in the middle of a Co.Offaly Bog, Robert Flanagan, who exposed the women of Portlaoise to his statuesque physique when he endured an all-over FULL body wax, Trisha Condron from Screggan in Tullamore, who sat proudly in the front row of a packed church for her son's first holy communion, a Renault diamond logo vividly shaved on the back of her head, and Darren Touhy from Moate, who got the ball rolling when he paraded through the heart of Tullamore in nothing but his underpants (as you can see here) – and even got ejected from the Bridge Centre by security!
The competitors entered a brave performance in a series of cruel tests from the Driver Theory Exam to the '10 songs in 30 seconds challenge' and many more, which whittled them down to two – just Darren and Robert.
The final two had to then force their weary brains to calculate distances to obscure places, a finalé which saw Robert triumph, becoming the proud owner of a brand new Renault Megane, compliments of Tullamore Motors and Midlands 103.


If you liked this story, we can email you more radio news and alerts. Just fill in the form below.