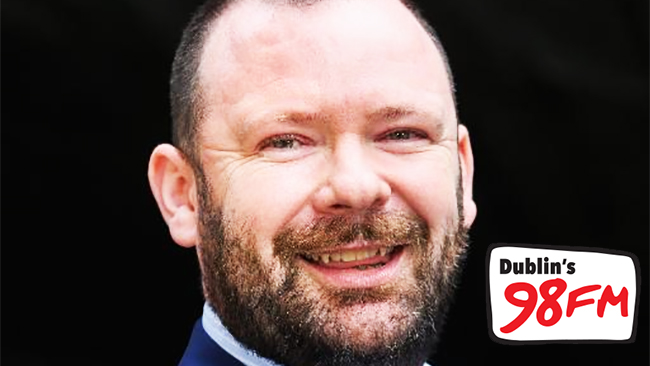 Many tributes have been paid to much-loved 98FM sports presenter Johnny Lyons who has passed away.

The sports reader and presenter, who was found dead at his apartment in Dublin on Wednesday evening, August 19th, had been off work with a broken ankle and was due to return to the office next week. 
It is understood colleagues had had difficulty contacting him, which led to concerns. His cause of death is not yet known but it's reported that there is no reason to believe there was any foul play involved.
Aside from being the very recognisable voice of 98FM sports bulletins, Johnny, who has worked with 98FM since 1996, also hosted the popular "Now That's What I Call Sport" show on Sundays and will have been a familiar voice to Premier League fans following his stint on Today FM's Premier League Live.
Friends and colleagues of the hugely popular broadcaster, who was only in his 40s, are still coming to terms with the shocking news.
98FM said in a statement this evening that he had died "suddenly and peacefully", and said that his passing has left the directors, management and all the staff "heartbroken".
Describing him as a "dear colleague and great friend", the station added that "Johnny has been the backbone of our sports team for over 20 years. His distinctive voice and his passion for soccer defined Johnny for so many of his listeners. He was a talented presenter with a deep knowledge and love of sport and his Sunday morning programme 'Now that's What I Call Sport' was a weekly date for so many Dubliners".
Keith McCormack, 98FM CEO paid tribute to Johnny saying: "The entire station is devastated with the sudden passing of a beloved colleague. Johnny, with his larger than life personality, was loved by all listeners and colleagues alike. He was a huge part of the 98FM family and will be dearly missed, we would like to extend our deepest sympathies to his family at this time. May he rest in peace".
Among those paying tribute to him on social media were former 98FM staff including former head of news Teena Gates, and past presenters Dave Moore – now with Today FM – and Declan Pierce, who now presents with RTÉ 2FM. Pierce said: "He was a funny, wonderful, crazy, brilliant, talented, passionate, sports crazy, cricket loving, rock loving, big friendly giant. A pleasure to share the studio with for so long. God bless you, Johnny. I'll miss you. Dublin has lost a real character".
Current 98FM "Dublin Talks" co-host Jeremy Dixon said: "I'm shocked and saddened to hear about the passing of a member of our radio family in 98fm, Johnny Lyons. He was a larger than life character, always in good form and always friendly. We had many a slagging match about football in the 98fm office. The malt house won't be the same without you Johnny. RIP."
Johnny's former rival, Bob McKenzie – who read sports bulletins for FM104 – posted his thoughts on Facebook, saying "I always enjoyed his company & had some great times with him.For all of us in the Irish press this is such sad news & just goes to show that death happens suddenly & brutally. God bless & may you be at peace now Johnny".
98FM will be paying tribute to Johnny on air over the next few days.
UPDATE: On Thursday, August 20th Independent Broadcasters of Ireland chairman John Purcell said "Johnny Lyons was a larger than life character. His was a voice synonymous with sport in Dublin for over 20 years. The esteem that he was held in, not only by the radio industry but also by sports organisations and sports stars is evident in the outpouring of tributes that have been paid to him. We send our condolences to Johnny's family, to his radio family in 98FM and his many thousands of listeners who will miss his unmistakable voice on the airwaves".
Ar dheis Dé go raibh a anam. R.I.P.
98FM is heartbroken to announce the death of our dear friend and colleague, Johnny Lyons: http://t.co/FtCwVZVPZ4 pic.twitter.com/p8pVrA0QUL

— 98FM (@98FM) August 19, 2015
Everyone at the club is deeply saddened to hear of the passing of @98FM 's Johnny Lyons. Ar dheis Dé go raibh a anam. http://t.co/3qcuFJibPR

— Shamrock Rovers F.C. (@ShamrockRovers) August 19, 2015
Very shocked and saddened at the news that Johnny Lyons has passed away. He was the voice of sport in Dublin and we'll miss him. Ray

— The Ray Foley Show (@rayfoleyshow) August 19, 2015
One of the good guys. Was full of praise for me on my first day in @98FM all those years ago. Sleep well Johnny x https://t.co/D3dGw4jhv4

— Páraic Gallagher (@paraicgallagher) August 19, 2015
Johnny Lyons was one of the greatest characters to ever travel with an Irish team and work in our business, may he rest in peace

— Cathal Dervan (@irlsport) August 19, 2015
Thank you to everyone for your kind words. Thinking about Johnny's family and close friends. So, so sad.

— Dave Moore (@DaveTodayFM) August 19, 2015
Respect, for the Legend that was @JohnnyLyons14 – RIP pic.twitter.com/PvNYkU2vIv

— Teena Gates (@TeenaGates) August 19, 2015
Gutted to hear that my old friend and colleague Johnny Lyons has died. Radio has lost a great character. Gutted. pic.twitter.com/TVZiii7UvY

— Mike Hogan (@MikeHogan4FM) August 19, 2015
Sad 2 hear of the passing of #JohnnyLyons. A great character & broadcaster. Our thoughts are with his family, friends & all @98FM & @todayfm

— TV3 (@TV3Ireland) August 19, 2015
Here is a recent (February 2015) interview Johnny Lyons took part in (skip forward to 07:45) for Cricket show "Bails and Buzzers":



If you liked this story, we can email you more radio news and alerts. Just fill in the form below.