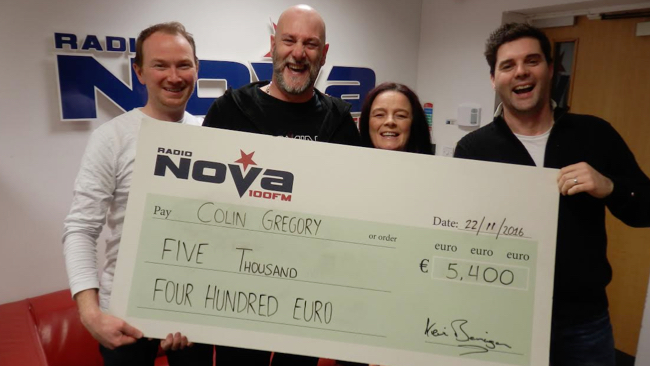 The correct answer has been given to the Nova Noise competition, with the station giving away a five thousand four hundred euro prize.
After 18 weeks it took two friends to guess the noise correctly, which was putting cups into the dispenser on the side of a water cooler.
Colin Gregory called up Radio NOVA's Pat Courtenay for the first time ever yesterday morning and guessed the Noise that has been driving listeners crazy for the past four months. Speaking to Morning Glory's Conor & Marty this morning NOVA Noise Winner Colin Gregory said: "I'm highly delighted actually but more importantly for Neysa because herself and her husband have been trying to win this for months, Luca (Neysa's husband) knew the answer and he has tried. Every day he fills up the cups on a water cooler. He is a teacher and that is one of his duties.
"Yesterday morning at 7am when Neysa made her call I was listening and I was driving along and I heard her not get the answer so I sent her a text would you object if I had a crack at it and it I win I'll split the money and she said yeah go for it!"
Radio Nova's Assistant Programme Director and Executive Breakfast Producer Clint Drieberg says: "We love putting together the Nova Noise here at the station and it's clear people love playing the game just as much. Colin getting through on the phones for his first time ever and guessing this Nova Noise spot on (with the help of his friend) surprised and delighted us.
"Nothing beats winning cold hard cash and there will be more to be given away real soon along with the tonne of other great prizes that are always up for grabs on Radio NOVA."


If you liked this story, we can email you more radio news and alerts. Just fill in the form below.