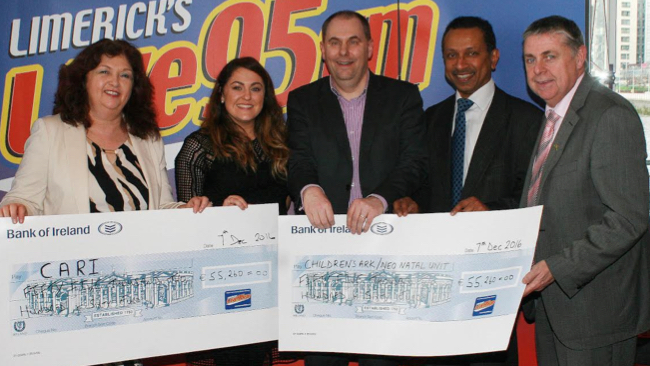 Limerick's Live 95FM listeners have raised €110,520 for Limerick Kids in the 2016 charity fundraiser, the 95 Stop Tour.
Over €500,000 in total now raised for the Children's Ark, including theNeonatal Unit, and CARI Limerick, since the fundraising began seven years ago.
"Limerick's Live 95FM are delighted to be involved with these fantastic causes. I was truly stunned when Fergal announced that the people of Limerick had raised €110,520 for the ill and vulnerable children. I am overwhelmed by the support we received and cannot thank enough each and every person that contributed to the success of this year's "95 Stop Tour" said Nichola Quinn, 95 Stop Tour Co-ordinator.
The Live 95FM team embarked on a 95 Stop Tour of Limerick City and County in September, visiting many of the communities and organisations that helped to raise money for the chosen charities.
Communities, businesses and schools across Limerick held fundraising events that included Coffee Mornings, Bingo Nights, Skipathons, Fun Cycles, Walks, Raffles, Fashion Shows, Living in a Window, Sky Dives and Family Fun Days, all in aid of the '95 Stop Tour' for Limerick Kids.
Live 95FM's Limerick Today Show with Joe Nash broadcast live from five locations throughout the week of the Tour, visiting Adare Heritage Centre, Garvey's Centra Newcastle West, The Irish World Academy of Music and Dance at UL, Croom Civic Centre and to top it all off Guiney's on William Street.
Some other highlights included Limerick Motor Centre who in association with the Ursula Stokes Agency hosted a Hot Wheels and High Heels Fashion Show that raised over €11,000 for Limerick Kids while the Afternoon Tea at the Strand event was also a great success. Live 95FM's Sales and Marketing Manager Fergal Deegan hosted a Cycle from Limerick to Kilkee that raised over €10,000. The Jeff Power Memorial Soccer Tournament raised a huge €7,000 and over 30 people skydived for Limerick Kids, among many other events.
CARI Limerick provide a professional, child centred therapy and counselling service to children, families, and groups who have been affected by child sexual abuse. Without the support of the '95 Stop Tour' each year, this service would not exist in Limerick.
"I am totally ecstatic, I can't believe it! I am a roller coaster of emotion at the moment. It's very emotional shedding tears of happiness, gratitude and appreciation for everybody who has helped us. It has been wonderful to see so many people here, who have helped us throughout the 95 Stop Tour and many thanks to the people who have helped us, over the last seven years as well.
"Thanks to Joe, Fergal and Nichola and the whole Live 95FM team" said Mary Madden, Community Employment Supervisor with CARI Limerick.
"I cannot explain the words I feel because it is truly remarkable. It is a great moment for the children of Limerick that Limerick's Live 95FM with their commitment to care in the community, managed to raise more than €110,000 for the Children's Ark, including the Neonatal Unit. Thank you so much to everyone in Limerick who helped raise money, for this great cause. It is our responsibility that it reaches the right target – our sick children and babies in the Ark and Neonatal Unit" said Dr. Roy Philip, Clinical Director at the Children's Ark Unit at University Hospital Limerick.
Top photo: Mary Madden of CARI Limerick, Nichola Quinn 95 Stop Tour Coordinator, Live 95FM's CEO Joe Nash, Dr Roy Philip Clinical Director at the Children's Ark Unit at University Hospital Limerick, Live 95FM Sales & Marketing Manager Fergal Deegan.
Middle photo: – Live 95FM's Presenter Declan Copues with Shadows Paul Fitzgerald and Nollaig Malone at St Nicholas School in Adare during the '95 Stop Tour' for Limerick Kids.


If you liked this story, we can email you more radio news and alerts. Just fill in the form below.