College radio station Juice FM Cork returns
College radio station Juice FM is returning to FM on Thursday 24th October 2019.
The Juice team has recently calibrated together on The Celebration of World College Radio Day Competition with a show called 'A Celebration of Ireland.'
Here's how the line-up looks for the upcoming broadcast:
Fionn McCarthy, one of two Music Production and Music Scheduler Managers is also on the air from 8am til 10 for the Freshley Squeezed show.
Roland Baldwin takes over from Fionn from 10am to 12pm for the Total Request show. Roland is a Social Media Manager and has three years of Social Media Management experience to aid in his work and has studied journalism.
Following on from Roland is April Hollingworth. April is a multi-genre author and poet, who incorporates music into her writing by mixing her tracks. April is one of the two Programme Controllers and can be heard between 12pm to 2pm for The Juice Box.
Cian Hearn is the second Music Production and Music Scheduler Manager. Cian is a musician and songwriter, and a hip-hop artist known as Gatch. Cian is also an audio producer of house and techno music and video editor. He's on-air between 2pm and 5pm for The Boost show.
Roy Cronin is also a Programme Controller at the station. He's a former professional musician and DJ too. He's on The Juice Extract from 5pm to 7pm.
And Caroline Blacky Mudingo Dipanda who produced Juice FM Cork's first participation in the World College Radio Day 'A Celebration of Ireland'. Caroline is Juice FM's Head of Promotions and will be hosting the 7pm to 9pm Celebrity Juice in which she praises Ireland, Cork and those who facilitate access to culture.
Juice FM is situated in Coláste Stiofain Náofa, Tramore Road, Cork and will be heard on 88.7 FM, online and digital.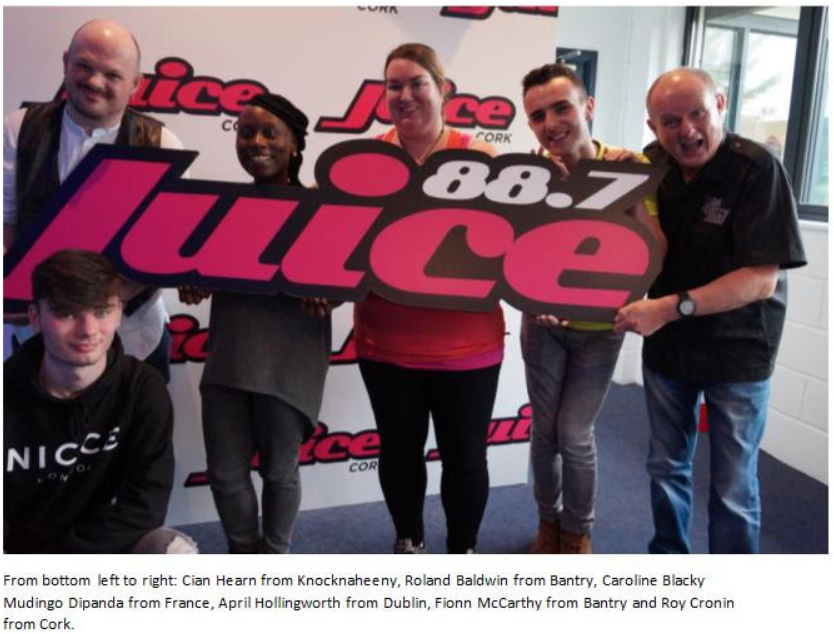 If you liked this story, we can email you more radio news and alerts. Just fill in the form below.