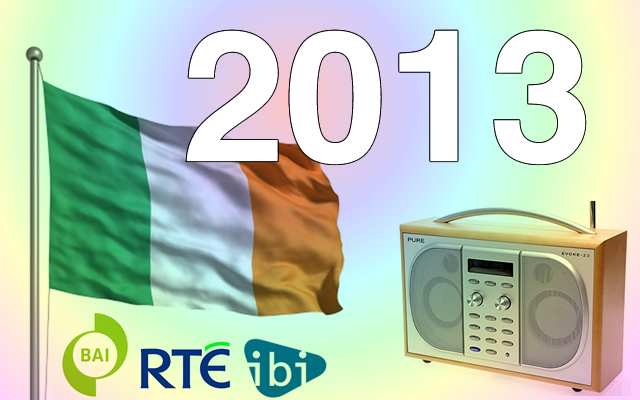 RadioToday brings you an exclusive first look at what made headlines for the radio industry during the last 12 months.
Of course the year started with the official launch of your very own dedicated-industry radio news website, RadioToday. We've been operating over in the UK for the past decade and as big fans of the Irish radio market, and with extra time and staff available, we expended across the Irish Sea.
It was a year which saw radio stations recreate the Harlem Shake, hire and fire presenters, and break social media records. 2013 was the year the Off The Ball team went off the air, the year we got new management at a number of stations and of course the year independent radio got Pat Kenny.
We had a number of big radio awards including the Love Radio Awards and a number of temporary stations were broadcasting such as The Rock and Zenith Classic Rock.
Sadly a number of colleagues moved on to the big radio station in the Sky in 2013. We remember Colm Murray, Seán Óg Ó Ceallacháin, Stephen Dee, Henry Owens, Bob Gallico and their families.
So join us as we turn the clock back just 12 months and see what's happened during 2013.
JANUARY
FEBRUARY
MARCH
APRIL
MAY
JUNE
JULY
AUGUST
SEPTEMBER
OCTOBER
NOVEMBER
DECEMBER
So what will 2014 bring us? Presenters with new programmes, moving around the schedules and moving to new stations. Staff taking promotions and managers taking a bonus. Next year a number of stations are celebrating 25 years of broadcasting, and you can be sure RadioToday will be right here sharing the celebration.
Bringing the radio industry together, shouting as loud as we can about the great radio we are all part of. And we can only do it with your continued help. Keep news@radiotoday.ie in your contacts and let us know what you're up to. Because sometimes you have to give yourself a little bit of self promotion.
Thanks for reading in 2013 and we look forward to serving you bigger and better in 2014.


If you liked this story, we can email you more radio news and alerts. Just fill in the form below.