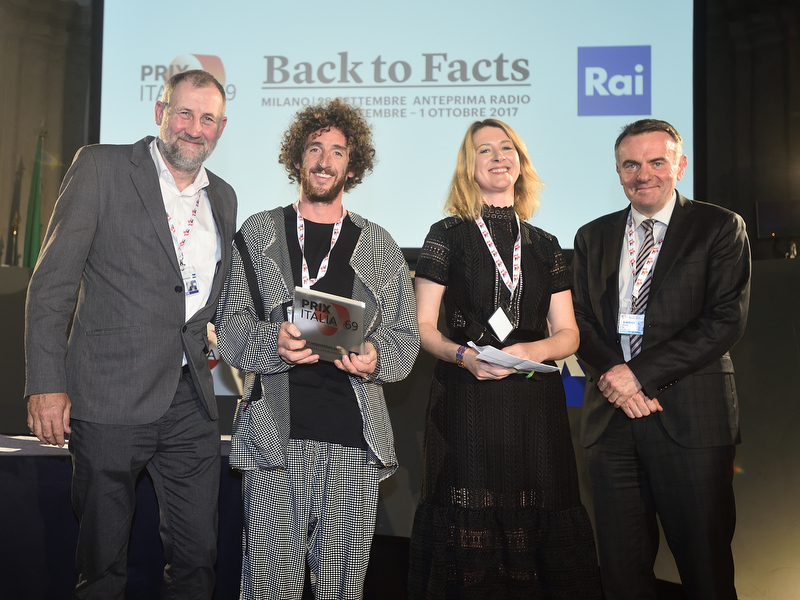 RTÉ Radio 1's Documentary on One was honoured at the Prix Italia international media awards in Milan on Sunday.
It won the recognition for its 2016 production, No Time To Lose, which was the overall winner in the Radio Documentary category.
This year's Prix Italia awards drew over 200 entries from more than 40 countries spread across 5 continents, with just 7 overall awards on offer. Until yesterday, RTÉ Radio 1 had not won at the Prix Italia since 2002.
Commenting for RTÉ Radio 1's, Documentary on One, Jim Jennings, RTÉ's Director of Content, told RadioToday: "It is heartening to see RTÉ content recognised and celebrated on an international stage competing with some of the best broadcasters from around the world. Katie's story was inspiring and showcases the best of Doc on One which has storytelling and public service broadcasting at the heart of its remit. Congratulations to all the team involved on this huge achievement and their amazing success being selected from the best of 42 countries worldwide."
Commenting on the Documentary On One win, Noel Curran, Director General of the European Broadcasting Union, who presented the award, said: "I just want to absolutely commend this team, who I know very well, on the work they do. I've seen it firsthand because I was Director General at RTÉ and the work they do is just extraordinary."
The winning Documentary on One production, No Time To Lose' tells the story of Katie Cooke – a woman who has been epileptic since the age of 9 and suffers about 15 seizures every day – as she prepares for the Dublin City Half Marathon over a three-month period. The winning production team included, Jason Murphy, Tim Desmond, Mark Dwyer and Liam O'Brien.
According to the judging panel, "This is an inspiring story about a strong young woman that has to live her life with an illness that is inflicting every part of her existence. In'Documentary on One: No Time To Lose', we, as a jury, felt very connected to her story, partly due to the sound design and the elegant structure in the documentary. We get to learn about the character from different angles: from her family to her doctor. The scenes are intimate, lively, realistic, and recorded on location, and this puts the listener straight into the story. The narration is short, fluent and without pathos. 'Documentary on One: No Time To Lose' is a well crafted documentary that keeps the listeners' attention from the start to the end."
Listen to the award-winning documentary here.
No Time To Lose credits include: Direction: Jason Murphy, Tim Desmond; Production: Jason Murphy, Tim Desmond; Script: Jason Murphy, Tim Desmond; Sound: Mark Dwyer, Liam O'Brien; Narrator: Aileen Mythen.


If you liked this story, we can email you more radio news and alerts. Just fill in the form below.