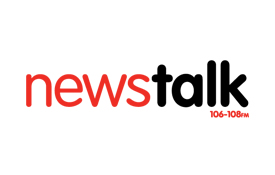 A new documentary, Men Alive presented by Brian O'Connell is set to air on Saturday 11th May on Newstalk 106-108fm.

The show explores male identity in Ireland today as roles change and men are expected to be more emotionally articulate.
Men Alive looks at some of the challenges and pressures faced by Irish men today with Brian speaking to men and women from all walks of Irish life.
He talks to fathers of different ages and backgrounds and looks at how they approach being a Dad in comparison with their own upbringing. Brian also speaks to a man who hopes to become a father through surrogacy.
Brian spends time with the Dublin Devils, the only all gay soccer team in a Dublin league and reports on how they are challenging stereotypes about what it is to be a gay man in Ireland.
"The perception is that all gay men are into hairdressing, mincing around the place, very very camp people who leave Glee and that's fine. It's just about breaking down the perception – a bunch of normal blokes playing football." – Francis Fitzgibbon, The Dublin Devils
Reporter Róisín O'Dea visits a Gentlemen's Academy – a male only club for Irish men who want to get together for occasions other than sport. Chewy – one of the co-founders of The Gentlemen's Academy, reveals the philosophy behind it: "Together with James (English) we set up the Gentlemen's Academy. It was borne out of wanting to do a something a bit different with our free time. We try and do something educational in each one.
"Girls can be really good at organising stuff like girlfriends have book clubs and all that kind of stuff. We found that guys just weren't as good at organised with stuff like that.
"We do try and take a bit of pride in the fact that we are a good bunch of gents I guess. We're not going around laying our cloaks over puddles or anything like that. We'd like to think we are a civilised bunch as well"
This programme was made with the support of the Broadcasting Authority of Ireland and will air on Saturday 11th May at 7am, repeated at 9pm.


If you liked this story, we can email you more radio news and alerts. Just fill in the form below.