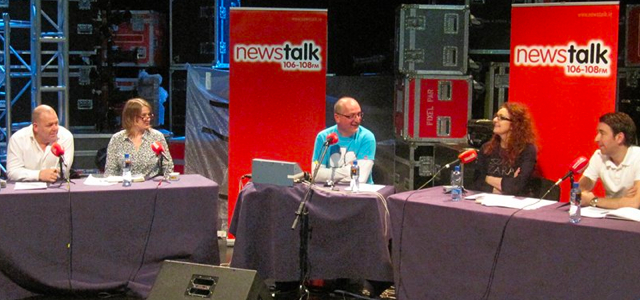 Pat O'Mahony takes time out to write for RadioToday inviting you to watch "You Couldn't Make It Up" being recorded and explain how it all came about!
"You Couldn't Make It Up has been a long time in the preparation. My co-producer, Mark Warren of Firebrand Productions, first approached me with an idea he had for a comedy news panel show in early 2011 and it's odd to think that now, almost three years later, it's actually in production.
It took a lot of work to get it this far. Long evenings were spent over tea and biscuits with a small core of interested mates working out the mechanics of the format, trying various permutations, debating suggested options and arguing over different possibilities, before we felt ready to pilot a first edition.
Five more pilots later, generously funded by RTÉ Radio 1 before they eventually passed on it, and You Couldn't Make It Up as we know it was ready to venture out into the big bad world.
When in the spring of 2012 Newstalk declared an interest in a series we were delighted. This, however, was only the first step; we still needed to get it funded.
Our initial thoughts were of sponsorship but we knew that finding someone to pay for a 10 week run of an untried format in the current economic climate was going to be difficult. It turned out to be impossible, at least for us.
So that summer we applied to the BAI's Sound and Vision fund, more in hope than in expectation if we're honest. We knew we qualified, but felt far from confident; I mean, the BAI doesn't fund comedy, does it? Which shows what we know. Thankfully for us, it does and in October last year we were awarded backing.
But we weren't there yet. The Sound and Vision fund only ever awards a percentage of the monies needed for any production so we were still short. Back we went again to look for a sponsor, at least knowing we only needed a fraction of the overall budget.
Even still, our hunt proved anything but easy and we hit numerous walls and followed a whole bunch of false leads before eventually this autumn we struck lucky and hooked up with a partner who already has a long-running relationship with Irish comedy, Vodafone.
We were, at last, good to go.
I guess good things do sometimes come to those who wait…or at least persist.
So after all that, what's You Couldn't Make It Up about? I'm glad you asked.
You Couldn't Make It Up, which goes out every Sunday evening until February 1st on Newstalk at 6pm, is a half-hour comedy news panel show that lets two teams of funny folk loose on the week's events to riff irreverently on contemporary Irish and global culture, characters and institutions, analysing, scrutinising and/or ridiculing them as they see fit.
For the last act each team is assigned characters, quotes and scenarios plucked from the opening rounds which they incorporate into a pair of satirical sketches performed as the climax to the show.
Your news, it says here, will never sound the same again.
You Couldn't Make It Up is recorded in front of a live studio audience in DCU's The Helix on Friday evenings from 6.30pm. Free tickets are available on a rolling basis during the week ahead of each recording.
So if you'd like to attend this week's recording on Friday December 20th and can be in The Helix for 6.30pm, please email comedy@newstalk.ie stating how many people you'd like tickets for. The more the merrier.
If you fancy a break from all the Christmas palaver, we'd love to see you there.
If you can't make it then, we'll be recording on the 27th too. And on January 3rd. And on the 10th. And the 17th. And 24th. And 31st."
To keep up to date, you can follow You Couldn't Make It Up on Twitter at @YCMIUnewstalk and on Facebook at https://www.facebook.com/YCMIU1
You Couldn't Make It Up is a Firebrand production, funded by the BAI Sound & Vision scheme in association with Vodafone.
Pat O'Mahony, Co-Producer/Presenter
You Couldn't Make It Up. Newstalk Sundays 6pm.


If you liked this story, we can email you more radio news and alerts. Just fill in the form below.