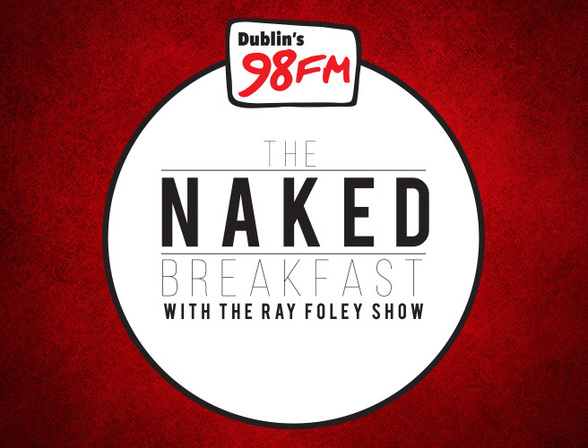 98FM have announced a special event for November 28th, called "The Naked Breakfast"… but they insist that no actual nudity is involved!
Between 6 and 10am on the Friday morning, the station's breakfast show "The Ray Foley Show" will broadcast from the Vicar Street venue in Dublin City centre – with the difference being that the show will be completely "naked" – and no, they don't mean by this that anyone will be devoid of clothes!
98FM have explained that by "naked", they mean that every single bit of the broadcast, including the presenters links, news bulletins and even the advertisements, will be completely live on the morning.
Jingles will be provided by comedians Paddy Courtney & Eric Lalor along with Irish band Key West and actors will voice-over the ads on the spot! 98FM are even flying in international renowned blockbuster movie voice over Dave Foxx who will be performing station voice overs. Not only that, but The Coronas will be the resident house band on the morning playing songs from their new album 'The Long Way'.
98FM are calling this "the first fully live Radio event of its kind in Ireland" and say it will give their listeners a chance to "see how radio works in its most raw form and have great fun while doing it".
Speaking about the upcoming show, Presenter Ray Foley said, "We are delighted 98FM have given us the opportunity to do this. This is radio in its most raw form and we will have a blast while doing it. We can assure the audience that there is no actual 'nudity' involved… by naked we mean stripped down and totally live. We are being liberated from the comfort zone of our breakfast studio and being unleashed onto a live crowd – bring it on!"
Commenting on The Naked Breakfast, CEO of 98FM Keith McCormack said, "We are really excited to be the first radio station in Ireland to introduce this special event. Naked Breakfast will be the first in a new line of innovative ideas from 98FM.  We want to push the boundaries of radio, as we are doing online and on-street, and this is an example of connecting with listeners in new and creative ways. We had a great response from our advertisers who were really excited to get on board and for the first time in radio history, listeners will be reaching to turn up the dial for the ads!"
Brand partners who have got on board include TK Maxx, Club Orange, and Seat. If you want to be part of "Naked Radio", you can fill out the application form on the 98FM web site.


If you liked this story, we can email you more radio news and alerts. Just fill in the form below.