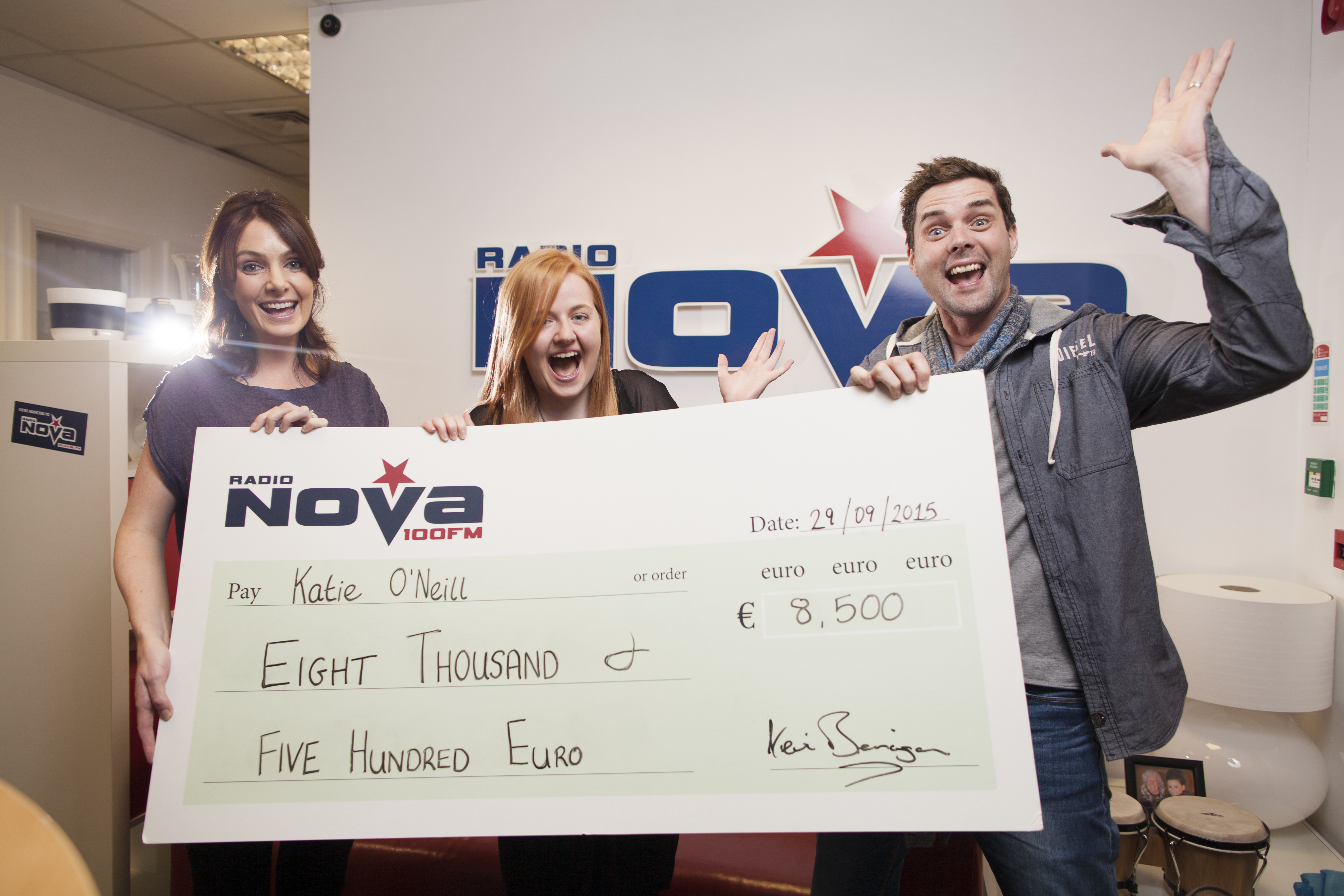 Radio Nova have given away €8,500 – their biggest prize yet – to one lucky listener after their "Nova Noise" was finally guessed this Tuesday morning, September 29th.

Student Katie O'Neill of Artane in Dublin made the winning guess at 8:30am during the station's breakfast show "Morning Glory" with presenters Marty Miller and Dee Woods. Katie successfully guessed that the NOVA Noise was 'an apple being rolled into a glass'. The Artane lady, who is studying at the Grafton Academy of Dress Designing, now intends to spend the money on college fees and Doctor Who Convention tickets!
The competition had run for over 6 months, with tens of thousands of calls made to the station over that time. NOVA had promised to give the cash away by the end of the month of September, to coincide with its 5th birthday on-air, and gave enhanced 'super-clues' throughout Monday and Tuesday morning to lead listeners closer and closer to guessing the noise.
Winner Katie said:
"I've been listening for ages with my partner Darren and got up extra early this morning to try to get through to NOVA. My phone actually stopped counting the amount of calls I've made to NOVA, in excess of 200 for sure!"
The station posted a video to their facebook page demonstrating how the noise was originally made:
The prize had started at €1,000 in March and had increased by €50 for every day the Noise Noise was not correctly guessed, with listeners having four daily chances to win the jackpot.
Well-known Irish entertainer and mentalist Keith Barry sent a hand-written note to the station last Friday, which was only opened live on-air an hour after the competition was won. The note correctly predicted the identity of the Noise, the time it would be guessed and the name and student-status of the winner.
This has been locked up in our office since last week. @Keithpbarry was in. He broke our minds. Again. @radionova100 pic.twitter.com/VlCSaiaXtu

— Marty Miller (@MartyMtweets) September 29, 2015
Radio Nova's Assistant Programme Director and Executive Breakfast Producer Clint Drieberg said:
"We didn't expect to keep everyone guessing for 6 months, it has been extraordinary! Katie has finally solved the mystery and scored the biggest cash prize we have ever given away on Radio Nova."
Dee Woods & Marty Miller, presenters of Morning Glory added:
"We've spent half a year of our lives listening to this Nova Noise so thanks Katie for un-wrecking our head! Glad you now have the money to get those Doctor Who Convention tickets you have been dreaming of!"
NOVA had flagged that the NOVA Noise would be won as part of its 'Big 5', five announcements to celebrate its 5th birthday in September. It has since announced the arrival of rugby pundit Brent Pope and former 2FM head, John Clarke, to its lineup, and is now now expected to make two more announcements before September ends.


If you liked this story, we can email you more radio news and alerts. Just fill in the form below.