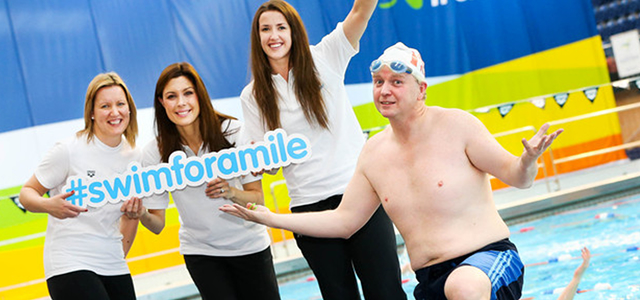 Matt Cooper from Today FM's evening drivetime show will take part in the Swim for a Mile Challenge 2014 later this year to raise money for charity.
Matt is an Ambassador for the event and recently welcomed Melanie Nocher (double Olympian & European medalist) and Trish Mayon (Swim Ireland) to the studio for a chat about the swim.
He says he is determined not to be outdone by his kids in the pool: "I can outrun my children comfortably and they couldn't keep up with me on the bike but in the pool they leave me behind comfortably and lap me continuously. They've learnt how to swim properly and now train regularly and compete in galas and they have gained so much from it. I don't think I'll ever get up to their level but they've pointed out how poor my technique is and how I need to learn how to swim correctly if I'm going to get enough enjoyment from it.
"So this is my 2014 challenge: I'm going to learn how to swim properly and train so that I can swim a mile in any session without collapsing. Committing to this event publicly will ensure that I do it, I hope! I'm really looking forward to the challenge and to working with Last Word listeners so we can all achieve it."
The project will challenge members of the public to compete in a national event to swim for a mile. Swim Ireland will provide a free training programme, support, advice and motivation for all those wanting to take on the challenge.


If you liked this story, we can email you more radio news and alerts. Just fill in the form below.