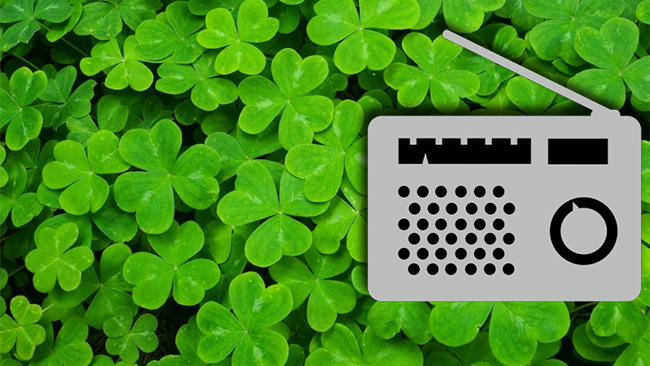 Various radio stations – both traditional and online – are getting ready for some very special St. Patrick's Day broadcasts.
Dublin-based LiveIreland.com are expecting to once again be adding new audio servers to handle the increased demand as their busiest day of the year arrives once again.
Their special broadcast goes live at 10:00am Irish time with a 24-hour "music radio fest" live from various locations, including their own South Dublin studios as well as Newfoundland in Canada, London and Chicago.
The station will have live link ups with radio stations and studios from around the world including VOBB FM Newfoundland, Alan O'Leary from CopperPlate in London, Bill Margeson and Imelda Bhroga from WDCB in Chicago and Irish Pubs like the D'arcy McGees Irish Pub Chain in Dublin and Wicklow, as well as live linkups with listeners over Skype and prize giveaways on the day including Irish music CDs and downloads and the "Pot O'Gold" giveaway from Irish crypto-currency IrishCoin.
Elsewhere, iRadioPhilly has launched a Saint Patrick's Day music radio station featuring Philadelphia's favorite Irish and Celtic classics.
The station has been on air since midnight on Monday night and runs until late on the night of Saint Patrick's day, and is playing all the jigs and reels  which they say are the perfect soundtrack for the liveliest of seasons! Their St. Patrick's Day playlist includes classics from The Dubliners, Clancy Brothers, and Chieftains, plus rowdy renditions from Flogging Molly and the Dropkick Murphys… as well as Philadelphia's favorite Irish band, "Blackthorn".
Back at home, a St. Patricks Day concert featuring Heathers, Dublin Gospel Choir and many others, will take place at Stephens Green in conjunction with Seachtain na Gaeilge – the week (or more accurately, fortnight!) which celebrates the Irish language, and Dublin-area Irish language station Raidió na Life, in a free, family, non-alcohol event to mark the end of Seachtain na Gaeilge 2015.
Continuity announcer with UTV Ireland, Aideen Hand will be MC for the day and Mairéad Déiseach will kick-start events at 3.30pm with Raidió na Life's house band playing a selection of contemporary & alternative songs as Gaeilge (in Irish) at 4pm, well-known guitarist Shane Hennessy taking to the stage for his at 4.30pm, Heathers coming on at 5pm and the Dublin Gospel Choir rounding off events with an energetic set at 5.30pm.
Sinéad Ní Dhomhnaill, Acting Manager of Seachtain na Gaeilge said: "Seachtain na Gaeilge are thrilled to be both a sponsor and active partner of this unique Irish event. Seachtain na Gaeilge 2015 had been incredibly successful and there is no better way to close the festival than with a Family Day in the city centre on St Patrick's Day in association with Raidió na Life. Join in and Surprise Yourself!"
On national broadcaster RTÉ Radio 1, this Saturday night from 8 to 10.50pm, "Céilí House" will broadcast a special concert live from the National Concert Hall to celebrate the St. Patrick's Festival.
This concert will feature a host of feted musicians including Dónal Lunny, Pádraig Rynne, Sylvain Barou, Karan Casey, Fidil, and will be hosted by Céilí House presenter, Kieran Hanrahan.
In addition to the music, song and dance, during the interval Kieran will be talking to some of the performers backstage about their music and their latest plans and projects.


If you liked this story, we can email you more radio news and alerts. Just fill in the form below.