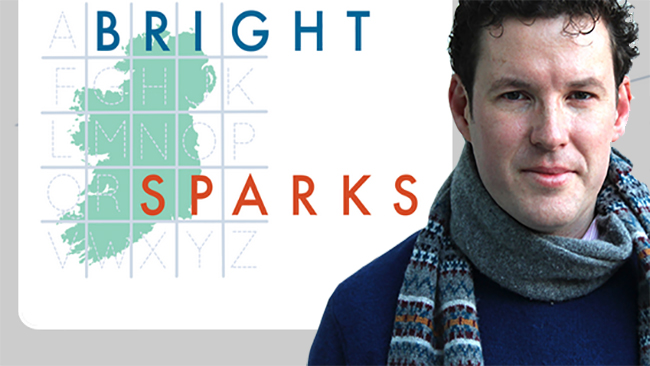 Bright Sparks, an eight-part science documentary series for RTÉ Radio 1 starts this Sunday at 7pm.
The programme will be presented by physicist Professor Shane Bergin from Trinity College Dublin, who says of the series: "Scientists are curious people who wish to explore the world around them. Their ideas are sparked by shared conversations. Bright Sparks invites you to listen in on those conversations and understand the root of ideas, discovery, invention and how science works."
Throughout the series, Prof. Bergin meets the men and women who are leading scientific research in Ireland. He also discovers how Irish science and innovation are changing how we live. He explores how these ideas are shaping how we combat disease, face climate change, develop new technologies and how we uncover the mysteries of the universe.
In 2013, the leading international science monitor, Nature Publishers, marked Ireland as one of the top five countries, globally, to watch in terms of scientific research. However, less than two years later over 1,000 Irish researchers signed an open letter to the Government, authored by neuroscientist Professor Kevin Mitchell, where he made the case for increased long term state funding, saying: "Without investment in long-term, fundamental research there will be no discoveries to capitalise on." Bright Sparks questions what drives scientific research in Ireland, who decides what is funded and what impact does it have, not only in Ireland, but also in the world.
The series explores how Irish researchers and their work is tackling contemporary issues, from climate change, antibiotic resistance to the future of food and solutions for dementia, cancer and motor neurone disease. Prof. Bergin looks at the impact that Irish scientific research is having on our lives, from his own field, nanotechnology with industry leader Professor Jonathan Coleman, to robots designed to care for the elderly and disabled in their homes with Trinity engineer Conor McGinn. The series goes from cutting edge space materials with Sinead McGlynn from Clonmel based Enbio to breakthrough biomedical devices, like Dr. Anne Moore's malaria vaccination patch, that puts Ireland as a global leader in the fight against disease and illness.
Bright Sparks reveals the depth and scale of Irish research from genetics to space and looks at the legacy of research investment in the last 15 years but questions whether those advances are being undermined by research cuts and a short-term mission for outcomes.
Prof. Bergin meets some of Ireland's most accomplished scientists including astrophysicists Peter Gallagher and Creidhe O'Sullivan, geneticists Emma Teeling and Aoife McLysaght, immunologists Luke O'Neill and Paul Moynagh, and neuroscientists Richard Roche and Geraldine Boylan to discover the importance of curiosity in solving the challenges of our world and in shaping a better one.
Bright Sparks can be heard on RTÉ Radio 1, 7 – 8pm, Sunday May 24th – Sunday July 12th 2015. The series producer is Helen Shaw, the audio editor is Amy Millar and the researcher/assistant producer is Cormac McAdam. The programme is made with the funding support of the Broadcasting Authority of Ireland and the TV licence fee. Listeners can follow the full story behind the series on its website and podcasts will be added as the series is transmitted.


If you liked this story, we can email you more radio news and alerts. Just fill in the form below.