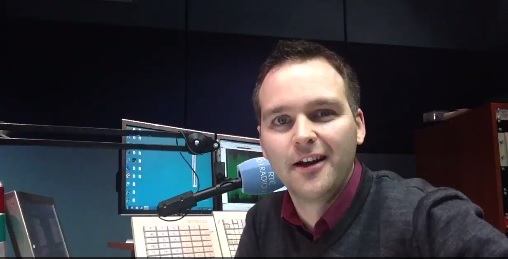 Scott De Buitléir quits RTÉ Pulse
Scott De Buitléir has announced his departure from RTÉ Pulse, claiming management have put undue pressure on him to provide balance ahead of the upcoming same-sex marriage referendum.
De Buitléir, who has been producing and presenting LGBT show "The Cosmo" voluntarily for the last six years for the digital station, announced his decision to leave in a blog post today, in which he said it became "close to impossible" to host an LGBT radio show while keeping in line with RTÉ's requirement not to show bias towards either side on the issue.
Time for me to announce that my time as an @rte broadcaster has come to an end: #MarRef #LGBT http://t.co/MWalwmni5E

— Scott De Buitléir (@scottdebuitleir) May 7, 2015
The 26 year old told news website TheJournal.ie that management had suggested that he "stay silent" on the issue of same-sex marriage up until the Wednesday before the referendum, when he would host what they called a "carefully planned debate".
Scott added: "I felt like I was being silenced, even if it was with the best of intentions. Despite trying it for a short while, I eventually couldn't bear denying that this plan meant missing out on reporting the various events, advocates and news of the Yes campaign – the campaign fighting for the rights of those who The Cosmo was aimed at".
He added that, on this issue, "the personal and the professional are intertwined" and he said he felt his show would become "a bit of a farce" if he were to continue hosting it while avoiding any mention of the referendum or having guests on from the LGBT groups he had already been interviewing about same-sex marriage for years now.
De Buitléir says he reached his decision today after station management reprimanded him for failing to clear an interview he did with Minister of State Aodhán Ó Ríordáin with someone in RTÉ before putting it online.
He said the interview was about Ó Ríordáin's experience canvassing for the Yes side and the reactions he was getting and they also discussed the general election.
In a statement, Head of RTÉ 2fm Dan Healy said:
"RTÉ confirms that Scott De Buitléir has decided to leave RTÉ Pulse after six years. The Cosmo, presented by Scott De Buitléir, has been part of RTÉ Pulse's schedule since the station launched in 2008. Scott has played some great dance music over the years. We wish him every success in the future."


If you liked this story, we can email you more radio news and alerts. Just fill in the form below.