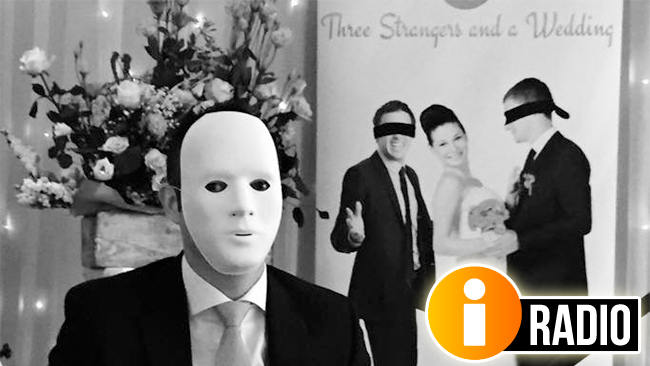 Is love really blind? We'll soon find out, after two complete strangers went the whole way and got married live on iRadio!
The Three Strangers And A Wedding stunt – which the station launched last month – was, they said, the "world's greatest social experiment" and generated huge interest among listeners, with many even complaining that it was inappropriate or disrespectful towards the institution of marriage.
In the course of the competition, a large number of potential brides and grooms who applied were whittled down to just 3 final candidates – one bride and two potential grooms, with the woman – nicknamed 'Juno' having to chose between the two men she had never seen before and marry one of them live on the radio.
Both potential grooms were at the ceremony, wearing white masks to obscure their faces, waiting to see which of them would be chosen. Their names were kept secret so that the participants couldn't find out any more about each other, apart from what had been shared on-air.
Before the big day, the bride – whose real name is Ann-Marie, had only spoken to the pair of potential grooms on the phone (on air), and had gone on two apparently excruciating 'dinner dates' with them, where a screen was put between them so they couldn't see each others faces.
But yesterday, at a special ceremony arranged by the station, she had to select and marry one of the men (who were nicknamed "Janus" and "Jupiter").
On the big day itself, Ann-Marie chose Jupiter – real name Nigel (pictured, with her above) – and the couple were married in a humanist ceremony in Athlone's Hodson Bay Hotel, which was broadcast on iRadio and streamed live on YouTube.
Apparently, not everybody was able to watch the ceremony, however…
Apologies to some listeners online who couldn't tune into the wedding, the huge burst of online listens led our servers to crash #3Strangers

— iRadio (@ThisisiRadio) June 16, 2015
…but, the whole ceremony can be watched back on YouTube (with some choppy video), as you can see below:
The station have come in for varied criticism for the promotion, including claims that it was disrespectful towards marriage itself. Claims were also made that it excluded potential same-sex couples, despite the fact that the competition began before the recent referendum on the matter and that same-sex marriage is not yet technically legal in Ireland.
Some commenters have also suggested that the marriage itself is not valid as the couple had not officially registered their intent to marry 3 months ahead of the event. However, many listeners have praised the station for the promotion, which they were following intently, and iRadio – who said that yesterday was an "incredible day" – have hailed the competition as a huge success and are wishing the happy couple every success in their marriage.


If you liked this story, we can email you more radio news and alerts. Just fill in the form below.