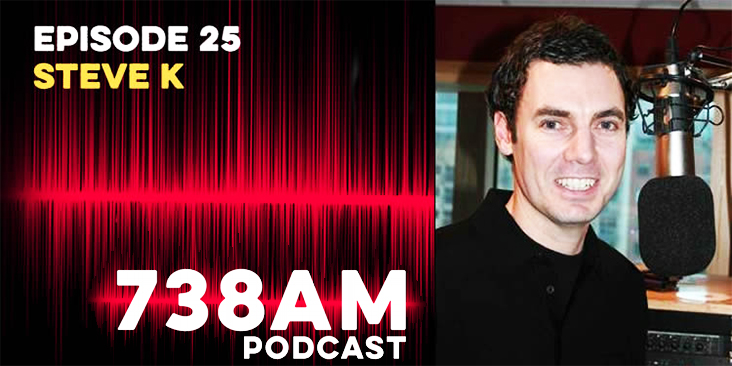 Spin 1038's Steve K has become the latest interviewee on Castaway Media's 738AM Podcast, hosted by Andrew Mangan.
Steve has been presenting on the youth targeted music station for 13 years now, bringing his daily (2.45pm to 6.45pm) show from humble beginnings to the number 1 drive-time slot in Dublin.
Mangan says that, having worked with Steve in pirate station KISS FM many years ago, his success is no surprise to him, as "he was always a brilliant DJ".
The host adds: "It was fantastic to catch up with him after 21 years. When KISS closed down, we went our separate ways, life takes you in different directions, and he's had an interesting journey through the radio world from South East Radio to FM 104 and to his current slot on Spin".
Mangan said that, in the course of the interview, he and Steve chatted about "getting into radio, our work on pirates like Radio Dublin and the seminal Sunset, the fun times at KISS FM, why he more or less talked himself out of a job at FM 104 and why he still loves what he does on air every day".
There is – of course – much reminiscing and "anorak" talk to be had, making for fascinating listening for any Irish radio fan.
You can listen to the full show, which is over an hour long, right here.
The rest of the 738am Podcasts (named after the original Radio Nova frequency) – including a recent chat with Declan Meehan of East Coast and Today FM – can be heard here on the show's web site.


If you liked this story, we can email you more radio news and alerts. Just fill in the form below.