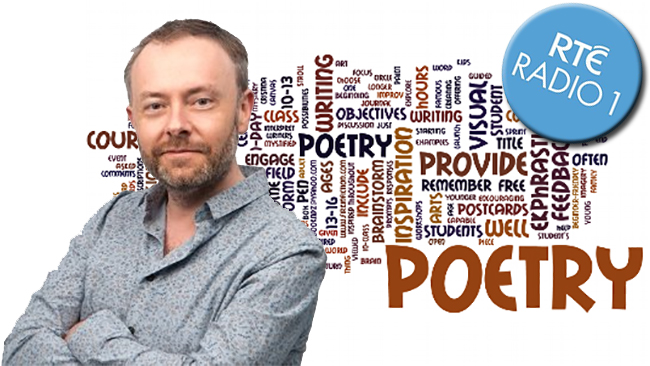 RTÉ Radio 1's Poetry Programme returns for 2nd season
Rick O'Shea's Poetry Programme – described as "For everyone who loves poetry (and those who just don't know it yet!)" is back for a new season on RTÉ Radio 1, returning Saturday 17th October at 7.30pm.

In the first programme of the new series, Rick meets Pat Boran, who has turned his hand to haiku, and Martin Dyar talks about the thrill of having work included in the recent issue of the US Poetry magazine dedicated to work by young Irish poets.
Caoilinn Hughes reads her poem 'Boundary Condition', also included in Poetry magazine, and innovative American poet Susan Howe reads poetry as you may never have heard it before.
Rick O'Shea says:
"It's brilliant to finally be back for the next part of the series. We have so many wonderful interviewees – both established and brand new – to bring to you between now and Christmas. For everyone who enjoyed the show earlier in the year: your Saturday night moment of Zen is back."
The last season of The Poetry Programme, which is a Rockfinch production for RTÉ, ran between January and June 2015, and saw presenter Rick O'Shea dived with enthusiasm into the world of poets and poetry.
A few highlights from that first season were: an interview with the National Poet of Scotland, Liz Lochhead; the first interview on Irish radio with Colm Tóibín about his new book on Elizabeth Bishop; lively location reports from Brownbread Mixtape and the launch of a French anthology of Munster poets.
The show also included a class of enthusiastic Leaving Cert English students; rare recordings of Richard Murphy reading his poetry in Sri Lanka, where he now lives; essays from bilingual Doireann NíGhríofa on poetry in Irish; interviews with established poets (Gerald Dawe, John McAuliffe, Kerry Hardie, Eiléan NíChuilleanain) about their new collections; new, up-and-coming voices (Miriam Gamble, Jessica Traynor, Dylan Brennan, Paul McMahon); performance poets Hollie McNish, Sarah Clancy and John Cummins; specials on 'The Road to the Rising', 'A Poem for Ireland' and Yeats.
From the start of the new season on 17 October, and right up until the end of the year, The Poetry Programme will continue to explore the diverse and vibrant world of poets and poetry with Irish and international voices, the big names and the up-and-coming, page and performance poetry, mainstream and alternative.


If you liked this story, we can email you more radio news and alerts. Just fill in the form below.