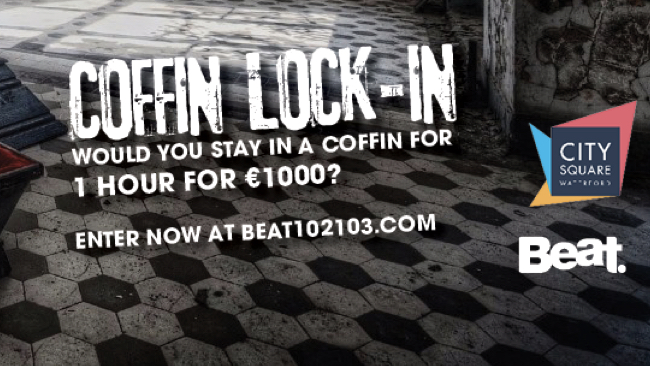 Beat has taken over a retail unit in City Square Shopping Centre, Waterford and re-branded the space to create a pop-up "Beat & Sons funeral home" for a new promotion.
The unit is the location of the station's Halloween themed competition "The Coffin lock-In". For the last seven days, Beat has been inviting people from all across the five counties of the South East to become 'victims' for the Coffin Lock-in.
There was outrage on social media as the branding outside the shop said it was a new funeral home with the strapline "We're dying to meet you"!
Every day this week, a number of people will be selected from hundreds of entries who applied via an online entry form. The contestants have to remain in the specially created ventilated closed coffin and attempt to accurately guess when 60 minutes have elapsed. The 'victim' who guesses closest to 60 minutes or under will win €1,000.
The first victim to enter the coffin during Beat Breakfast on Monday morning October 24th was Kieran Walsh from Ballybeg in Waterford. When Beat presenter Dave Cronin called Kieran live on air on Friday to tell him he had been selected, Kieran joked "a coffin is no biggie, I've lived in smaller flats!" and added that "this is a once in a lifetime experience, quite literally cos the next time that happens, I'll be dead."
To judge the passing of time, Kieran said he was going to recite the national anthem a certain number of times!
The challenge was streamed live online and Beat Breakfast host Niall Power caught up with Kieran as he exited the coffin to find out what he thought of the experiment.
As will be the case with all of the victims, the exact length of time Kieran stayed in the coffin lock-In will not be known publicly until later this week. The winner will be revealed at a special live broadcast of Beat Drive from the pop-up Beat & Sons Funeral home in City Square Shopping Centre, Waterford on Friday October 28th with presenter Andy Mac.
Beat Boss Gabrielle Cummins is delighted by the public reaction to this spooky competition "I had heard about the concept but it had never been done here in Ireland before so I thought this is a good fit for Beat's audience and an ideal way for us to really get people in the mood for Halloween!"
She added "We have been inundated with queries to the station and the pop-up funeral home has been causing quite a stir in City Square. We've worked with Centre manager Alan Weston and his team many times before so we're delighted to be partnering with the shopping Centre again for another 'first' in terms of an Irish radio promotion.


If you liked this story, we can email you more radio news and alerts. Just fill in the form below.