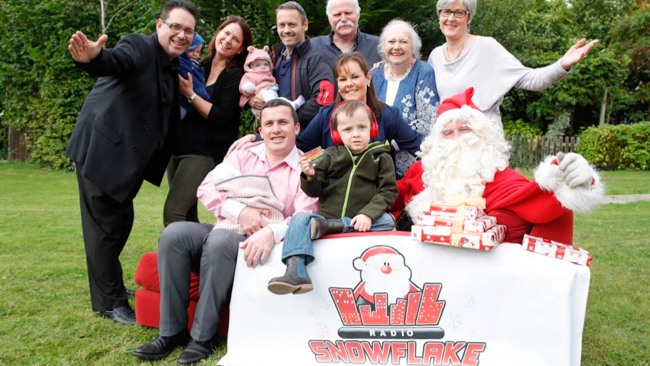 Radio Snowflake is getting ready to launch on December 1st for another 26 days, and has picked the Irish Kidney Association as its charity partner.
The online service aims to help raise awareness of the plight of people with organ failure and the importance of organ donation as well as highlighting the support the organisation provides to patients and their families around Ireland.
Amongst the festive music will be testimonials from people expressing their gratitude to their organ donors at Christmas.
Speaking at the launch of Radio Snowflake 2016, Colin White, the National Projects Manager, Irish Kidney Association, said, "We are delighted that the Irish Kidney Association has been chosen as Radio Snowflake's charity partner this Christmas. As our registered charity actively promotes the gift of life through raising awareness about organ donation, Radio Snowflake's support is very welcome and its particularly timely at a time of year when families come together to enjoy the festive season. It is an opportunity to take the time to discuss organ donation and let your loved ones know your wishes. It is your next-of-kin who will make the decision in the event of your untimely death so we encourage families to # HAVE THE CHAT."
Radio Snowflake enjoyed a large following in the 1980s broadcasting on FM and AM. With the emergence of online broadcast platforms, the station resurrected in 2013 under the management of David Baker who is best known in his native Ireland for his nightly shows on Kfm in Kildare and he has also worked for several years on radio in the UK.
Radio Snowflake has supported other worthy causes with The Samaritans chosen as last year's charity partner. David said, "I'm looking forward to bringing the sound of Christmas back. I believe our style is unique and it's different. Whilst we will play great favorites that everyone knows, the sound won't be tacky and predictable and full of Christmas cracker jokes. It's a station everyone will enjoy and is the perfect mix for Christmas with top quality presenters. We are supporting a fantastic cause in the Irish Kidney Association and we plan to create great awareness about the work it does over the station's 26 day run. From accounts by the people who work there day to day, to families who have been called for a lifesaving organ transplant, there'll be some real heart-rending stories to hear. We hope that people will share in our celebration of Christmas by enjoying everything the station has to offer. Join us at Radio Snowflake on December 1st at midday."
Pictured at the launch of Radio Snowflake 2016 and announcement of its charity partnership which was held at the Irish Kidney Association's Renal Support Centre, located on the grounds of Beaumont Hospital, Dublin was:- Back row, from left: David Baker, Manager, Radio Snowflake; living kidney donor Clidhna Costello and her husband Terry McElroy from Bray, Co Wicklow with their twins, Donagh and Caoila, who were born in May 2106 just two years after Clidhna donated a kidney to their son Tadhg ( now age 5, pictured front row centre); kidney transplant recipients from deceased donors Harry Ward from Baldoyle, Dublin and Patricia McKenzie from Portmarnock, Dublin; and Colette Fennelly from Bishopstown, Cork whose husband Don underwent a deceased donor kidney transplant in September 2016; Front Row: living kidney donor Conor Dalton from Castleknock, Dublin and his transplant recipient wife Sarah and their baby Annabelle born in August 2016; kidney transplant recipient Tadhg McElroy (age 5) from Bray; and Santa Claus. North Pole.


If you liked this story, we can email you more radio news and alerts. Just fill in the form below.