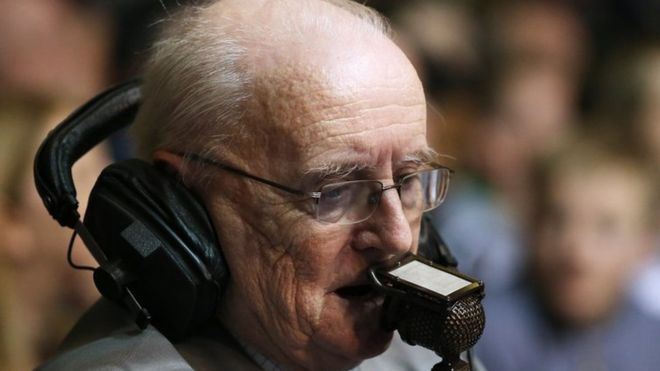 Much loved RTÉ sports commentator and broadcaster, Jimmy Magee has passed away at the age of 82.
The veteran broadcaster had been ill for some time. Known as the memory man, he joined RTÉ in 1956 and in his time as a broadcaster commentated on 10 Olympic Games and 11 World Cups. He was born in New York city and raised in Co Louth.
Commenting on his passing, Dee Forbes, Director-General, RTÉ said: "I was very sad to learn of the passing of Jimmy Magee this morning. He was a broadcasting giant, a memory man and, as Ryle Nugent put it on Morning Ireland earlier; he meant a huge amount to so many people. As a keen sports fan, Jimmy Magee helped shape my strongest and fondest early sporting memories and even during the many years I lived and worked outside the country, he was there to bring so many great sporting occasions to life in his own inimitable style; he knew how to make these moments mean so much more. Jimmy will be sorely missed by his many former colleagues and friends at RTÉ and by sports fans the length and breadth of the country. Our thoughts are with his family and friends at this sad time."
RTÉ Head of Sport Ryle Nugent said: "It's an incredibly sad morning. It's hard to put it into words, the man meant an inordinate amount to so many people. I think he was the soundtrack to many generations that included Michael O'Hehir, Mícheál Ó Muircheartaigh, Fred Cogley and himself, they were the original commentators and the ones we looked to when there was a major sporting event. Jimmy holds his own with some of the most iconic memories in broadcasting in sport in this country and rightly so. He was an incredibly positive human being, I never heard Jimmy start a conversation in the negative and he took that into his professional life."
Jimmy began his career in broadcasting as a reporter for the RTÉ Radio programme "Junior Sports Magazine". Presented by Harry Thuillier, Junior Sports Magazine was broadcast on a Saturday and mainly covered rugby, hockey and athletics. Jimmy doubled his early years in broadcasting with a full-time clerical post in British Rail. On leaving that job, he presented a number of sponsored radio programmes before concentrating on sport. He also commented on Katie Taylor's historic gold medal victory at the London 2012 Olympic games for RTÉ. At the same London Olympics in London, the International Olympic Committee acknowledged Jimmy Magee's outstanding contribution to sport and presented him with a replica of the Olympic torch. As well as this, he co-hosted the quiz show Know Your Sport on RTÉ Television alongside George Hamilton from 1987 to 1998.
In 2006 Magee was presented with a PPI Outstanding Achievement Award to mark his 50th year in broadcasting.


If you liked this story, we can email you more radio news and alerts. Just fill in the form below.